For this example, we're going to specifically focus on your Delivery Space and get the folder structure correct there first.
At this level, Folders will be synonymous with Clients. Each client will have their own Folder.
Inside each client Folder, set up Lists for each phase of the client journey or for each discrete service line.
For example, if your agency is doing Facebook Ads and email marketing for us (ZenPilot), here's how our client Folder would be set up: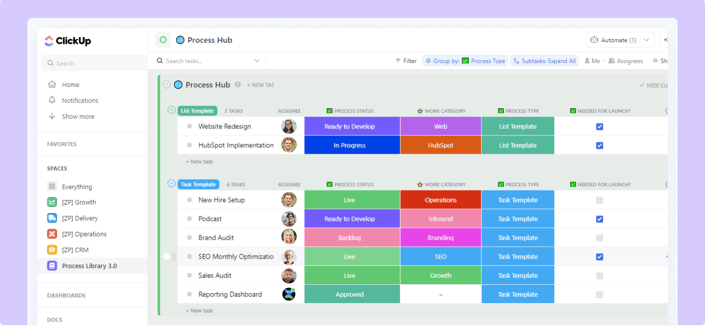 5. Understand views for each agency role
Getting your ClickUp infrastructure in place and initial work added in is fun, but configuring Views in ClickUp is where things finally start to pay off.
If you're wired like me, you love using lists and scanning a lot of information very quickly.
But if you're wired like my business partner, Andrew, you're way more creative than I am. In that case, you may prefer Kanban boards or visualizing your work on a calendar or timeline.
ClickUp allows you to configure as many customized Views as you like at the Everything, Space, Folder, and List levels. This allows me to have my lists or table views easily accessible, while others on my team are working on boards or in Gantt charts.
Like everything, however, ClickUp's greatest strength can easily become its greatest weakness. The incredible power and flexibility can turn into an overwhelming sea of options for new users.
To keep your ClickUp Views from spiraling out of control, do a couple of things right out of the box:
Set up your default preferred List view and save it as a template.
Do the same for your board and calendar views.
Make sure your Space Settings are taking advantage of default views so that your team has to intentionally deviate from your preferred settings, rather than constantly starting fresh.
Here's how I like to set up List View out of the gate:
Change "Group By" from "Status" to "Due Date"
Hide the column for Priority (if you have this ClickApp turned on) – unless you're currently using a Priority feature in your existing PM, it's prone to abuse if it's rolled out without clear definitions and expectations.
Turn on Time Tracking & Time Estimates and add both columns to the view. Put Time Estimated before Time Tracked and sum both columns at the bottom of each group.
Add the Comments field (quickly allows you to see all comment activity on a Task or Subtask)
Show Subtasks as expanded (hidden by default)
Sort the grouping in chronological order by Due Date.
Take that View and save it as a template.
Related: The 8 Views Every Agency Needs in ClickUp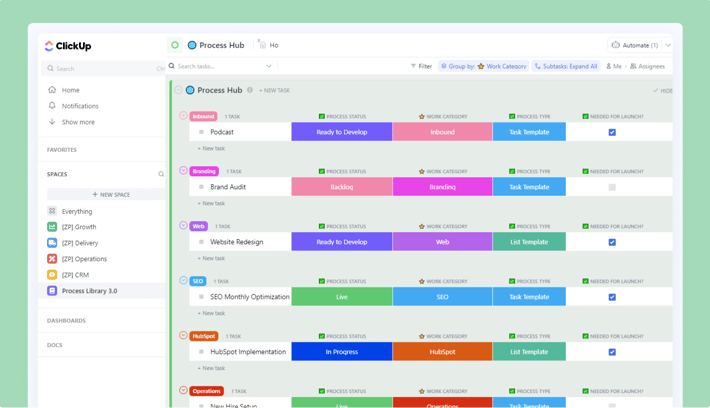 Important View Variations
There are a handful of specific variations on this view that I'll briefly cover here:
At any level above a List, turn on the "Task Locations" feature (breadcrumbs showing where the task is located). This is especially helpful for client tasks that may share common names.
In my personal "My Tasks" view, I show Subtasks "As Separate Tasks" to make sure I don't miss any work.
At the Everything level, we use filters to exclude certain locations, tags, and custom fields.
There are a number of views you should preset in your client Folder template, including a sharable view, Docs, a sharable calendar view, and a couple other common ones.
BONUS
Download the Complete ClickUp for Agencies Guide FREE
The 47-page guide includes graphics, checklists, and links to how-to videos so you can actionize your ClickUp plan.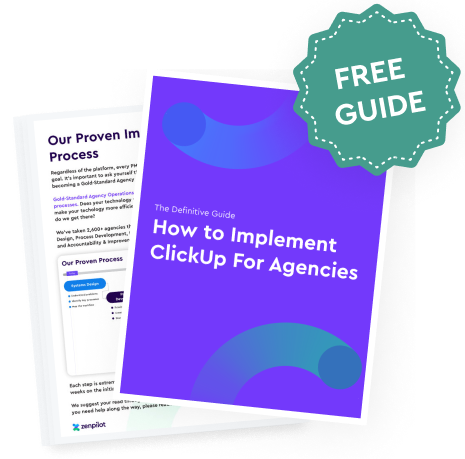 6. Set your task status defaults
ClickUp ships with a number of status options. Standardize these across Spaces and don't deviate once you've settled on the system that works for your workflow.
The keys to statuses that work (i.e. are actually used and updated consistently by your team) are:
Keep them as simple as possible while still providing valuable information with a quick glance
Train the entire team on exactly what each status means and how it should be used.
Our default set of agency statuses is:
To-Do
In-Progress
Internal Review
In Revision
Client Review
Blocked
Deliver & Close
Complete
These all ship with standard definitions and training so all current and future team members know exactly why, when, and how to use each status.
Related: Biggest Mistakes Agencies Make in ClickUp (And How to Avoid Them)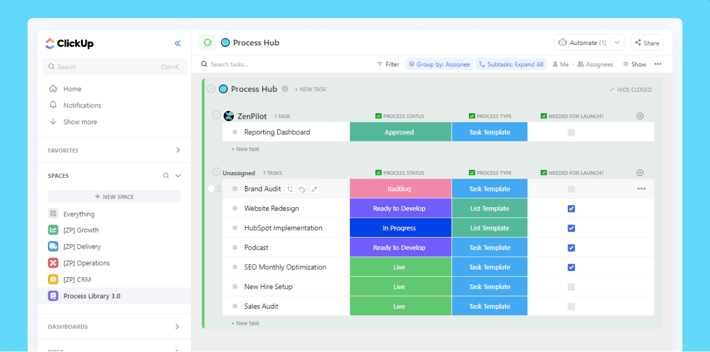 ClickUp integrates with a number of 3rd-party tools, but define what you truly need before you start browsing the integration options.
The Slack integration, for example, is very handy, but you'll probably overwhelm your Slack Channels if you set up the integration without a plan and leave on the default options.
Similarly, Custom Fields are one of ClickUp's most appealing features.
Wherever possible, try to use Custom Fields rather than Tags.
Tags will always be visible in the UI, so save them for situations where that makes sense (we set up a few specific tags out of the box, and that's it for most agencies).
Custom Fields, on the other hand, can be displayed or hidden based on your needs in a specific view.
It's tempting to start building Custom Fields for all kinds of things, but map out what you need to get your work done efficiently and start with just that.
The 1 Custom Field You Definitely Need:
Go in and set up a "Label" Custom Field called "Role."
Use this Custom Field to set the role in your agency responsible for completing the specific type of Task or Subtask you are creating.
This becomes incredibly useful for bulk assigning or reassigning tasks either as you're creating a new client project from a template or reassigning work when a team member goes on vacation or leaves the team.
8. Build your processes, then save as Templates
Inside your Delivery space, create a folder called Process Library.
In this folder, build out Lists for each service line or phase of the client relationship (especially helpful if services tend to be very productized).
Inside those Lists, you'll create Tasks for each deliverable associated with that service line or stage of the client journey, then add Subtasks for the specific components required to deliver the parent Task.
Following the same methodology and hierarchy described in section 4 above, you'll build all of your processes out in this Process Library.
Note: before getting deep into process development, you should first assess and prioritize your process needs (we have a very specific process and template for agencies to do this included in our ClickUp for Agencies program).
Once you have those processes documented and ordered correctly, you will then save those Tasks and Lists as templates in ClickUp.
What makes a great template?
The Subtask names should be action-oriented. Start with a verb to clarify what needs done (i.e. "Write Blog Post").
Every Subtask should have a checklist for completion and any helpful context or other forms of instructions (video, pictures, etc) in the description.
Each Subtask should have an estimated amount of time.
Every Task and Subtask should have a preset value for the Role Custom Field.
Every Task should have a Due Date and Subtasks should have correlated Due Dates. You will be able to remap dates based on the Task Due Date when you use this template
Dependencies should be baked into your templates.
Your naming structure and format should be consistent
If you can get all of these pieces right out of the gate, you'll save yourself a lot of headaches in the future, plus reap the benefit of having a polished and professional look for your team and clients.
Related: How to Document Agency Processes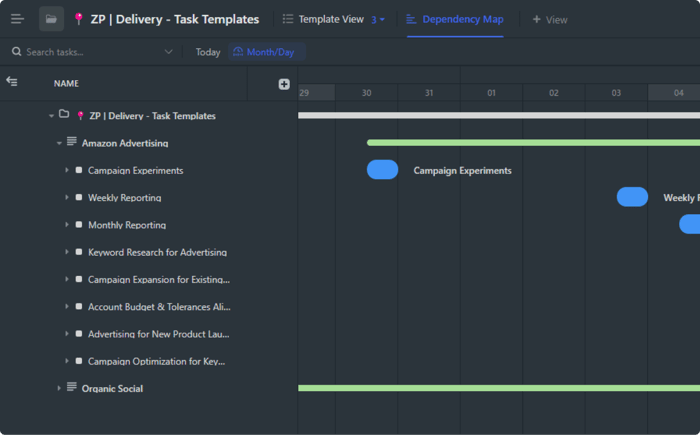 9. Keep it simple and don't use every feature immediately
ClickUp has been on the market long enough that we're starting to work with more and more agencies who have been ClickUp customers and users for a while.
It's rare to find a team with a truly coherent working methodology that is clearly documented in ClickUp.
Instead, we often find agencies who really like the software and the flexibility, but realize that they are missing insights and causing inefficiencies because every agency team member uses ClickUp in a little different way.
Do yourself a favor when you're starting out with ClickUp: keep it simple.‍
Until you know a) that you need a piece of functionality, and b) that you have a plan for implementing that feature in a coherent way across the entire team, don't toggle it on!
Most teams should not initially get carried away with features like:
Priorities

Automations

LineUp

Milestones

Endless Custom Field options

Those are all incredibly powerful tools, but with great power comes great responsibility.
Nothing kills proper ClickUp adoption faster than overwhelming a team without a clear vision and structure.
10. Train your team on the software AND expectations
Setting your agency up for success while using ClickUp boils down to having the right framework, having clear rules of engagement, educating everyone on why and how to follow those rules, and then disciplined accountability in your execution.
That training piece should revolve around 2 types of education:
Your expectations and ground rules around project management as a whole.
Orientation to ClickUp itself, your tool, and how to use it
For example, we put every single agency team member of every single agency who works with us through a Project Management in ClickUp Certification program.
The first thing they learn is the 10 Commandments. These basic expectations are detailed and applied to real-world situations.
Commandment #1 is –> If it's not in ClickUp, it didn't happen.
There's little value in doing things halfway. If you want the ability to accurately forecast your agency's workload, follow a trail to figure out where things went off track for a client project, or reward team members who deliver the best work, you need that work to be centralized in ClickUp.
Explain that expectation and show your team what that looks like.
If you're not working with us, build your own list of expectations and turn it into a training product for new hires.
Add in detailed walkthroughs of how you want the tool to be used and the daily habits each team member needs to adopt.
Then keep that training up to date.
You will have better data to improve your decision making and your team will be more productive, aligned, and grateful.
Turn Chaos Into Clarity.
We're your agency operations pilot.
You can build a happier, more productive, more profitable team with ClickUp. We'll show you how.
11. Pick a launch date and make a clean migration
One place agency teams often trip up when implementing ClickUp is with their migration plan.
Part of the team migrates over as early adopters. A few client projects get moved. One client project is getting maintained in two separate systems.
Suddenly somebody can't find something they need and finally realize it's in the other system. Things get messy, people get frustrated, and the migration project momentum stalls out.
Instead, pick a clear launch date (no less than 2 weeks out, no more than 6-8 weeks out) for migrating to ClickUp.
Build the launch plan and share it with your team.
Before launch, you need to:
Set up your structure correctly
Build out your processes and templates
Train your entire team on the unified way you'll use the software
Figure out whether you're using ClickUp's native time tracking or a 3rd-party tool
Set up any other needed integrations (if it's not native or you need deeper integrations, Integromat is great)
Migrate your active work and configure in ClickUp
Run your launch party
This is all worth it, but none of it is easy. Plan your project well and hold each other accountable to execute it well.
Pro Tip: set your team's expectations correctly. Change is hard and many teams struggle with the new platform for the first week or two until they start to get value back out of the system and new habits. The key is to push through the discomfort to reach the point where you start to earn the rewards from your investment.
If your team has been in ClickUp for a month or longer and they still don't like it or don't feel that it's added value, you need to take a hard look at your current setup and probably get outside eyes on the problem. It may be structural or it may be cultural, but something is wrong.
Feel free to reach out to us for help with ClickUp migration and adoption.
12. Hold everyone accountable
Once you've launched ClickUp at your agency, there are a handful of specific things you should do to help your team get up to speed quickly and then hold everyone accountable to the standards you've set.
Specifically, within the first 2 weeks, you should set up a 1-on-1 meeting with each team member to assess their usage and spot any issues as early as possible.
Look at obvious things like their time tracked and time estimated totals, overdue tasks, completed tasks, and profile set up.
Equally helpful, look at the views they have configured, if they're using features like Favorites, Hotkeys, and the Tray, and whether they have the apps downloaded and in use.
If they haven't yet set up and favorited a "My Tasks" view that allows them to quickly and easily work through their task load with proper context, help them set that up.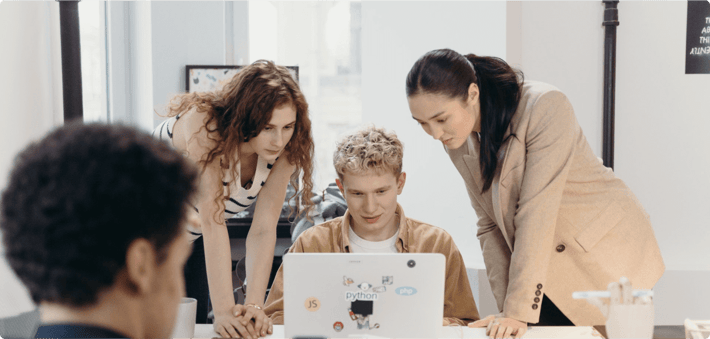 Assign a ClickUp Champion
Crucially, the agency owner can NOT be the person monitoring ClickUp usage and spotting issues.
In a very small firm and for a very small time period, that may be excused, but it never ends well.
Instead, assign someone internally to act as your ClickUp Champion.
This person will execute the consistent checks, address minor issues, escalate major issues as needed, and surface insights and aggregated data to the management team.
To build healthy habits in your team, you should be following clear cadences for accountability, analysis, and improvement.
Let's dig into those next.
ClickUp Champion Responsibilities
The ClickUp Champion is responsible for the following tasks:
The Daily Spot Check –> a 10-30 minute (depending on firm size) audit at the end of each work day

The Weekly Roundup –> a slightly deeper dive on a weekly basis that leads to a short aggregated report to management

The Monthly Review –> a monthly review that pulls data for management that should impact resource allocation, project scoping, pricing, etc.

The Quarterly Analysis –> a comprehensive analysis that impacts time estimates, project planning, recruiting and hiring, client relationships, etc.
Don't skip these tasks. Build out a well-documented process and hand it off to a detailed-oriented team member who can follow the process and deliver the insights and accountability you need to get the most out of your investment in process development and ClickUp.
13. Advanced use cases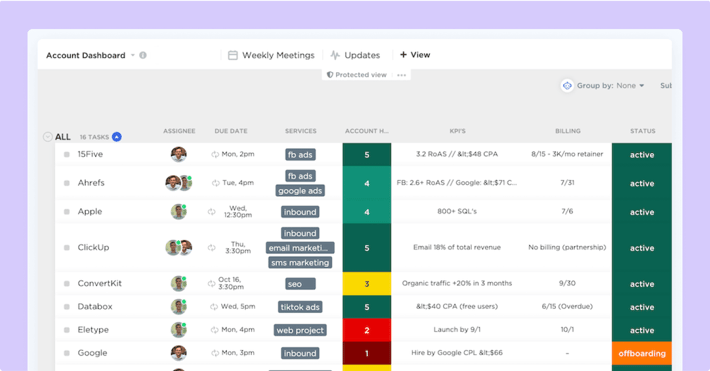 There's so much more to ClickUp and specifically how agencies should leverage it. We're 3800 words in at this point, so I'll save most of these topics for future articles and updates here, but if you have specific features you'd like to learn about, reach out and let me know on Twitter or contact us through the site chat.
A few of the items I'd like to tackle next, include:
Account Dashboard –> how to repurpose a List to create an amazing dashboard of your clients, client health, billing, staffing, etc.

Docs (internal wiki) –> leveraging ClickUp's Docs feature to build an internal wiki, team handbook, and more.

Client Overviews –> where you should standardize client information, links, brand guidelines, etc.

Public sharing –> how to get the benefits of sharing access with clients, without most of the pitfalls.

Embedded views –> which tools to seamlessly integrate into ClickUp for increased productivity (shout out to Databox).

Agile –> how agile teams can leverage ClickUp to replace multiple tools (and automate parts of the process).

Automations –> the best of the best in agency automation use cases (built natively into ClickUp).