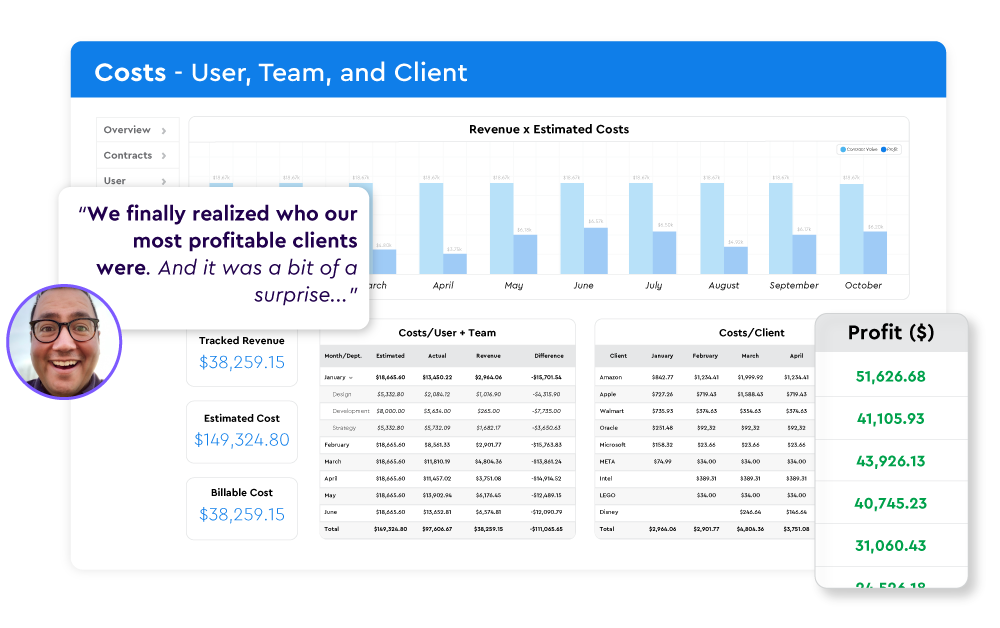 Is my agency profitable?
We pull data from your project management system and document costs, budgets, rates, and expenses to help you see and understand just how profitable and efficient your agency is.
How can we increase profitability?
We help you understand exactly which clients, projects, services, and team members are most profitable for your agency. Providing you with the insights you need to seal up your leaky buckets and maximize your cash cows.
Are we under or over-staffed?
We provide you with reports that help you understand your team's capacity. From time estimated, to time tracked, to overall utilization, you'll have the data and insights you need to know whether or not you need to begin the hiring process.
And we help you make hiring decisions at the right moment, so that you don't wait until your team is overwhelmed.
What role(s) do I need to hire for?
We help you leverage your project management system data to understand exactly which role on your team needs an extra set of hands. You'll know whether or not you need to bring on another copywriter, designer, or account manager.
How well are we planning work?
We provide you with a weekly scoring system to understand whether or not your team is accurately planning work in your project management system.
By understanding your completed, compliance, and velocity ratios, you'll get a good understanding of the accuracy and health of your team's project planning.
How well are we performing compared to other agencies?
We show you how you compare to other agencies. Helping you understand if you're moving in the right direction.
Our partners are awarded gold, silver, or bronze medals based on their monthly performance. A little healthy competition is fun, right?