Your flightpath to revolutionizing your operations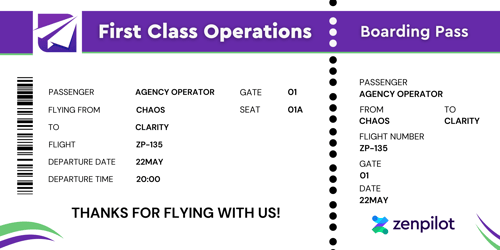 Click here to read the latest archived issue of First Class Operations!
The mission of First Class Operations is simple: to be the most starred, most shared, most loved email that lands in the inbox of agency owners who want to increase their teams' productivity.
At ZenPilot, we get to go inside the operations of hundreds of agencies each month. We're in the trenches all the time, meaning that the tips, tools, and tactics we share are all battle-tested.
When you join First Class Operations, you'll get:
✈️ ClickUp and Teamwork tips
✈️ Tool recommendations
✈️ Carefully curated content to inspire your decisions
✈️ Musings on how to make your work more visible, more efficient, and more profitable
✈️ Advance notice on anything we might be cooking up for you here at ZenPilot
✈️ And the occasional motivational kick in the pants to get you back on the path to achieving your goals!
Lovingly compiled for you by our very own Head of Marketing / productivity nerd / heavy metal fan / bass player ordinaire, Jakub Grajcar.
You can expect it to land in your inbox every other Tuesday or so.