And while you grab and get started on that exercise, let's walk through building these in ClickUp.
1. Create a Process Library
Start by creating a dedicated "Process Library" space to store your process templates and workflows.
This is where you'll store all of your process template source files.
After you build them here, you'll end up saving them into the ClickUp Template Center, but we created a "Process Library" so that we can come back to optimize these (which is a future step in your workload journey).
2. Build Task & List Templates For Your Deliverables and Projects
Within your Process Library, build out templated workflows for your most common projects and deliverables:
Blog posts
Email campaigns
Monthly reporting
New client onboarding
Recurring internal meetings
etc.
For each template, map out all the subtasks, time estimates, due dates, and delivery roles (which will become assignees when the template is deployed) required to complete the work.
Follow the 5 tips I listed above when creating your process templates.
If you're interested in learning more about process template best practices, I'd advise that you read, "ClickUp for Agencies: The Definitive Guide".
3. Save Templates to The ClickUp Library
Once your process templates are built out, save them to the ClickUp Template center so they can be easily deployed.
Now when you kickoff new work, simply navigate to the ClickUp Template Center, select the appropriate template, rename it, change the due date, and deploy it.
After you assign the work to the appropriate team members, you'll have all of your tasks ready to go.
Do this over and over again for other deliverables and projects that need to be done, and you'll continue to populate your workload view.
By using process templates, you'll automatically populate all the key workload data - time estimates, due dates, and assignees. This saves massive time compared to creating each task from scratch.
Over time as you refine your templates based on actual work, your workload forecasts will become more precise.
BONUS
Download the Complete ClickUp for Agencies Guide FREE
The 47-page guide includes graphics, checklists, and links to how-to videos so you can actionize your ClickUp plan.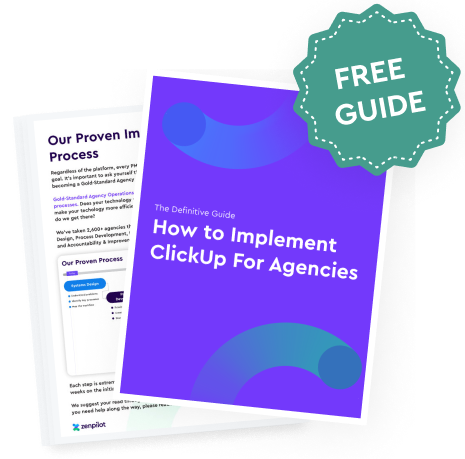 Step 4: Capture ALL Agency Work
For your Workload View to be truly effective, ALL work at your agency needs to be captured in ClickUp - not just client projects.
Here are key items that also must be tracked:
Internal Meetings - Build templates for recurrent meetings like stand ups, planning sessions, one-on-ones etc. Track prep time, actual meeting time, and follow up tasks.
Growth Tasks - Strategic planning, process documentation, hiring, training, etc. These projects often get ignored but need to be tracked.
Operations - Invoicing, payables, tech management, and other internal tasks.
Professional Development - Course work, webinars, live events, and other professional development tasks need to be tracked in ClickUp.
Admin - Checking and responding to email, filling out a daily scorecard, or checking LinkedIn should also be added. You can use ClickUp's recurring settings to set up daily tasks for this.
Out of Office - When team members are off, add OOO tasks to their workload to reflect reduced capacity. This doesn't need to be complex. You can just leverage a task with a start date (when they are first OOO), a due date (when their last day of OOO is), and a time estimate (total time they are out for). Assign this task to the person that'll be OOO and it'll fill the Workload View.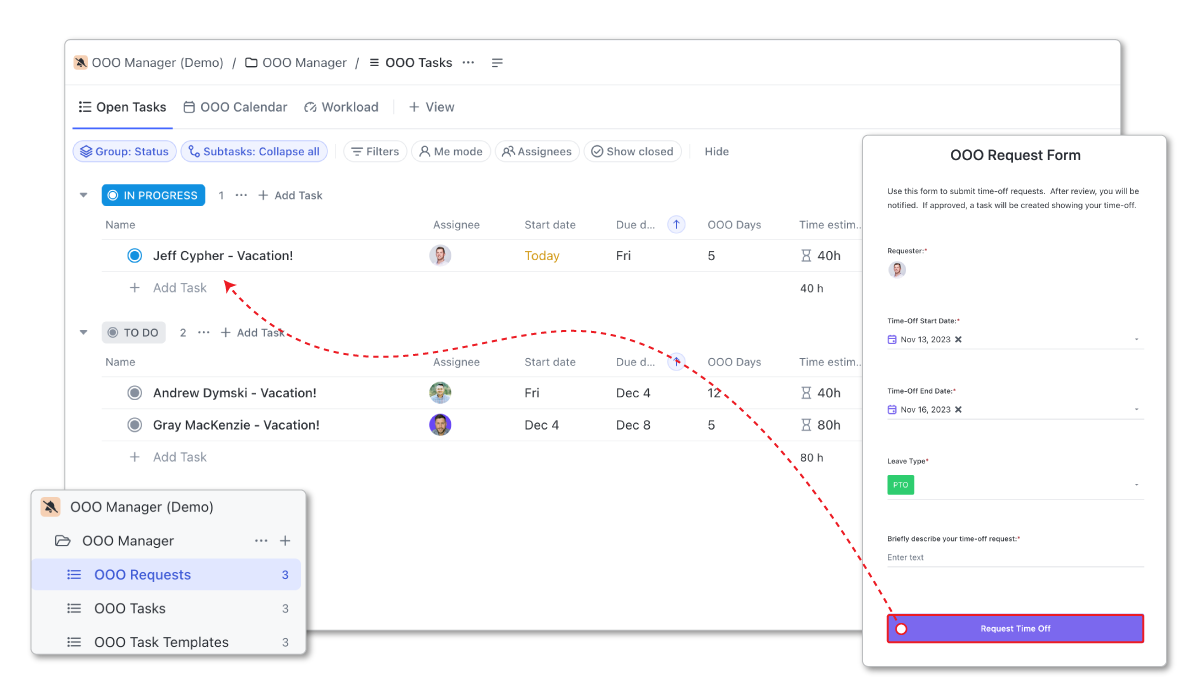 The phrase "If it's not in ClickUp, it doesn't exist" should become your agency's mantra.
Follow this rigorously to ensure your Workload View is complete.
Step 5: Continuously Optimize
Unfortunately, or if you like a good challenge, thankfully, this is only the beginning. Once you've developed your processes, and gotten all of your work in to ClickUp, you need to continue to optimize what you've built.
Here are ways to continuously optimize your Workload View accuracy:
Analyze Trends in Estimates vs Actuals
You'll need to create a dashboard comparing estimated time vs actual time spent on tasks.
This dashboard will help you analyze trends where estimates are frequently way off. You can use this data to make adjustments to your process templates.
I'd recommend that you hire a ClickUp Champion to analyze this data on a daily, weekly, and monthly basis.
The more accurate you can get your time estimates on your process templates, the more accurate your Workload View will be.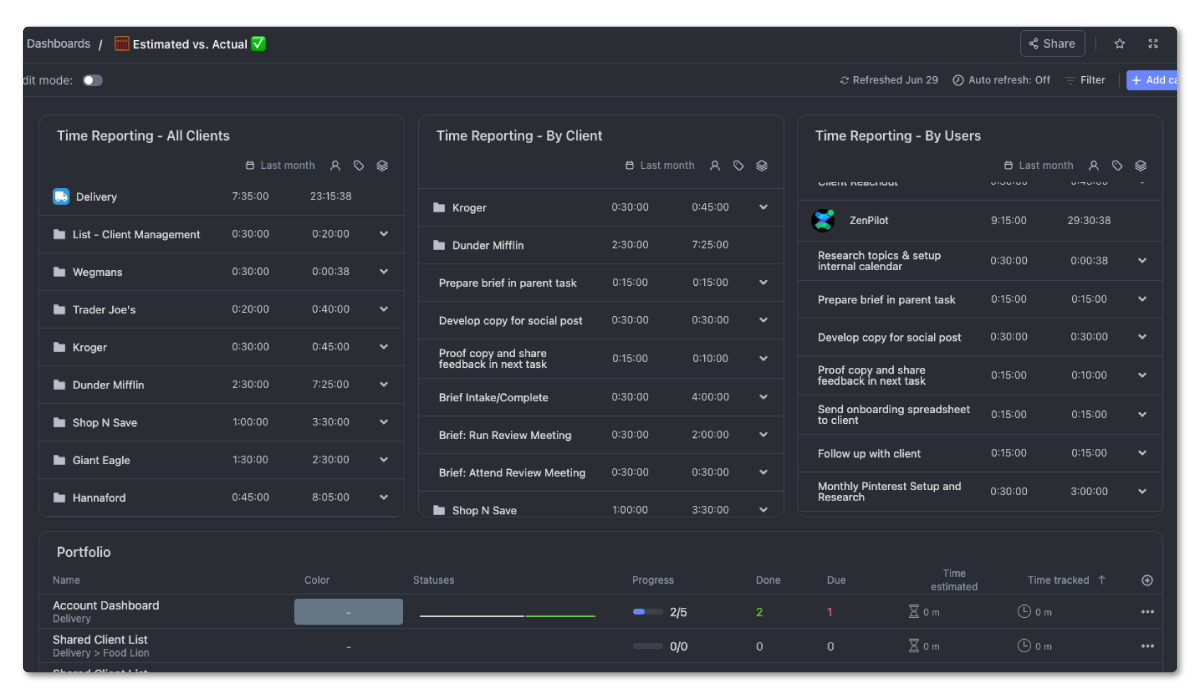 Review Overdue Tasks
As mentioned earlier, regularly review overdue tasks and update due dates to keep workload forecasts realistic.
You'll want a ClickUp Champion or project managers to be in charge of this process.
Aside from just moving due dates, your ClickUp Champion should also be pushing the team to pick up this habit themselves.
Healthy habits across your team is a massive contributor to success in your Workload View.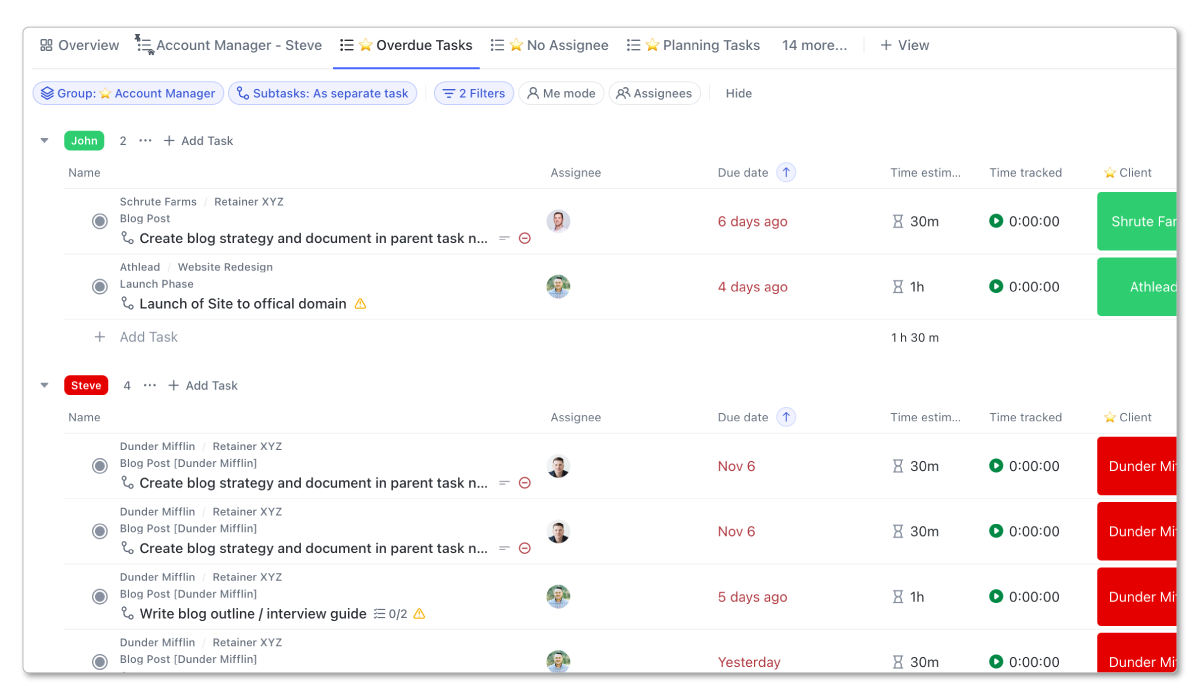 Audit Completed Projects
You're probably already looking at time tracked for your completed client projects. This will help you with profitability analysis and invoicing, but it'll also help you with a further understanding of time estimate accuracy.
By creating a view in ClickUp that shows all complete projects with time estimates and time tracked, you can easily pin-point issues.
If there are tasks that are taking longer than the time estimate across multiple clients and people, then it's time to adjust the process template.
Additionally, you'll want to navigate due date changes to see if you need to adjust your date map in your process template as well.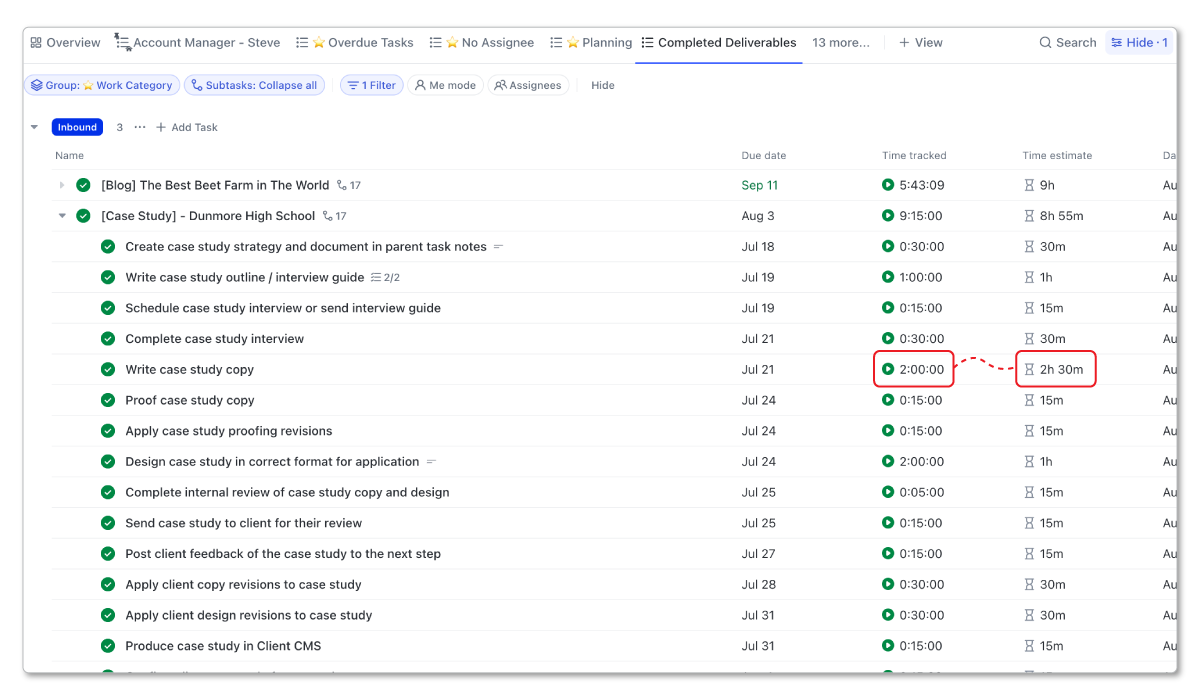 Adjust Your Templates
Based on findings from your analysis, edit your process templates to improve time estimates, due dates, etc.
You built a "Process Library" for a reason. Use it!
Within your "Process Library", you can also build a "Process Hub" (shown below) that provides a place for your team to document changes, statuses, and necessary adjustments to your process templates.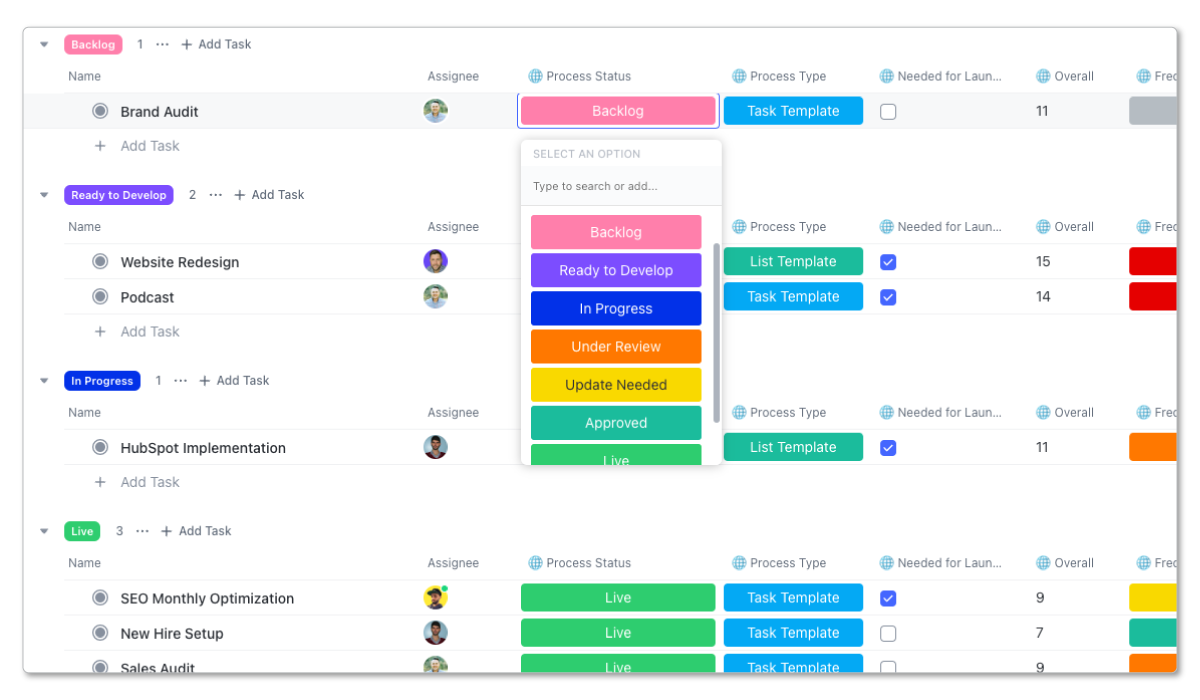 Create a process around process building and process optimizations.
Step 6: Workload-Driven Project Management
Now, if you're still looking for additional ways to take this to the next level, you'll need to think beyond ClickUp and look at how your team is planning, assigning, and delivering work.
Workload-Driven Project Management (a ZenPilot Methodology) is a three power balance - Demand, Resources, and Fulfillment - to plan, allocate, and prioritize resources efficiently and effectively.
Demand determines what we're going to do (and why were going to do it), Resources determine how we're going to do it, and Fulfillment get's it done.
These three power balances offer agencies a scalable approach to enhance their planning, assignment, and execution of work, resulting in even more precise understanding of their team's capacity.
To read more on this methodology and how you can implement it at your agency to optimize your workload view, read our guide, "Workload Management for Agencies".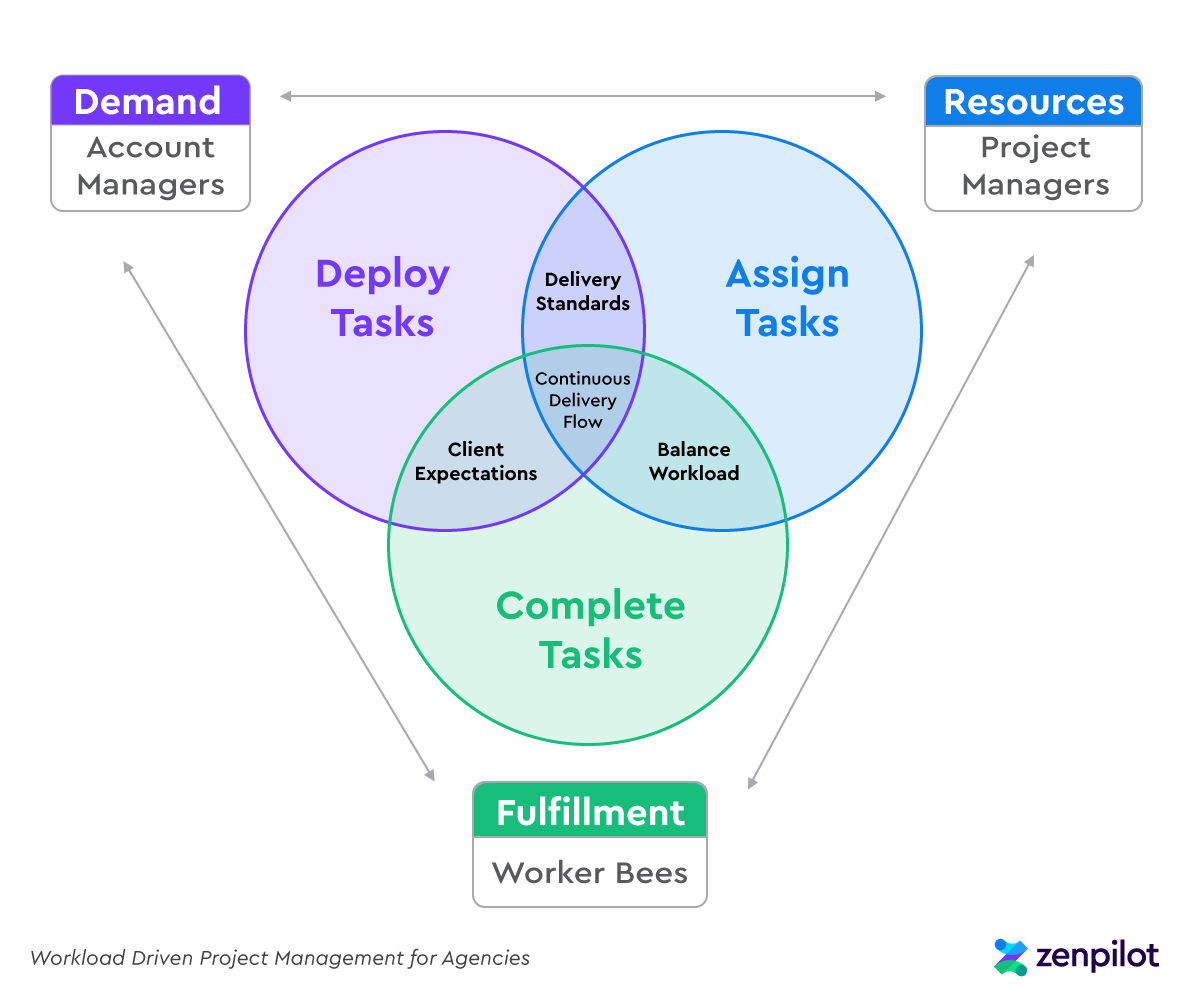 Conclusion and Next Steps
Understanding workload and capacity is a must-have for agencies.
When workload is accurate, it can have tremendous impact on profitability, employee satisfaction, and quality of client work.
Sadly there is no magical switch you can turn on to start seeing workload data in ClickUp. It takes time and effort, but it's always worth it in the end.
At ZenPilot, we've helped close to 3,000 different agencies streamline their operations in ClickUp to gain full visibility into workload, utilization, profitability, and client health.
If you need any help executing these strategies at your agency, we are always happy to help! To get started, book a call with our team.
Turn Chaos Into Clarity.
We're your agency operations pilot.
You can build a happier, more productive, more profitable team with ClickUp. We'll show you how.