How to Choose the Best ClickUp Consultant
Jeff Cypher
is a marketing consultant turned operations nerd who has helped hundreds of agencies fix chaotic project management and stop needlessly hopping from one PM tool to the next.
In the ever-evolving digital landscape, productivity is paramount. With the rise of project management tools like ClickUp, digital teams now have the power to streamline operations, enhance team collaboration, and manage multiple projects with precision.
However, leveraging these tools to their fullest potential often requires the expertise of a seasoned consultant.
This comprehensive guide aims to help you navigate the process of selecting the best ClickUp consultant for your team AND where ZenPilot fits into the mix.
ClickUp's First and Highest Rated Solutions Partner
Since the origin of ClickUp in 2018, we've helped over 2,700 teams streamline their operations in ClickUp - creating more efficient, healthy, and profitable businesses.
The Role of a ClickUp Consultant
A ClickUp consultant can guide your business in overcoming the challenges of navigating ClickUp's complexity, ensuring you maximize the tool's potential, enhance your team's productivity while gaining the visibility and reporting capabilities you need as a business.
But before diving into how to choose a ClickUp consultant, it's essential to understand what they do and the value they can bring to your business.
What is a ClickUp Consultant?
A ClickUp consultant is a professional who helps businesses implement and optimize the use of ClickUp.
They offer tailored solutions, training, and ongoing support to ensure your team effectively uses ClickUp to boost productivity, streamline operations, and improve client service delivery.
Why Do You Need a ClickUp Consultant?
As a robust project management tool, ClickUp offers a multitude of features designed to streamline business operations. However, its comprehensive capabilities can be overwhelming, making the expertise of a ClickUp consultant valuable.
Here are the key reasons why your business might need a ClickUp consultant:
Understanding the Extent of ClickUp's Features: ClickUp's array of features, including views, custom fields, goal tracking, dashboards, and built-in automation, can be daunting to navigate. A consultant can provide expert guidance and training on leveraging these features effectively.
Customizing ClickUp to Fit Your Business: A consultant can help tailor ClickUp to your unique business processes, from customizing your workspace and templates to setting up custom fields that provide you the visibility and reporting you need.

Hierarchy: A consultant can help carefully design your ClickUp hierarchy for you that fits your unique business requirements.
Custom Fields: A consultant can create custom fields that help create the views and reports that you need.
Views: A consultant can help create views for your team that helps them see exactly what they need to see with no distractions.
Dashboards: A consultant can set up advanced dashboards for you to provide the reporting and visibility that you need.

Efficiently Setting up and Managing Workflows: Designing efficient workflows in ClickUp is crucial for productivity. A consultant can assist in creating and managing workflows that align with your business goals.
Integrating ClickUp with Other Tools: Setting up and managing integrations between ClickUp and other software can be complex. A consultant can ensure these integrations function smoothly to enhance your business operations.
Ongoing Support and Training: A consultant can offer ongoing support, training, and updates on new features, helping your team stay up-to-date and effective in using the tool.
Key Considerations When Selecting a ClickUp Consultant
Experience and Expertise
First and foremost, you need to ensure your potential consultant is proficient in using ClickUp. They should be well-versed with its features, advantages, and limitations.

Ideally, they should have the capability to use ClickUp to its fullest potential and build an efficient setup tailored to your teams needs.

In addition, consider if the consultant is officially recognized by ClickUp. For instance, a ClickUp Verified Consultant is a certification given to professionals who have shown outstanding knowledge and skill in utilizing the platform.

This includes capabilities such as automating common workflows, setting up new systems, implementing business processes, and having insight into new ClickUp features.
Customization Capabilities
Every business is unique, and so are its needs and challenges. Your ideal ClickUp consultant should be capable of providing solutions specifically tailored for your organization.

Whether it's creating custom workflows in ClickUp or setting up unique automations via Make or Zapier, they should have the expertise to make your work more efficient.
Training and Support
Effectively training your team on using ClickUp is crucial for achieving success in the platform, as well as any other project management tool.
Look for a consultant who can provide hands-on training in addition to training courses and resources.
A great ClickUp consultant will provide training for your executives, account managers, project managers and individual contributors.
Client Reviews and Testimonials
Client reviews and testimonials can be an invaluable source of information.
Look for a consultant with a track record of successful implementations and satisfied clients.
Positive reviews and case studies can provide insights into a consultant's reliability, effectiveness, and overall reputation.
Niche Specialization
Lastly, consider if the consultant has a niche or target market that aligns with your business. This can ensure they understand your specific needs and challenges, and can provide solutions accordingly.
While it's true that many ClickUp consultants claim to have solutions for all businesses, it's important to find one who truly understands the unique challenges and needs of your specific industry or niche.
A marketing agency is going to operate much different than a software company.
Find a ClickUp consultant that understands and has solved the pains your business faces.
Is ZenPilot a Good Fit ClickUp Consultant for Me?
We hope the tips above will help you select the best ClickUp consultant for your business.
Now that you're more educated on what a ClickUp consultant can bring to the table, we hope you'll allow us to make our case for being the best choice for you.
Our Experience and Expertise
We've been ClickUp nerds since ClickUp began. 🤓
Since forming an initial partnership with ClickUp in early 2018, we became ClickUp's largest and highest-rated Diamond Partner. We've helped over 2,700 agencies, marketing teams and service providers streamline their operations in ClickUp.

Our
Customization

Capabilities

At ZenPilot, we have developed a deep understanding of ClickUp, its features, and its capabilities.

Our team is well-versed in the application of pre-built ClickUp templates designed to simplify project management. (here's a FREE ClickUp template example for you to try out)

We pride ourselves in "If WE can't build it in ClickUp, it can't be done".

Aside from helping you define you ClickUp structure, build your processes and create customized views and dashboards specific to your teams needs, our team of ClickUp Solution Engineers has also built:
A ClickUp CRM to manage all client relationships - deals, companies and contacts - in one place.

An OOO Manager to receive and manage OOO request from your team.

A Contract Manager to see, manage and make critical decisions on all client contracts.

A Workload Manager to help your project managers actually see how much bandwidth every member on your team has + help you determine what role you may need to hire.

Account Management Dashboards to provide your account managers with one place to show them everything that's happening with all of their clients.

A Management Space for companies running on EOS® (the Entrepreneurial Operating System®) to help your team run more efficiently inside ClickUp.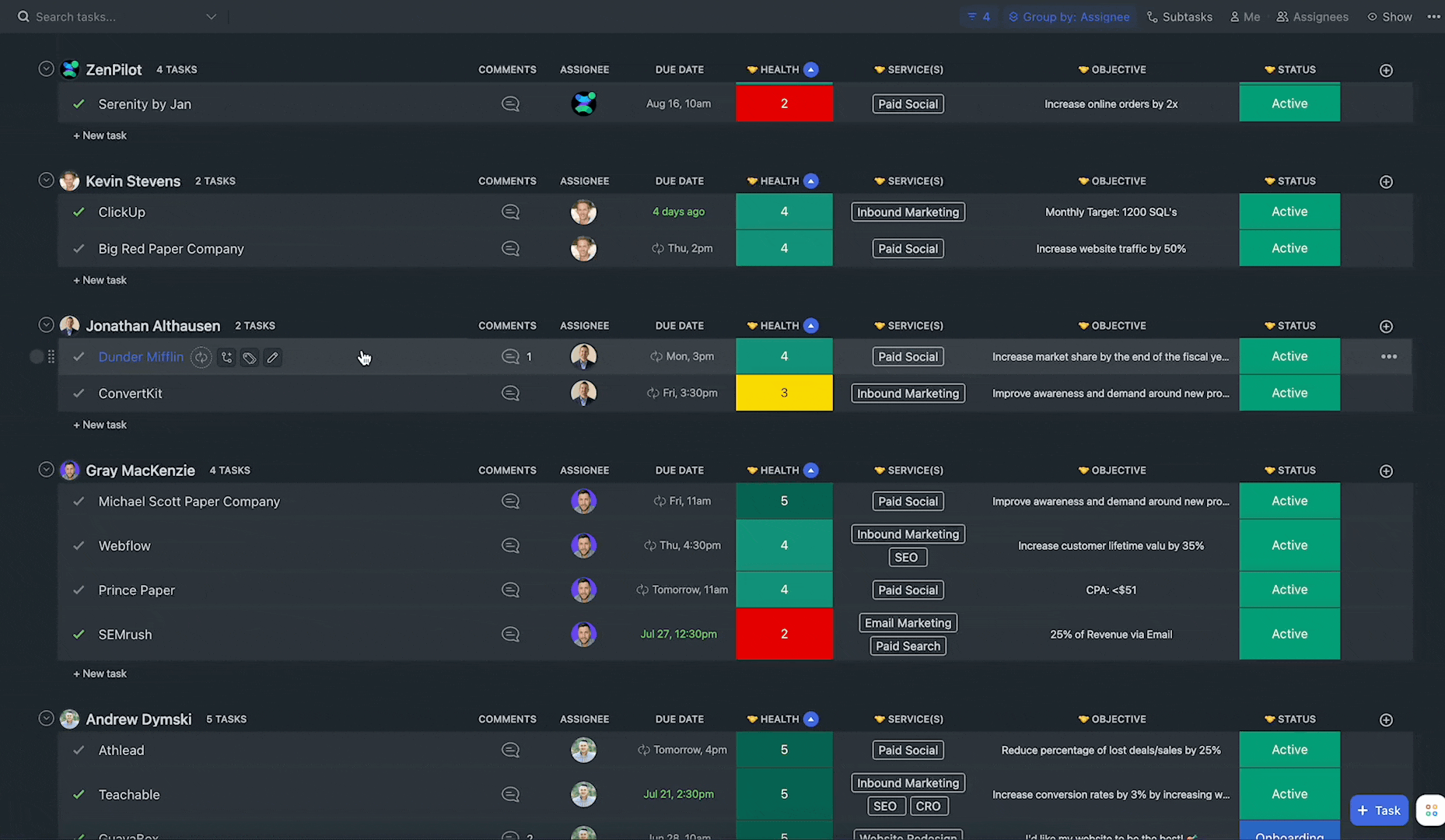 Our Training and Support
At ZenPilot, we take pride in our ClickUp experts who are not only knowledgeable but also exceptional trainers.
Our team is dedicated to providing top-notch training and support services.
Not only do we provide hands-on coaching, but we also offer ClickUp training tracks and resources for all users of ClickUp.
Our team is dedicated to not only assisting with the construction of systems in ClickUp, but also ensuring that teams are able to effectively utilize it, extract necessary information, and enhance its functionality.
Our Client Reviews and Testimonials
We love our clients. If you want to know if our clients love us, check out our success stories page and our reviews on Clutch.
Our Niche Specialization
We're hyper focused on agencies. 🎯
And with that comes a lot of human-hours learning and solving key issues agencies face:
"We didn't have a solid standardized processes for all of our work"
"We had a serious lack of visibility into client health and project progress"
"We had no reliable system for resource allocation and workload management"
"We had too much expertise trapped in a few key people"
"We tried every PM tool out there, but could never get a project management just right for our team"
"We were switching between Slack, Google Docs, Sheets, and email because we didn't have a single source of truth for our agency work"
"We loved the promise of ClickUp, but spent months frustrating our team as we tried to get it right.. I wish we would have found ZenPilot years ago!"
Additionally, because of our strict focus on agencies, we've been able to build a massive library of battle-tested agency process templates.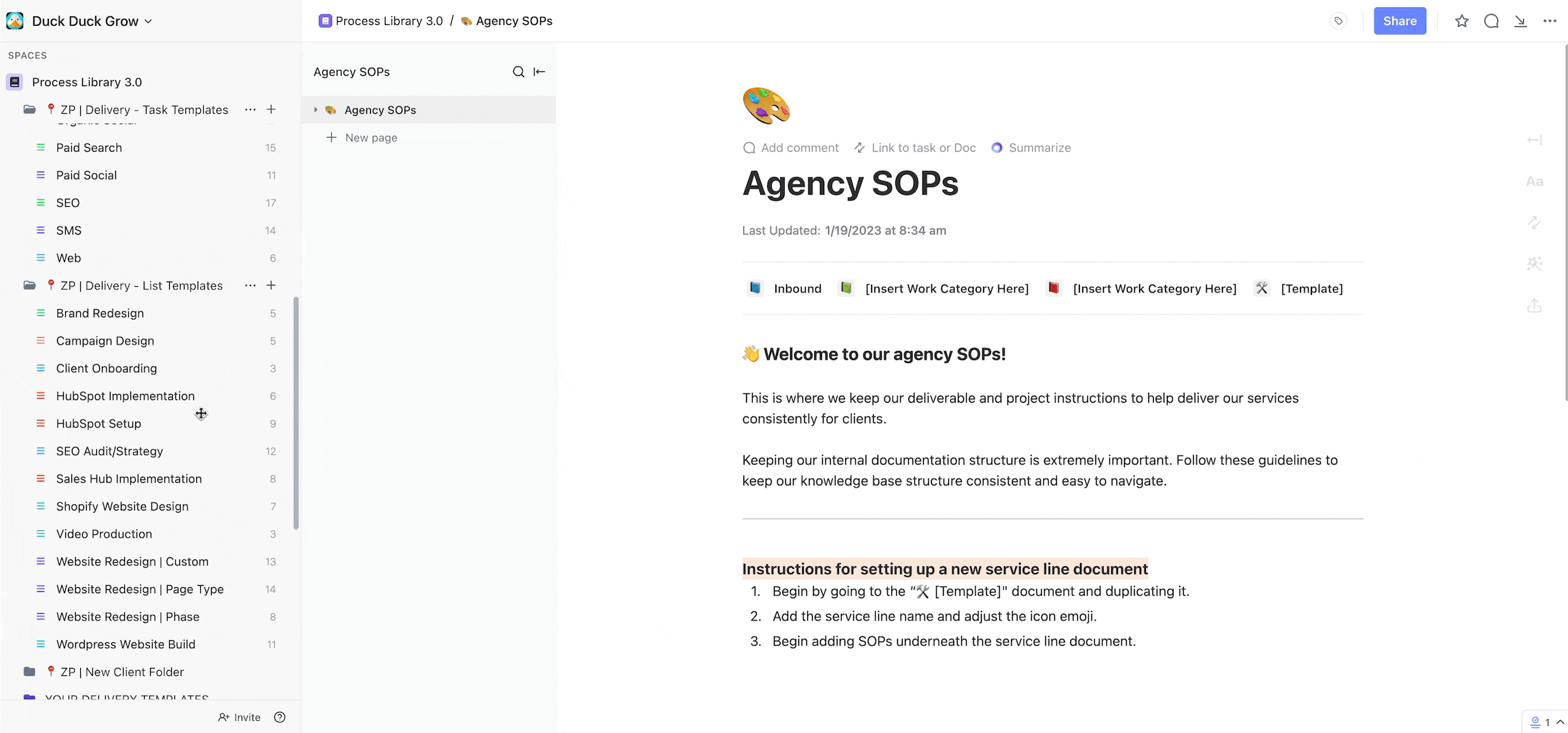 Next Steps
We have a few resources that anyone evaluating ClickUp consulting services should leverage.
Though these are focused on agencies, they can help give you a glimpse into our process and help you determine if it's time to hire a ClickUp consultant .
Step 1: Take the Project Management Health Benchmark. This will show you exactly where your operations stack up against other agencies.
Step 2: Read our ClickUp for Agencies Guide. This will take you through our ClickUp implementation process we've used with 2,700+ agencies. This 47-page guide is packed with resources and the step-by-step instructions you need to get up and running.
Step 3: Schedule a call with us. On this call you'll get an assessment of your current workflow and prioritized recommendations for improving your operations immediately.