How Can You Integrate Slack and ClickUp for Better Communication?
No discussion of ClickUp is complete without addressing how it compares to Slack for team communication.
Alex weighed in with a nuanced take:
"Obviously the ClickUp Chat is a feature inside a very broad platform. Slack is primarily a communication platform, so it's definitely more advanced. For most people, Slack works better, especially for client communication. I think the best of both worlds is integrating them to some extent."
Read: ClickUp Communication Guide for Agencies
Rather than forcing your team to choose one or the other, Alex suggests integrating Slack and ClickUp to get the benefits of both tools.
Although the native Slack-ClickUp integration is limited, a creative solution involving Make can automatically mirror key Slack conversations into associated ClickUp tasks. This consolidates discussions while still allowing Slack's convenience for external clients.
With some thoughtful integration, your team can have seamless communication that bridges Slack and ClickUp. It's a win-win if handled correctly.
The Only Fully Guaranteed Agency Operations Improvement Framework
Get 360 clarity into your operations or your money back, guaranteed.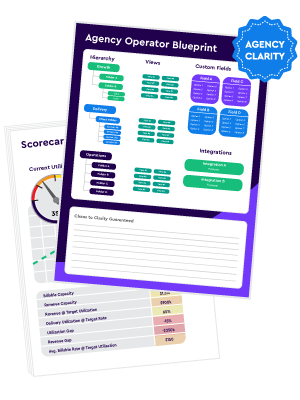 How do HubSpot, Google Drive, QuickBooks and other integrations boost workflows?
Alex emphasized that integrations are crucial for tailoring ClickUp to each agency's unique needs:
"Integrations are really the key to making the workflow your own, because having your project management in ClickUp is obviously very important as a start, but sometimes just that is not enough to [capture] your whole workflow."
While native integrations like Slack have limits, Alex's secret sauce is using Make to connect the dots:
"Once you hear the first time about something like Zapier or Make, your eyes open: 'oh, that integrates with stuff; it can do something different than what you can do natively in that platform!'"
What kind of superpowers does Make add? Alex shared several examples:
Syncing HubSpot deals into ClickUp to trigger new projects
Creating client Google Drive folders from ClickUp when you sign a new deal
Turning ClickUp Formulas into legitimate custom fields for reporting
Automatically generating invoices from ClickUp time tracking
As Alex put it, "This comes very handy especially with invoicing and with costs. Like if you want to find out how much you should bill this client based on the number of hours tracked for them. (...) You can use Make to centralize things into one hard coded custom field."
When you leverage Make to connect ClickUp into wider workflows, a whole new world of integrations within and outside of ClickUp opens up.
BONUS
Download the Complete ClickUp for Agencies Guide FREE
The 47-page guide includes graphics, checklists, and links to how-to videos so you can actionize your ClickUp plan.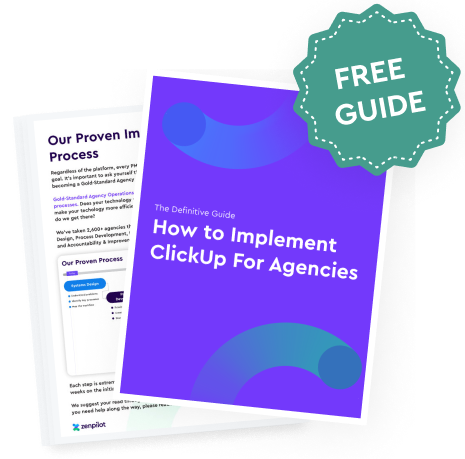 How can external tools augment ClickUp reporting?
Alex gave us an inside look at how he builds robust reporting using ClickUp along with a spreadsheet and Looker:
"What I like the most is when we bridge ClickUp data with integrations and with external reporting, for example wtih Looker Studio."
Want to see this in action? Alex shared his screen at this timestamp in the video and conducted a walkthrough of reporting ClickUp data externally in Looker Studio.
While ClickUp dashboards have limits, Alex extracts key data into Google Sheets, carefully structuring it so Looker can visualize the metrics he needs.
Massaging the data from ClickUp lets him track things like:
The Looker dashboards help identify issues and give insights not possible in ClickUp alone. Agencies can also leverage the approach to share interactive reports with clients.
It does require some spreadsheet finesse, but the payoff is huge.
Alternatively, you can always request a full workload visibility system from us—just book a call.
Turn Chaos Into Clarity.
We're your agency operations pilot.
You can build a happier, more productive, more profitable team with ClickUp. We'll show you how.
What does managing EOS in ClickUp look like?
Here at ZenPilot, we run almost our entire business on ClickUp—including implementing the Entrepreneurial Operating System (EOS).
Alex explained why ClickUp is the perfect platform for EOS:
"EOS in ClickUp mainly is great because of Rocks and Issues—because it makes these things very actionable and relatable to your real work that's going on with project management."
With a few folders and some custom fields, the core elements of EOS like Rocks, Issues, and the Accountability Chart can all be managed natively in ClickUp.
Alex shared how this centralization makes everything more connected:
"You can for example transform a real task in your workspace to an Issue, like: 'okay, we've been working on this deliverable for this client, this is an issue, I want to talk about in our EOS weekly meeting, add it to the Issues list'. And there you can see all the context that has been going on and talk with your team about that."
And managing Rocks and their dependent tasks is a breeze. ClickUp AI's suggested tasks feature can even help your team plan out SMART rocks with less effort.
For any agency running EOS, implementing it in ClickUp is well worth considering.
Ready to Take Your Agency to the Next Level with ClickUp?
I learned so much from digging into these advanced examples with Alex. It's amazing how much extra value you can get out of ClickUp with the right integrations and workflows.
So are you ready to take your agency's use of ClickUp up a level and gain a true competitive advantage? Do these solutions excite you, but you need help implementing them effectively?
Then reach out! Here at ZenPilot, we eat, sleep, and breathe ClickUp.
We've done 2,700+ agency integrations, we're ClickUp's #1 Diamond Tier Solutions Partner, and we have some (most?) of the best ClickUp experts in the world in our roster.
Our experts like Alex can custom tailor the ultimate workflows for your agency using these same approaches and much more.
With our guidance, your agency can lock in the final project management system you'll ever need—saving time, delighting clients, and pushing your agency to new heights.
Book a call with us here and get a detailed diagnosis of where your agency's project management system could serve you so much better.
(Oh, and one last thing...if you want even more ClickUp wisdom straight from Alex, be sure to watch the full livestream recording.)