Implementing ClickUp for a 200-person Agency with Lauren Makielski
Gray MacKenzie
is a true operations nerd who has spent the past decade helping hundreds of agencies build more productive, profitable, and healthy teams by solving the core issues plaguing their project management.
To chat with Gray and have ZenPilot lead your team through the last project management implementation you'll ever need,
schedule a quick call here
.
---
Lauren Makielski is a CSM and PMP currently serving Hawke Media as a Chief of Staff where she helps the agency adhere to one of their core values: Get Sh*t Done.
When she's not shoulders-deep in ClickUp at Hawke, she's likely finding something to add to her cookbook collection or looking at new parts for her next mechanical keyboard build.
---
Topics discussed in the episode:
How Hawke managed projects using Wrike and a disparate array of tools prior to implementing ClickUp in 2020.
Lauren's experience of using ClickUp for 18 months and developing a strong expertise in the platform prior to undertaking the Hawke migration.
Lauren's intense 6-month implementation project which involved countless hours of team interviews, process building, research, data migration, team training, and support.
The results and sentiment of the Hawke team as they moved from a state of "general chaos" to more clarity as a result of implementing ClickUp and Lauren and the team's hard work developing process templates and documentation.
The opportunities for improvement in Hawke's ClickUp implementation and the roadmap to improving internal operations.
Presenting Sponsor: ZenPilot

Be sure to check out ZenPilot, where we help agencies optimize their operations using our proven systems and processes.
ZenPilot knows that you are tired of wasting time on trial-and-error — that's why we provide tried-and-true solutions that will help you grow and scale quickly and sustainably.
So, what are you waiting for?
Go to zenpilot.com to learn more.
Resources mentioned in this episode:
---
BONUS
Download the Complete ClickUp for Agencies Guide FREE
The 47-page guide includes graphics, checklists, and links to how-to videos so you can actionize your ClickUp plan.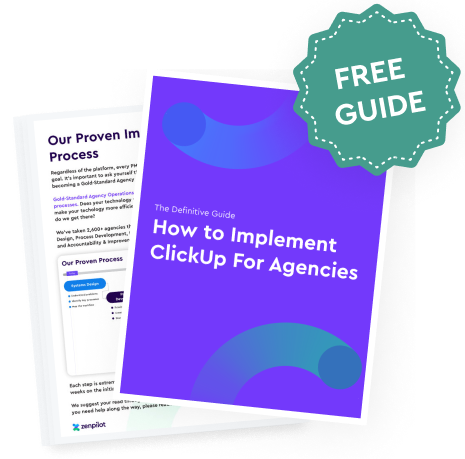 ---