ZenPilot's Proven Process to Streamline Agency Operations
Before we dive into the deep end, it's important that you understand the ZenPilot process for some context.
The ZenPilot client journey involves 3 main phases – blueprint, implementation, and optimize (our ongoing support).
Each phase builds on the last and each step is critical for success to help agency owners bring chaos to clarity.
The Blueprint – This phase is used for discovery. We need to have a full understanding of the pain points, challenges, frustration and goals of a project management implementation. The final result is a Miro board that lays out the full framework and architecture an agency needs to overcome their challenges and reach their goals.
The Implementation – After a blueprint, an agency can choose whether or not to hire us to help them implement their blueprint. There are a few implementation packages, but this phase is meant to implement all of the recommendations from the Blueprint.
Optimize – After an implementation, an agency can choose to continue with ZenPilot on a month-to-month basis to help us continue to optimize what we've designed and implemented.
Don't worry, this article is not meant to walk you through every detail of our services, but that should give you a brief overview of our framework for some context into how we operate.
The Only Fully Guaranteed Agency Operations Improvement Framework
Get 360 clarity into your operations or your money back, guaranteed.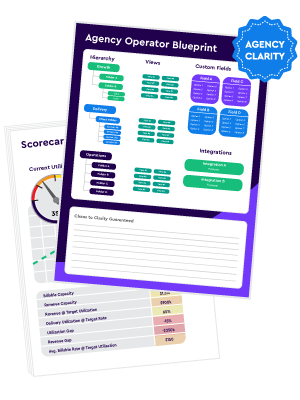 How Did We Get to This Client Journey Framework?
The Blueprint/discovery project is a model that every agency should follow to increase their time-to-value for clients and minimize headaches along the way.
You need to diagnose before you prescribe. This is what the Blueprint is for.
You shouldn't be relying on your sales team to put together a comprehensive framework for clients.
You don't want to be giving away too much free work.
It can be difficult for them to truly understand all of the pain, challenges, and frustrations prospects have.
Get clients in the door, spend time fully understanding their situation, give them a playbook and then implement for them.
What Have Agencies Learned From Our Blueprint Process?
Streamline the Intake Process
Standardizing, automating, and constructing a beautiful intake process can save your agency countless hours per week in onboarding tasks.
Get your clients working and seeing the value the minute they pay you. This is easier said than done, but here are a few takeaways from our process.
1) Create a Checkout Page
If you are able to standardize and productize your services, you should be creating intake and checkout pages. Your sales team can send this page to prospects with clear instructions, and when they are ready, they can use it to make payments. (We use hubspot payment checkout pages)
After paying, the checkout page includes the first steps the client needs to take.
For us, we instruct clients to send out a team survey to their organization. We attach the survey, with an email template and instructions so that everything is clear and easy for them.
After this page, they are sent to our intake form.
2) Standardize Intake with Forms
We use forms to gather the information we need from clients. This allows us to standardize intake and make sure we have everything we need. Additionally, it fires off some automations that help us make sure we set up everything we need to on our end.
Pro Tip: We use ClickUp forms internally, but a lot of agencies successfully use Typeform or Google forms.
After this form is completed, they are redirected to a welcome page.
3) Create a Welcome Page
After clients sign up they are redirected to a welcome page. This page contains a welcome note, an overview loom video, a timeline, expectations, instructions, and a call scheduler.
Pro Tip: We utilize a tool called SavvyCal that allows clients to schedule all of their calls through the process. You can connect multiple Google calendars if multiple people need to be on the calls.
This allows us to strike when the iron is hot.
Clients are most engaged right after they pay you money. Give them homework right off the bat to keep things moving quickly and set up the project for success.
This whole process takes about 5 minutes and has more than halved the time it takes to onboard a new client.
4) Standardize Kickoff Decks
To make it easy for our coaches to prepare for kickoff calls, we have a standardized kickoff deck.
Your kickoff call needs to make the client confident in their decision to work with you. It can be short and sweet, but get them excited for what's to come.
The kickoff deck needs to:
Introduce the people involved
Establish clear expectations and timeline and excited them about the journey
Set expectations on communication and providing feedback through NPS surveys. (We use Retently)
Revisit why they are here
Provide an overview of the pain points and goal of the project
Show them what they need to do next
As a bonus, we have an automation in place that will automatically create this deck for us.
After the intake form is filled out, a Make automation (formerly known as Integromat) will set up a google folder for that client and copy a kickoff deck into this folder.
Our client coaches will navigate to that folder and customize the deck
And boom, they are set for the kickoff call!
Centralize Communication
Communication can be a big pain point for a lot of agencies. They communicate with every client differently.
We use Slack to keep communication all in one place. Every client gets a '[Client Name] <> ZenPilot slack channel.
Although not every agency uses slack internally, you don't want to give in to the client's demands if you don't have to. Rely and lean on your process.
Explain and teach them, "If you want the results, you need to follow our proven process. Part of our process is using Slack, so this is how we will communicate. Here is some documentation on how we will use the tool."
Set clear expectations from the beginning.
This is your main point of contact
This is how you should ask questions
This is the window of time for us to reply
This is when we will and won't use threads
Leave Breadcrumbs in Communication
Your Slack channel is an amazing place to leave breadcrumbs and allow the client and you to look back at everything that's been done.
Create and send meeting recaps in the channel to show what's been done, what's to come and provide necessary resources (call recording, documents, etc.). Pro Tip: We use Avoma for all of our call recordings.
Point all direct messages back to the main slack channel so all communication is centralized.
Create Collaboration with Clients
As you run through the process, it's important to be collaborative and keep both parties engaged.
We rely heavily on Miro in our Blueprint process. The end product is a Miro board, but Miro also helps us collaborate with agencies when building their final product.
Miro is a fantastic blend of Google slides and Lucid Chart.
We use a few different exercises in Miro during our Blueprint process to break the ice, uncover the emotional state, and articulate the pains that need to be solved.
By keeping our exercises and notes all in one place, we can now invite the client to the Miro board at the end so that they can see the whole journey of how we got to the final outcome.
Train Your Clients
Adding training courses to our engagements has completely transformed our services. It takes some time, but it's completely worth it. Why?
This helps you teach a man to fish.
You'll transform your market utility into not just what you can do for clients, but what you can empower your clients to do themselves.
You'll turn yourself into a source of knowledge for your clients.
You'll set the expectations and show the vision for where you're getting them.
You'll educate them on the foundations to make every call with them better and focused on their unique challenges.
Our goal is to change the way agencies think.
And you should try to change the way your clients think.
You need to be a leader that drives that conversation and teaches them a new way to think.
Training courses are the best, but most underutilized assets that agencies can use to leverage the collective knowledge and experience that they have. And package it in a way that can be easily consumed by their clients.
This is not meant to be a separate service to sell. This is built to be a way to assign and empower your clients so that they can get better results.
Your training course should lay out the foundation and cover the basics so that when you jump on calls, they have context and an understanding of what you're talking about. This is the 101 conversation and then you break down the uniqueness of each client.
Benchmark Your Clients
During our blueprint process, we use a team survey so that agencies can uncover the strengths, weaknesses, opportunities, and threats that their agency faces. This survey lists 20+ statements and lets the team rank them on a 1-5 scale.
Some example statements we include are:
I understand my role and what is expected of me.
I understand each tool we use and where it fits into our process.
Leadership is fair and open to my feedback.
We set healthy communication habits within our team.
I feel like my peers and leaders have my back and actively support me.
This survey results in three things:
Average rating on each statement – What's the overall score?
Team alignment – What was the standard deviation?
Benchmark against other agencies – How do you line up against every other agency that have taken this survey?
We've taken 2,700+ agencies through this process so we've been able to collect a massive amount of data. It's great to see what the team thinks, but it's super impactful to see how you line up against others at the beginning.
This survey can also be taken every year to see improvements. There is a lot of power in creating surveys for your clients so they can see the results of where they came from and where they are at now.
Crawl, Walk, Run to Better Your Client Journey Process
You don't need to go crazy at first. Start small. Build a checkout page, or create an intake form for clients.
As that step saves you time and eases the processes, build on that momentum and continue to add new assets and optimize old assets.
Have a systems mindset and get 1% better everyday.
If you'd like to go through this blueprint process or need help developing this process, please get in touch with us.
Turn Chaos Into Clarity.
We're your agency operations pilot.
You can build a happier, more productive, more profitable team with ClickUp. We'll show you how.