Eager: A Pain-Free App Store For Your Website?
Gray MacKenzie
is a dad of 4 and a true operations nerd who has spent the past decade helping agencies build more productive, profitable, and healthy teams.
I'm not a rock-star developer. I've been building websites for 6+ years, but I'm still no JavaScript ninja.
During my short career, I've built hundreds of websites and had success because I knew where to go to get answers, I could find code that works, and I bugged smart people until they surrendered the answers.
My inbox, Twitter, Feedly, and Zite are constantly overflowing with how-to's, coding tutorials, and cool inspiration posts.
I've quietly used my GitHub account to keep an eye on what the real rock-stars are developing. Early on, it was primarily to keep up with new WordPress functionality and plugins, but as soon as I got access to HubSpot's COS, I started to get serious about developing full websites on HubSpot.
Two of my favorite developers were actually guys who worked at HubSpot. Adam Schwartz first captured my attention with Facewall. I had seen Zack Bloom's name before, but started paying attention after reading his post on how HubSpot deploys hundreds of times every day (which is crazy awesome).
These are the two guys behind the resource I'm sharing here, the Eager App Store.
What is the Eager App Store?
According to their about page:
The mission of Eager is to bring the high quality apps and libraries being developed all around the world to every website owner on the internet, no matter how small.
My translation:
Eager is trying to replicate the app store experience that we love on our mobile devices, they're creating a model somewhat similar to plugins for WordPress, but beyond the WordPress platform.
The plugin repository and app stores allow me to use other people's work to solve my problems. Eager is taking that model and extending it for any website, regardless of CMS.
For example: if you wanted to have your website automatically link URL's in paragraphs, display social icons, or make your site load faster, you'd have to hire somebody, put in the work yourself, or go find code to do that and make it work with your particular site configuration.
With Eager, you skip all of that. You just embed one script in your site, then click to install as many pre-built apps as you'd like for the functionality you need, and you're set to go.
Q&A with Adam Schwartz and Zack Bloom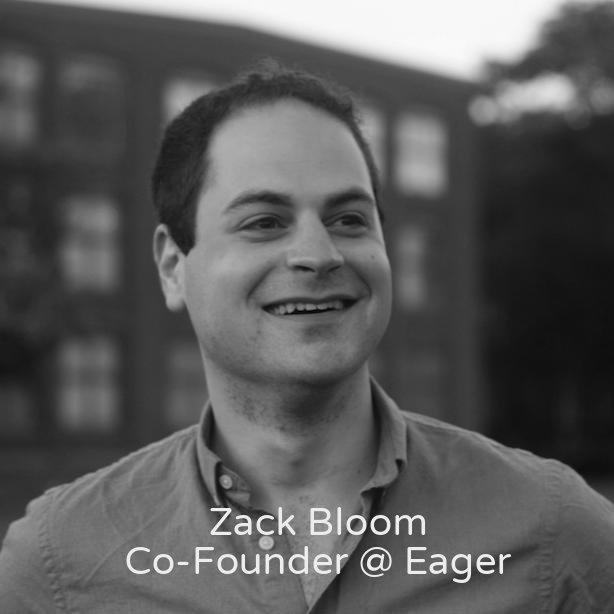 How long have you been working on Eager?
Zack: We've only been working on Eager itself since April of this year, but it's really a product of years of work Adam and I put into building open-source software and helping people to use it.
When did you decide to leave HubSpot and focus on Eager?
Adam: As Zack said, we built a lot of open-source software, but it became clear that there was a huge audience of website owners out there who just weren't plugged into the right technical channels to find what we were building. We ultimately decided that the only way to make the situation better was to rethink how people add things to websites, and that we needed to be a separate company to do that.
What's your long-term vision?
Zack: Companies like Google and Facebook have legions of world-class engineers who can build anything to order. But small businesses just don't have those resources. We believe by making open-source software accessible we can make the internet better. We want to create an app ecosystem where any website owner can install what they need to grow their business and trust that it will work. On the other side, we want this ecosystem to allow other software businesses to reach a much larger audience than they can today.
What are the short-term next steps?
Adam: We're focused on getting more apps on more sites. This means outreach on two fronts: we are helping app developers get their software on the app store and simultaneously improving the product to make it easier for non-technical website owners to add Eager to their sites. One thing we're very excited about is having a first-class WordPress integration in the next few weeks.
What does the revenue model look like?
Zack: Right now businesses who build software which runs on websites have an uphill battle. They need to be discovered by often non-technical business people. Once discovered, the business person needs to engage technical resources to get the software integrated before they can even get a look at how it might affect their site and metrics. This limits the growth of these companies, and favors the entrenched behemoths.
Alternatively, on the Eager app store, non-technical consumers can find apps easily, and preview and install them with one click. This lowers the cost of customer acquisition for these companies by 10 or even 100 times. It also helps the best products truly rise to the top and get on more sites much more quickly than ever before. This dramatic growth leaves plenty of room for Eager to collect a margin on the revenue generated from software which would very likely never have been sold without the app store. These economics mean we hope to offer lower prices on many of these apps than businesses can get outside of the app store. Businesses grow, consumers get high quality software, and Eager generates a comfortable revenue.
What can you access on a user's website if they're using Eager?
Adam: We don't have access to any more information than the Google Analytics or Disqus embeds that many websites already have installed. In fact, the client-side additions that Eager offers are often much safer than traditional plugins. WordPress, Drupal, and Joomla plugins can all run code on your server, potentially jeopardizing your security or taking down your site. Eager only interacts with your site on a visitor's browser, leaving your server secure.
Further, we don't share what little data we do collect. We're in the business of making websites better, not selling consumer data. We encourage our users to review our terms of service and privacy policy for more details.
How much does Eager cost?
Zack: Eager is absolutely free! We make money when you decide to invest in a paid app. You're free to use only free apps and enjoy Eager free forever. We have a business model, and it doesn't involve charging website owners. You can add Eager to your site with the confidence that we won't come along in a year or five years with a bill.
My Favorite Eager App Store Apps
I've installed Eager on a couple websites including my personal site, sgraymackenzie.com (a work in progress for sure). Of the apps I've installed so far, my favorites are:
InstantClick — speeds up your website right away, making most clicks effectively instant navigation. Built by Alex Dieulot.
Pace — shows a progress bar while pages are loading (lots of options).
Fresh URL — strips tracking parameters from your page URL's (but the tracking still works – it's pretty nifty). Built by Wistia.
You can access all the apps from the Eager App Store. Oh yeah, and it's free.