ClickUp vs Asana: Ultimate Project Management Tool Comparison
Gray MacKenzie
is a true operations nerd who has spent the past decade helping hundreds of agencies build more productive, profitable, and healthy teams by solving the core issues plaguing their project management.
To chat with Gray and have ZenPilot lead your team through the last project management implementation you'll ever need,
schedule a quick call here
.
ClickUp and Asana are two of the fastest-growing project management solutions currently available. That said, the user experience between the platforms couldn't be more different.
To help you find the right software for your needs, we're going to dive deep into the features, pricing, and unique benefits that each option offers.
We'll also factor in some of the insights and challenges that we've seen in our time helping over 2,700 agencies get their operations streamlined in ClickUp.
Let's get right into it!
BONUS
Download the Complete ClickUp for Agencies Guide FREE
The 47-page guide includes graphics, checklists, and links to how-to videos so you can actionize your ClickUp plan.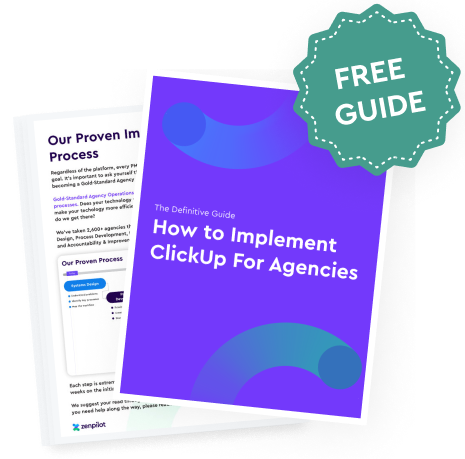 What is ClickUp?
ClickUp is an all-in-one suite that helps teams manage tasks, create reports, and collaborate on documents by editing with other team members in real-time. ClickUp also has team chat and whiteboard capabilities.
What is Asana?
Asana's web and mobile apps help teams organize, track, and manage their entire workflow. The platform lets you track the progress of projects, assign individual tasks, plan sprints, and use third-party integrations to unify your management tool stack.
How Do ClickUp and Asana Compare?
Features
Both ClickUp and Asana have enough features to warrant their own respective articles. That said, here are a few of the most commonly used features to help you gauge which areas of project management each platform focuses on!
Top ClickUp features:
Task management
Recurring tasks
Time tracking
Dependencies
Whiteboards
Real-time team chat
Custom views
Custom fields
Chrome extension
Reporting and workload management
Mobile apps (iOS and Android)
Integrations and automations
Top Asana features:
Task management
Recurring tasks
Advanced search
Video responses on tasks
Color-coded project icons
Dependencies
Mobile apps (iOS and Android)
Chrome extension
Winner: the features category is a tie since there are too many features to compare and it all comes down to how customizable you'd like these features to be.
Views
Depending on which plan you go for, ClickUp lets you use Kanban, Gantt, Form, and Timeline views to visualize the progress of every project. You can also have different default views set for separate areas on your workspace.
This can be a lifesaver if you have multiple departments working under the same ClickUp workspace. The marketing team might work best with Kanban boards but your operations personnel may prefer a Gantt chart. With ClickUp, you don't have to choose between the two.
Of course, Asana has its fair share of views as well. List, Board, and Calendar view are the most commonly used as these are the three views available on the Basic (free) tier. However, you can unlock Gantt charts by upgrading to the Premium plan.
The Premium plan also includes the Milestones feature which can help you view project progress from the perspective of major accomplishments being completed. Finally, Asana users in the Business tier can use the portfolio view for high-level monitoring of all active projects.
Winner: ClickUp wins since it has more views for less money and also lets you customize your views or even create personal view settings that only you can use.
Team Communication
ClickUp has a chat view with real-time channels that feels quite similar to Slack. If most of your team is already on ClickUp then it'll be a lot easier to reach them since you can just @mention any user on your workspace from the chat view.
One unique benefit that you won't find with most other team chats is ClickUp's Slash Commands. These help you format and manage messages a lot faster than the Asana interface. It truly feels like writing with Notion but inside Slack's UI.
Asana, on the other hand, takes a feedback-based approach to team communication. This means your messages will consist of comments left on a task rather than real-time conversations.
There are pros and cons to this approach. The benefit is that it's a lot easier to keep track of important information without reading through the backlog. However, it can be difficult to create a collaborative team culture when you don't have a real-time means of sharing ideas.
Winner: ClickUp takes the win for team communication since it essentially has its own native mini-Slack built into the platform.
Integrations



With over 1,000 integrations to choose from, ClickUp users are certainly spoilt for choice. The most popular apps that people use with ClickUp include Microsoft Teams, Google Calendar, Google Drive, Slack, Zoom, and Miro.
About 80% of ZenPilot clients use ClickUp's native time tracking, but you can also use third-party time tracking tools like Everhour, Harvest, Timeneye, Timely, TimeCamp, Time Doctor, TMetric, and Toggl if you're not satisfied with the native time tracking capabilities of ClickUp.
It's worth noting that ClickUp also has a public API that lets you build custom integrations and ClickUp apps. Alternatively, you could use Zapier and Integromat to expand beyond the existing native integrations.
Asana has its fair share of handy integrations as well with popular apps like Slack, Hubstaff, Salesforce, and Cliq all being compatible with the platform. Cliq is a particularly notable integration since it could alleviate some of Asana's real-time communication shortcomings.
While Asana doesn't have an API for creating integrations, it does have an access API called Asana Connect. This lets you grant API access to third-party apps without having to share your username or password.
Winner: ClickUp's gallery of over 1,000 native integrations is already enough to score it the win, but the public API and Zapier/Integromat external integrations help seal the deal.
Ease of Use
If you're just using the basic features of ClickUp then it's actually easier to use than most people might think. The main thing that you should familiarize yourself with immediately is the task hierarchy since that's the one thing that most beginners get tripped up on.
Once you have that down, using ClickUp can feel rather similar to other project management software – just with more flex, for better or worse.
The good news is that ClickUp also has detailed tutorials for everything from getting started to using advanced features.
If you're an agency, be sure to see this webinar on ClickUp for agencies.
Asana, being a ready-out-of-the-box type of solution, has a noticeably gentler learning curve. It doesn't have nearly as much customization in terms of optimizing your workflow or automating certain processes but this simplicity can make the tool easier to use for new customers.
There are still a few pitfalls to be aware of though. For instance, it's really easy to set your notification preferences in such a way that you get spammed with emails. In any case, it's definitely a good idea to go through a course or two on the Asana Academy.
Winner: Asana takes the win in the ease of use category since it's a lot quicker to set up and the learning curve isn't as steep as ClickUp.
ClickUp vs Asana: Pricing
ClickUp Pricing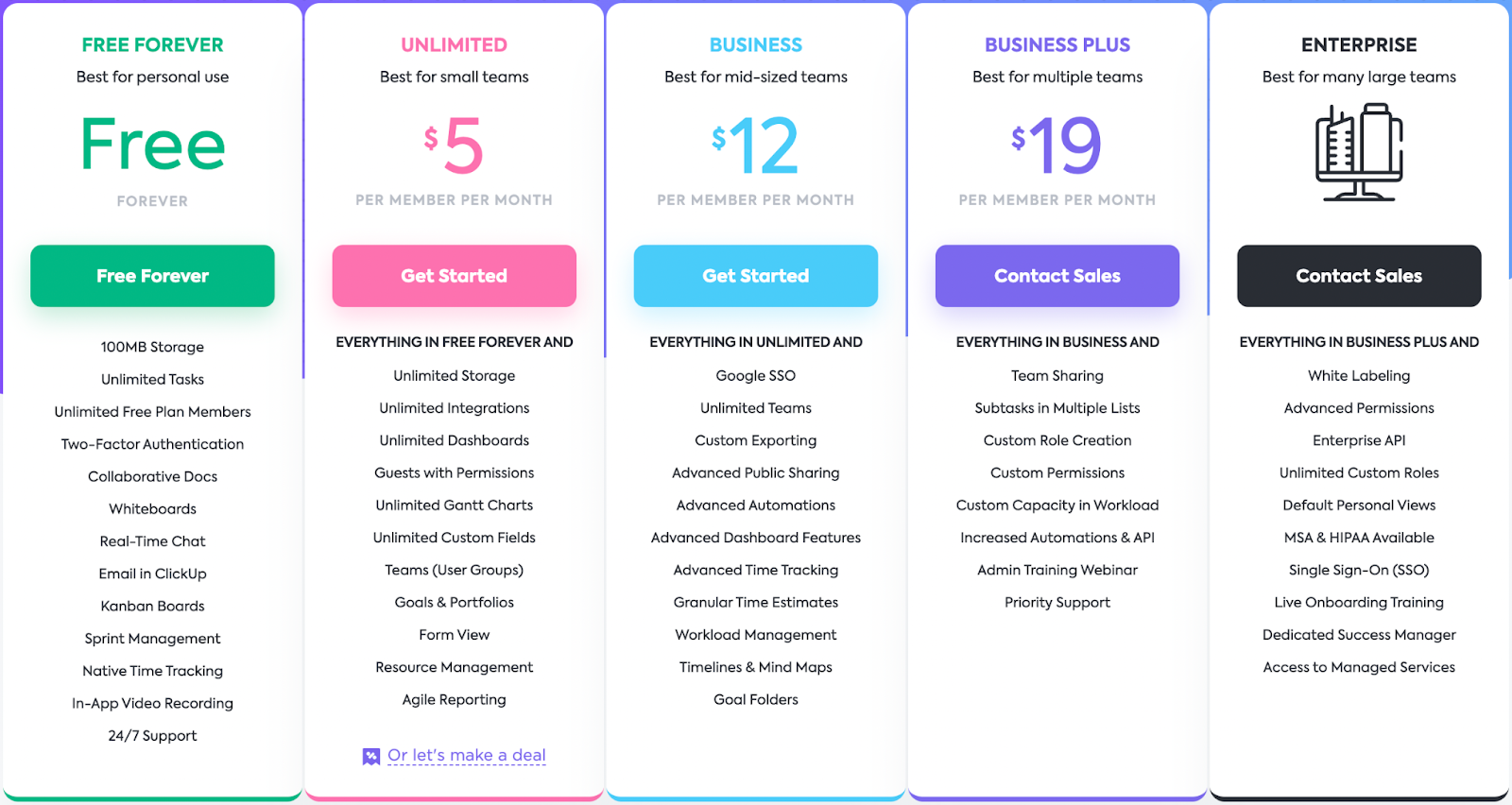 As you can see, even ClickUp's free plan has quite a lot to offer. You get 100 MB worth of cloud storage, most of the core collaboration features, and the ability to add as many members to your workspace as you need.
Still, there are plenty of compelling reasons why you should upgrade. The Unlimited tier offers unlimited storage, unlimited integrations, and agile reporting capabilities all for just $5/month for each user (if you bill annually.)
The Business tier is a bit pricier at $12/month billed annually or $19/month billed monthly but it does have a few unique benefits that could be useful to larger organizations – such as Google SSO, advanced automations, advanced time tracking, and workload management!
Overall, it's clear that the ClickUp team has put a lot of thought into its pricing structure to ensure that every tier delivers a lot of value to the customer. To get a feel for the Business Plus and Enterprise tiers or just visualize the differences between each tier, here's a summary table:
| ClickUp Plans | Free | Unlimited | Business | Business Plus | Enterprise |
| --- | --- | --- | --- | --- | --- |
| ClickUp Pricing | Free | $5/month/user | $19/month/user | $29/month/user | Custom pricing |
| Customer Support | 24/7 Support | 24/7 Support | 24/7 Support | 24/7 Priority Support | Dedicated Success Manager |
| Storage Capacity | 100 MB | Unlimited | Unlimited | Unlimited | Unlimited |
| Top Features | Native Time Tracking | Guest Users | Advanced Automations | Custom Permissions | Single Sign-On |

Asana Pricing
Much like ClickUp, Asana also has a freemium plan. However, there a few key differences. First of all, you get unlimited storage as long as none of your files are larger than 100 MB. However, you'll only be able to collaborate with 15 team members unlike ClickUp's uncapped free plan.
The Enterprise plan of Asana is a bit difficult to summarize since it can flex depending on the customer's needs and the pricing is quote-based but here's a summary table to help you visualize the three base plans on offer:


| Asana Plans | Basic | Premium | Business |
| --- | --- | --- | --- |
| Asana Pricing | Free | $13.49/month/user | $30.49/month |
| Customer Support | Email Support* | Email Support* | Email Support* |
| Storage Capacity | Unlimited (100 MB per file) | Unlimited (100 MB per file) | Unlimited (100 MB per file) |
| Top Features | 100+ integrations | Workflow Builder | Workload |

*24/7 priority support is available for Asana Enterprise customers
ClickUp vs Asana: Pros and Cons
ClickUp Pros and Cons
If you're still on the fence, here are a few pros and cons that could help you decide if ClickUp is the right solution for your team.


| ClickUp Pros | ClickUp Cons |
| --- | --- |
| Most powerful + flexible PM | Longer learning curve |
| Frequently release new features | A few bugs on newly released features |
| 1,000+ integrations | Not as many pre-built integrations |

Asana Pros and Cons
Asana also has a few noteworthy pros and cons that may influence your buying decision.
| Asana Pros | Asana Cons |
| --- | --- |
| Unlimited free storage (max 100 MB file size) | Higher per-user cost |
| Less tinkering needed to get started | Maximum of 15 members on free plan |
| 200+ integrations | Admin console locked to Premium tier |


Which One is Best For You?
As you can see, there's merit to both platforms and either one of them could be a viable option for your company. It all comes down to which features, you need, which tools you plan on integrating, and how much you're prepared to pay for that user experience.
You should also factor in your company culture, team size, and growth rate to make sure you find a solution that will expand with you instead of cracking under the pressure.
That's all for now but be sure to share this article with a friend or two if you found it helpful – stay productive, pilots!
---
If you need help choosing between ClickUp and Asana or other project management platforms for your team, chat with our team. With a decade of experience and thousands of clients served, we can help you choose the right tool for your situation.