The 5 Clients Agencies Can't Afford to Take On
Gray MacKenzie
is a true operations nerd who has spent the past decade helping hundreds of agencies build more productive, profitable, and healthy teams by solving the core issues plaguing their project management.
To chat with Gray and have ZenPilot lead your team through the last project management implementation you'll ever need,
schedule a quick call here
.
There's one cornerstone of your business that might be preventing you from building the agency you love—the clients you're taking on.
Who you decide to do business with means everything. Your clientele have a direct impact on your culture and the direction your agency moves.
That's why it couldn't be more important to spend some time analyzing your own agency. Through that process, you might discover some amazing things including your best client type and the industries you thrive in.
In the agency universe, however, there are some constants that aren't the ideal client for anybody.
That's what we're going to dive into here—the five clients that I promise you can't afford to take on.
Why, you ask? The bottom line is this—in one form or another these five client character types will harm your business. That's why it's important to be able to identify them before it's too late.
🎁 BONUS MATERIAL: AGENCY PROJECT MANAGEMENT HEALTH BENCHMARK
Take the 20 question quiz to benchmark yourself against 2,000+ other firms.
Take the Benchmark
---
If you encounter any of these five client types, do yourself a favor and run for the hills.
1) The Dreamer
These are the individuals who may have an idea for a business, but don't have anything in place to actually get it started.
They talk a good talk, and can even raise your eyebrows with some crazy offers "you'd have to be a moron to turn down." The truth, however, is that these are dangerous unknowns that do nothing but spin your wheels.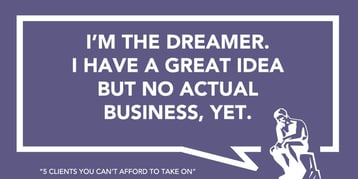 Warning Signs:
No business plan
No investors or funding, and no urgency to acquire either
Not enough funds to launch the business
Wants to trade "equity" for your services (although the above-three points aren't certain)
Don't Waste Your Time
Dreamers are dangerous because they will waste your time. You're not in this for free. Your efforts should be compensated, and you should be seeking to work with real businesses.
That's not to say that one day they won't be a real business, but while it's only a dream, your services should only be a dream as well.
If you're ready to jump at it because it's simply an opportunity that came in the door then I have to ask you a tough question. How incapable are you at getting clients willing to pay that you're willing to waste your time?
2) The Slow Pay, No Payer
These are the clients who will absolutely wreck your revenue pipeline.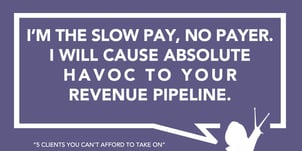 The only way to scale a business is by establishing a predictable and reliable revenue stream. The slow pay, no payers are unpredictable and unreliable when it comes to payment. In extreme cases, they won't pay at all.
Depending on how you take payment, you can find out about slow pay, no payers one due payment too late.
Here's How to Draw Them Out Right Away:
Require a production deposit or first payment before beginning services
Set the deadline according to your terms and see what happens
Don't start until you receive this. You'll immediately notice if it comes late or not at all and this is a pretty good indicator of how they pay.
Some Cases Aren't Totally Hopeless
For slow payers, you can still take them on, but you have to make a formal effort to get them on the same page as you. Set your payment terms up front and charge late fees to enforce on-time payments.
If someone is chronically late then you might want to consider ending the business relationship altogether.
If Someone Stops Paying …
If someone stops paying, it's time to halt the machine. The longer you wait before halting the machine to collect your compensation, the harder it's going to be to ever recover your payment.
3) The Doubter
The dangerous doubter is the client type who doesn't trust your your team or your strategies. This relationship will not work out in the long run. Without trust you don't have anything.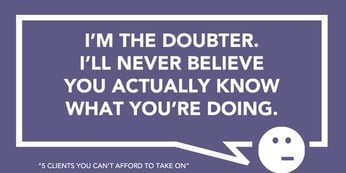 Warning Signs:
Constantly questions the value of your expertise
Constantly questions the value of your strategies, even when you've agreed on a service set contract
Constantly goes through periods of trust and non-trust, even though you're delivering results
Inbound Marketing Requires Buy-In
If there's one thing inbound marketing requires it is buy-in. Someone who doesn't believe in the power of inbound isn't going to be a good client to work with.
That's why it's important to educate your prospective clients about what inbound is. If you can't establish value in the sale process then it's worth pursuing other leads.
Another great way to get buy-in in the early stages of the relationship is to run an inbound marketing GamePlan. This several-week engagement dives into strategy and helps clients visualize what's involved and how inbound works.
4) The Dictator
It's OK when a client knows what they want, but things get dangerous when they demand you do it a very specific way—their way. Their way in most cases won't line up with what you've developed, used, and proven as an agency.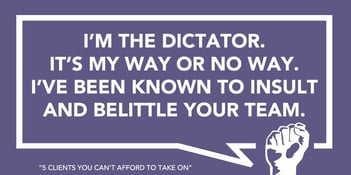 If the client knew what to do and how to do it, would they be hiring you?
Warning Signs:
Doesn't agree with your approach
Has a laundry list of off-beat tasks they want you to take on
Doesn't want your brain—wants your hands
Again, you should be offering your proven framework that gets results. You should have processes that have been proven, refined, and repeated for the outrageous success of your clients. Your clients are hiring you to bring this to the table.
Dictators Often Belittle Your Team
By starting the relationship with the mindset that they are right and you're wrong, dictators will think your team members are useless. This translates in client interactions.
I've heard of stories where dictator client types have caused account managers to cry on the phone. This kind of belittlement is unacceptable and shouldn't be something you put up with in your agency if you want a good culture.
In an interview with Half a Bubble Out's Michael Redman, he explained how belittlement is unacceptable in their culture. He says if a client doesn't respect the team, it's time to fire the client.
5) The Unreachable
These are the clients who may or may not be missing and/or dead. Why? Well, because you absolutely cannot reach them.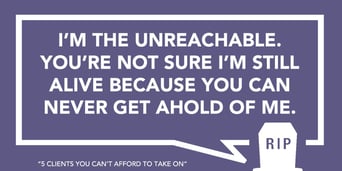 Warning Signs:
Doesn't respond to emails—no matter how urgent
Doesn't respond to phone calls or voicemails—no matter how urgent
Doesn't respond in a timely enough manner to allow you to do your job
Unreachable Clients Kill the Process
Inbound marketing requires participation from your clients, so they have to be available.
Inbound is driven by content. The only way to get content is to tap into your clients as resources. If you're not able to reach them then you're not able to get the right context and educational content to fuel your engine.
On another note, agency work also can often require an approval process. Clients who don't respond can push your deadlines back and derail the process. The real kicker is that they'll blame you for the failure at the end of the day.
Shift Your Mindset to Get The Best Agency Clients
Graduate from the mentality of "we'll take literally anything that comes in the door."
The greatest shift you can make as an agency is the clientele you decide to work with. Every client has an effect on your team and on your life, so be sure to be cautious when adding to your client family.