4 Underrated Tools For Agency Growth
Gray MacKenzie
is a true operations nerd who has spent the past decade helping hundreds of agencies build more productive, profitable, and healthy teams by solving the core issues plaguing their project management.
To chat with Gray and have ZenPilot lead your team through the last project management implementation you'll ever need,
schedule a quick call here
.
Growing your agency fast, cost-effectively, and without sacrificing the quality of service your clients receive is no easy task. In fact, trying to juggle all these cornerstones of growth can feel like a Herculean task at times.
That being said, having the right software in your tool stack can certainly make this balancing act a lot easier and ensure your key agency processes go off without a hitch. Without further ado, let's get into four tools that will help you scale your agency to the moon! 🌑
---
Avoma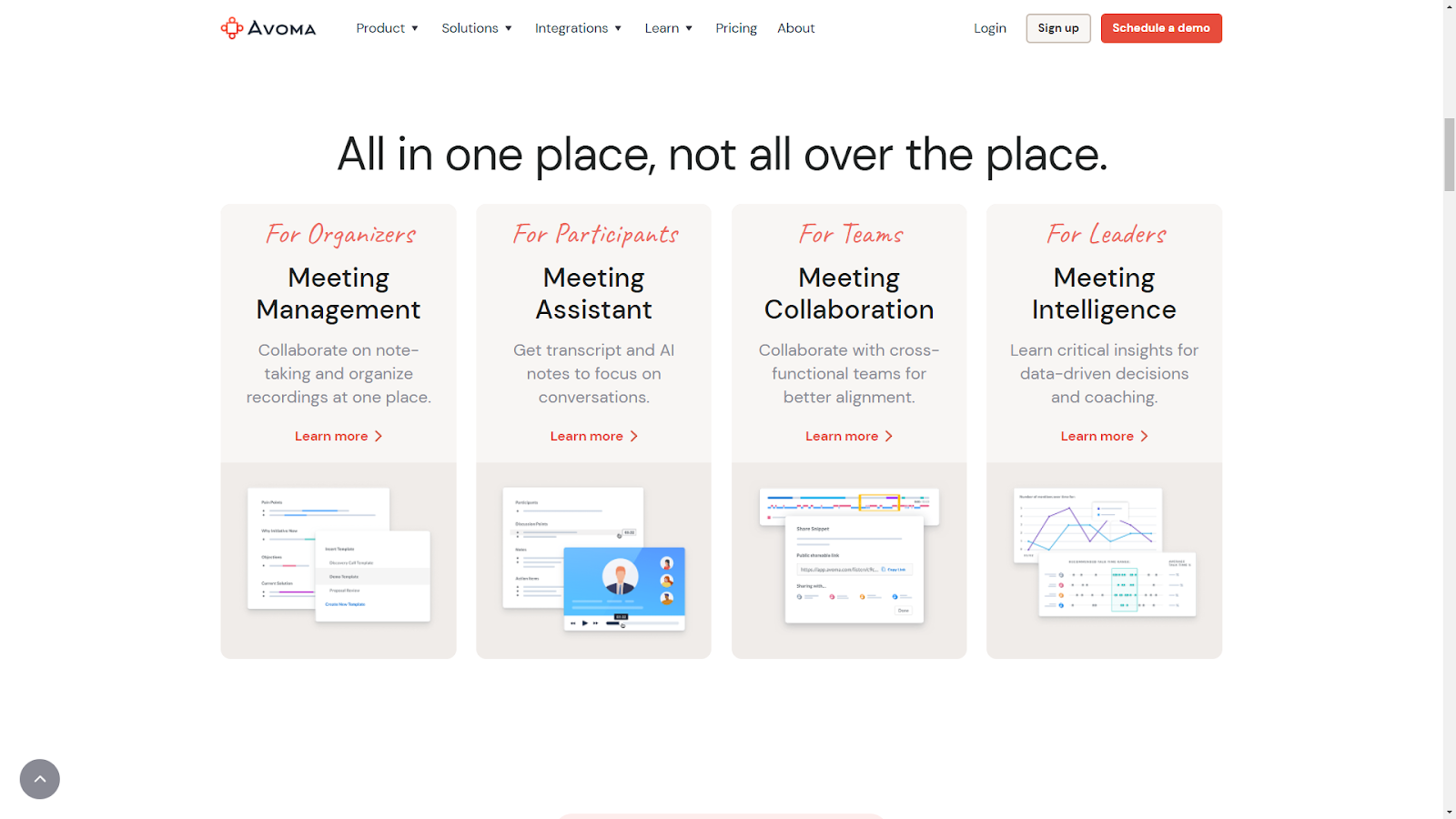 There's no question that virtual meetings make up a large chunk of day-to-day operations for most agency owners. In a never-ending cycle of vetting prospects or discussing the next campaign with existing clients, one call after another.
With so many calls crammed into a single day, it can be hard to diligently take notes during every call — much less retain all the information you're receiving! That's where Avoma comes in since it's the intelligent meeting assistant that ZenPilot uses for all our implementations.
There are many assistants out there like Fireflies or Fathom but what makes Avoma unique is that it encompasses every stage of the meeting lifecycle. This makes it ideal for streamlining processes for high-growth agencies.
Here are the three stages it helps with:
Pre-Meeting. You'll be able to use Avoma's agenda templates, collaborate on the agenda with others, and set up no-show reminders to ensure everyone joins the meeting on time.
Mid-Meeting. During the meeting, Avoma will automatically record and transcript the entire conversation. Other features you can use during the meeting are collaborative note-taking and live bookmarking.
Post-Meeting. Once the meeting is over, you'll be able to create highlights and share them with clients. You can also organize recordings into playlists and look at trends to see which keywords come up most often in your calls.
Avoma has been a game-changer for us at ZenPilot since it helps us know what a client wants going in, document everything during the meeting, and let clients review everything we went over after the call ends.
Since Avoma handles recording, transcribing, and note-taking all on its own, agencies will finally be able to put their full focus on what the prospect is saying. This not only helps increase your sales closing ratio but also ensures that you'll be able to meet client expectations.
Lastly, Avoma has finally added a dark mode to their mobile app which certainly has the night owls of ZenPilot thoroughly excited. If you want to spend less time collating notes and more time listening to your clients then don't hesitate to check out Avoma's pricing details below!
CLICK HERE TO SEE AVOMA'S PRICING
---
TextExpander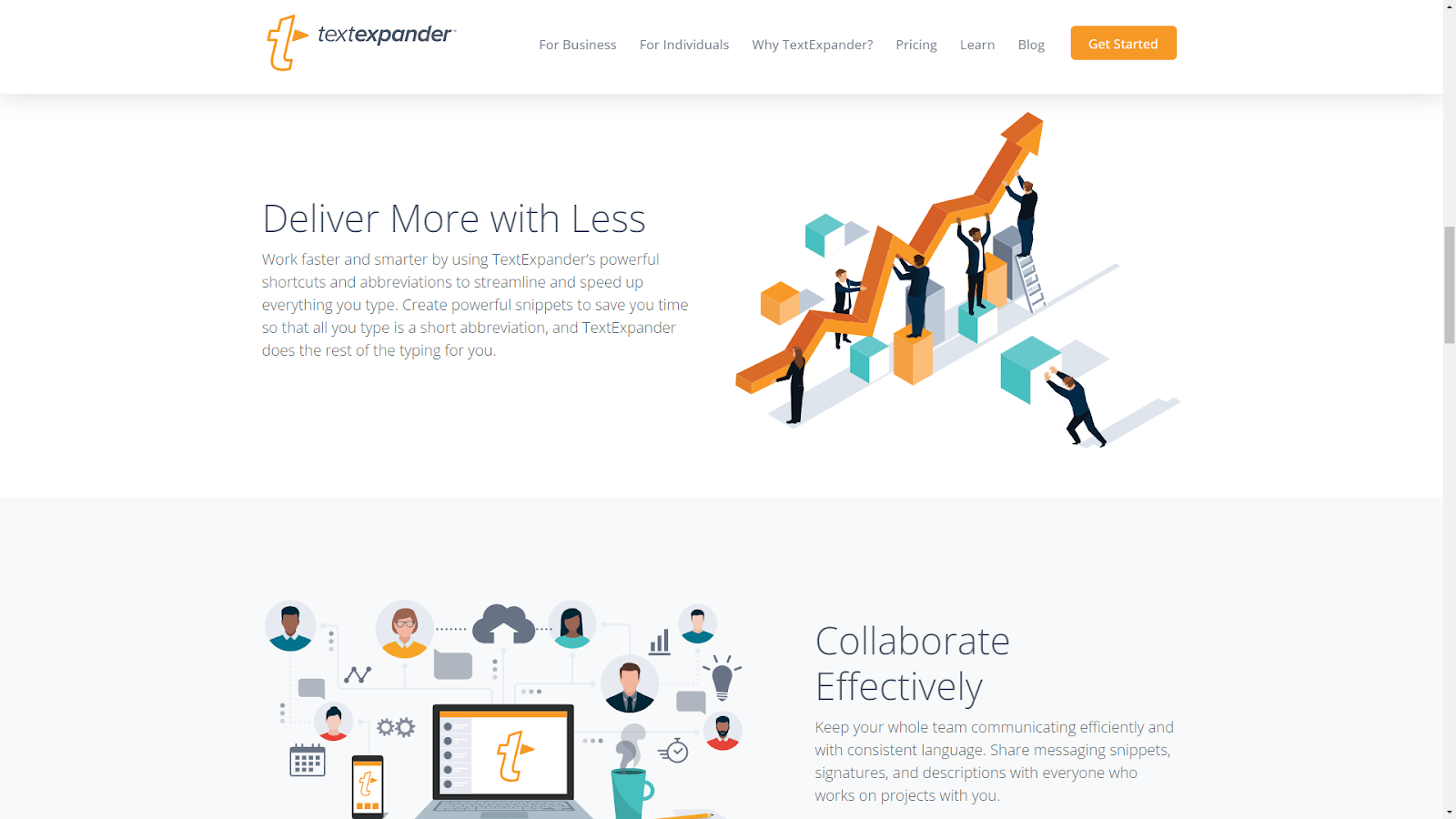 When most people first come across TextExpander they see it purely as a time-saver. While it does help us save a lot of time here at ZenPilot, this tool brings a lot more to the table both for us and agencies who are looking to accelerate their growth.
Very briefly, let's go over how TextExpander actually works.
In a nutshell, TextExpander lets you create text snippets that you can later trigger with just a few characters. //zpweb and m.call are our most used shortcuts here at ZenPilot since it lets us pull up the website and meeting calendar in a handful of keystrokes.
Whether you're an agency owner, head of operations, project manager, or sales representative, think about how many times a week you type out the same phrases. It could be your website, calendar, pricing packages, Zoom link, or links to a slide presentation for prospects.
Even something as simple as creating a -ty shortcut for "Thank you!" can save you a few seconds per day, a few minutes per week, and a few hours per month. Outside of saving you time and keystrokes, TextExpander makes resources a lot easier to pull up for clients.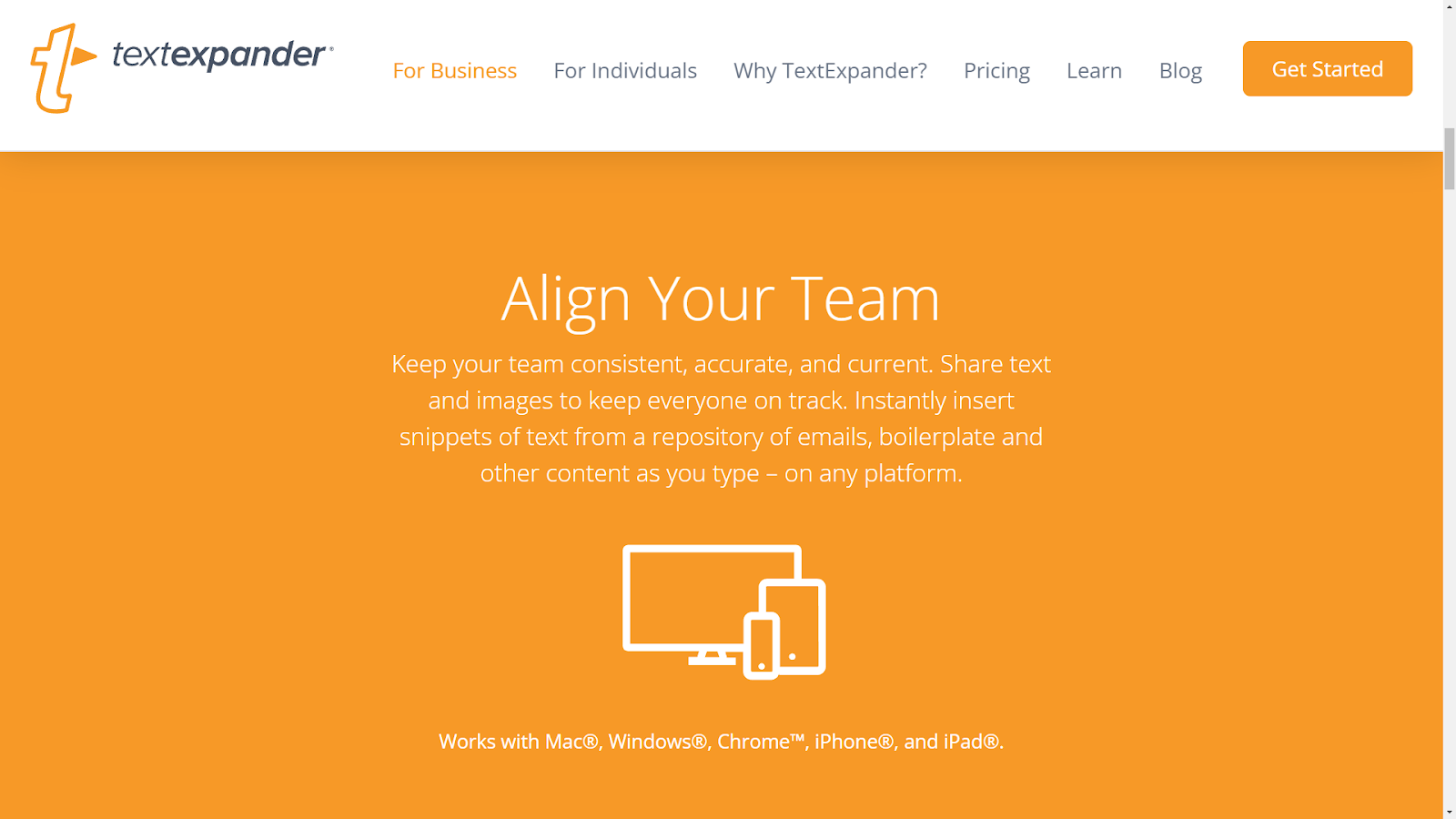 Never again will you have to tell your client to hang on in the middle of a call because you can't find the link to a specific document. Instead, you'll be able to type three to four characters and instantly have it ready to go.
This gives you the agility to adapt to sales calls, respond to objections at lightning speed, and keep the conversation on track. If you want to have more information at your fingertips then check TextExpander's pricing out below or look at the next info-based growth tool on our list!
CLICK HERE TO SEE TEXTEXPANDER'S PRICING
---
Guru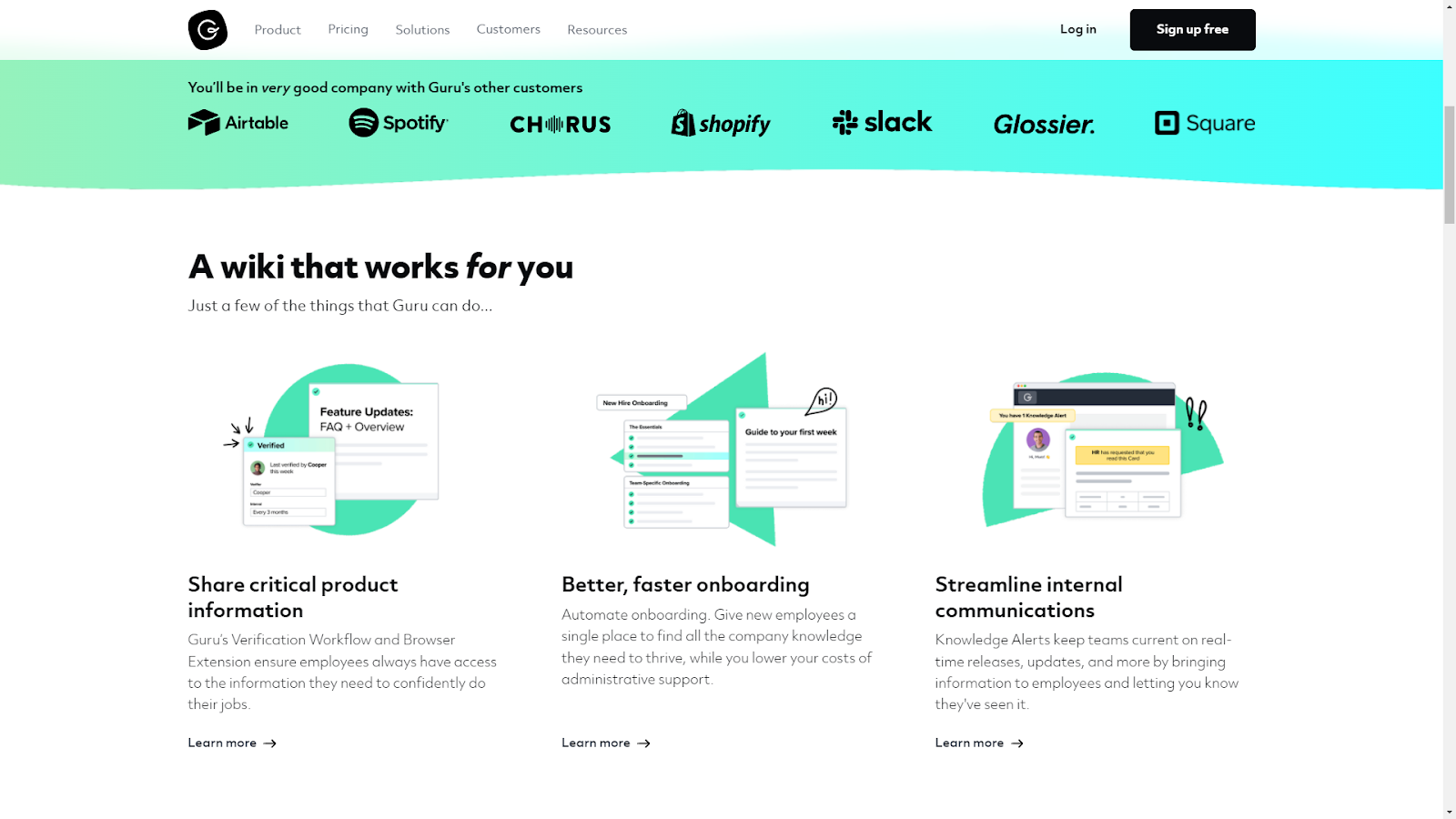 GetGuru, better known as Guru, is a solution that lets you build your agency knowledgebase and access information from anywhere using their handy Chrome extension. Accessible information is great, but Guru has more than meets the eye.
This is because Guru actually gets smarter the more you use it. If you're constantly pulling up the same documents while responding to client emails then Guru will learn to have those agency resources at the ready the next time you open your inbox.
It should come as no surprise then that their company motto is "the fastest search is no search."
If your agency is made up of Slack power users then the Guru integration will be a lifesaver. With it, you'll be able to respond to messages with Guru cards or even create new Guru cards using conversations that happen in your Slack workspace.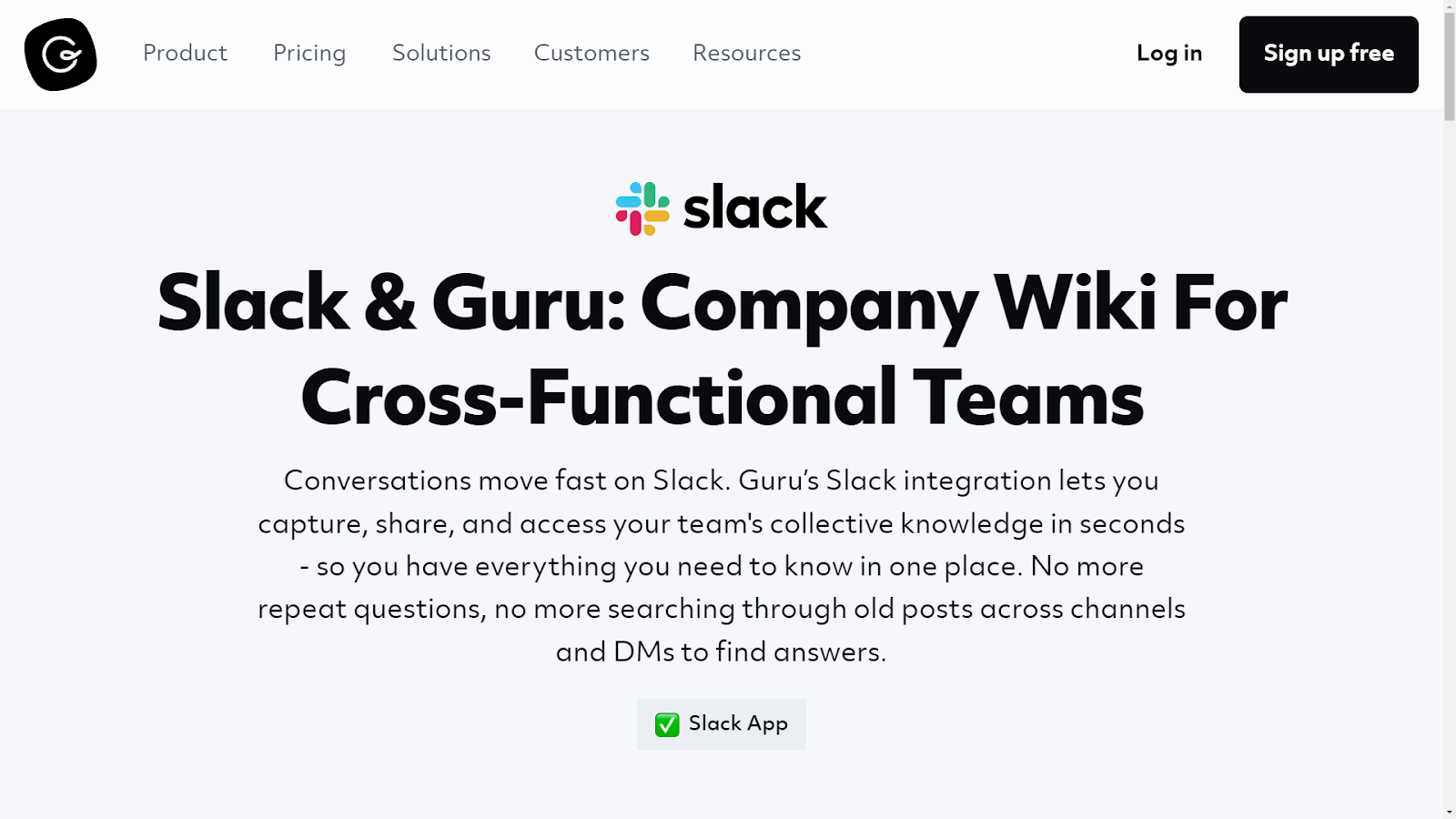 While there is a myriad of ways that Guru can help agencies hit their growth goals, employee onboarding is our #1 pick. Hiring new team members is an absolute must if you want to take on more clients, generate more revenue, and delegate roles so you can focus on high-level tasks.
However, getting all the new recruits up to speed can be an agency owner's worst nightmare since it involves answering the same questions multiple times to multiple people. It also takes a ton of time which can distract you from crucial processes in sales, marketing, and operations.
Having a knowledge base that your hirees can access at any time through their browser or Slack account will shorten the learning curve for agency rookies — not to mention reduce the flood of questions that most agency owners get after a new hiring round!
If you want to speed up your hiring process and ensure your recruits have the resources they need to excel in their work, don't hesitate to check Guru's pricing out down below or get a 30-day free trial!
CLICK HERE TO SEE GURU'S PRICING
---
Make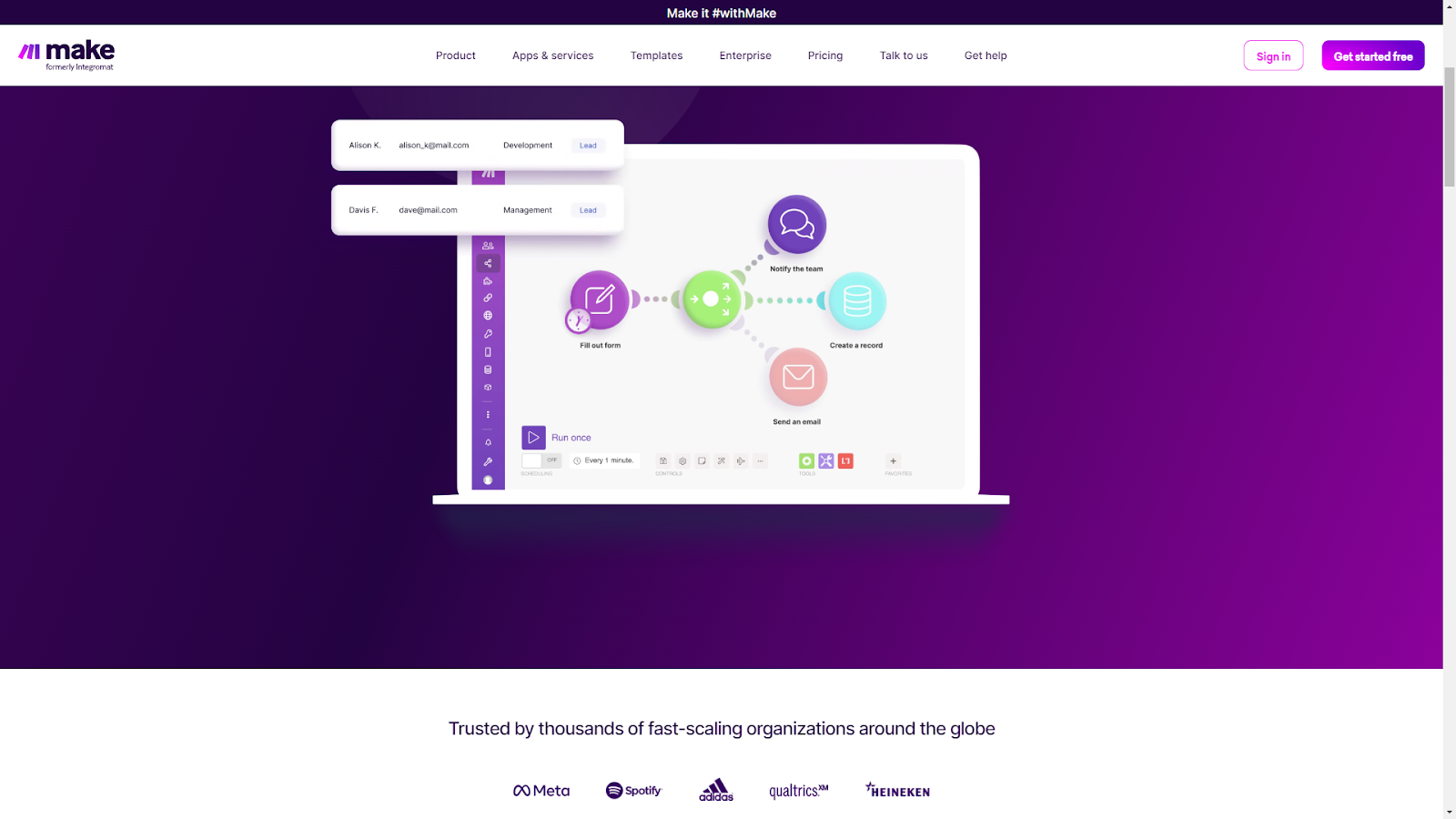 Formerly known as Integromat, Make is a visual platform that helps you build workflows and automate processes in an easy, intuitive way. The greatest benefit of Make is undoubtedly its accessibility since the no-code platform doesn't require any coding knowledge to use.
Regardless of how tech-savvy you are, you can simply hop into the drag-and-drop editor to start building the processes that your agency needs for success. This stands in contrast to tools like Workato or Zapier which, while very valuable, can take a bit more time to master.
There's no shortage of integrations to choose from either since the ever-growing Make gallery currently includes over 1,200 apps. You'll find popular solutions such as ClickUp, HubSpot, Salesforce, Slack, Shopify, Stripe, Mailchimp, Notion, and every Google app under the sun.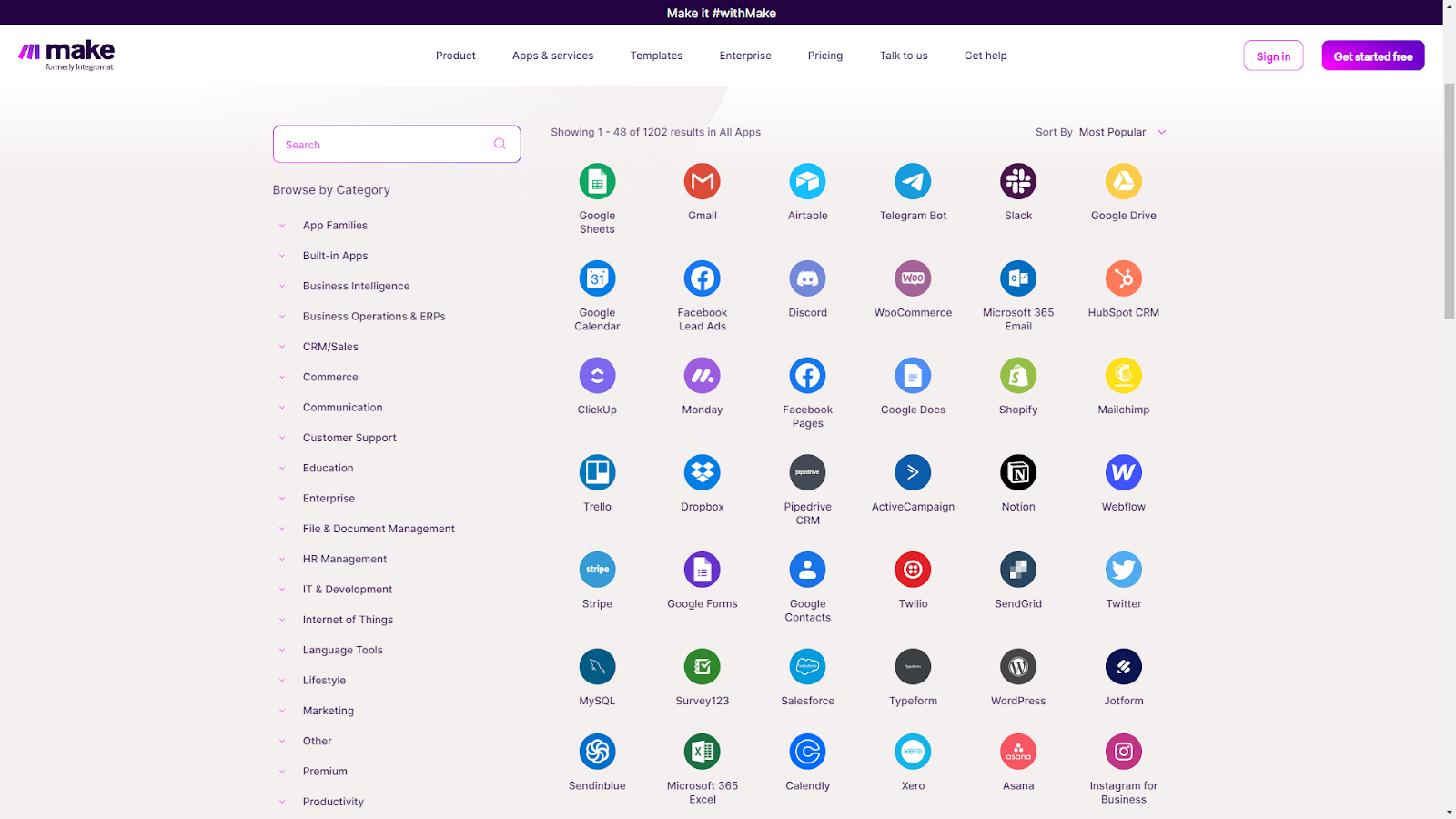 While Make is certainly helpful for all kinds of companies, agencies in particular stand to gain from the platform since they often amass a large tool stack across every department. With Make, you'll finally be able to tie together software across sales, marketing, and operations.
You might think that such a flexible and easy-to-use platform would cost a fortune but Make actually offers a free plan that allows for up to 1,000 operations per month. If you decide to upgrade then you'll be able to increase your limit as high as 120,000 operations per month.
You'll also get other benefits as a paid subscriber such as custom roles, scenario templates, and access to more than 300 API endpoints. If you want to automate your agency processes and bring synergy to your tool stack then click below to check out Make's subscriptions!
CLICK HERE TO SEE MAKE'S PRICING
---
Conclusion
As you can see, there's no shortage of underrated tools that can take your agency to the next level. Speaking of accelerating your agency growth, why not reach out to us so we can help you create a healthier, happier, and more productive agency through the power of ClickUp!