5 Signs You Need to Starting Using Inbound GamePlans
Have you ever been two months into an inbound partnership and were scrambling like mad to pull together content ideas?
Have you ever been six months into the inbound partnership and you still didn't know where you were leading your clients?
We've all been there at one point or another—we ran out of content or we weren't sure where things were going. As marketers, we can scramble our way out of just about any situation. But the truth is our clients are paying us to scramble, they're paying us to guide them to success.
The Inbound GamePlan is Your Roadmap to Success
The Inbound GamePlan is a strategic plan to unite an organization to the mission of systematically sharing answers to prospect's and customer's questions through helpful online content.
The process for creating one from start to finish brings in the key members of your clients organization. It's part pep rally, part brainstorm, and 100% actionable strategy.
By doing the work to put together a GamePlan, you're casting a strategic vision for your clients. This vision includes the milestones. And that way, you won't have to scramble—you'll already know where to take them.
The Signs You Need GamePlans in Your Process
Let's dive deeper here and discuss five signs that mean it's time to start using GamePlans.
Sign 1: You Have Trouble Creating Buy-In from People Outside the Marketing Department
A house divided against itself will not stand.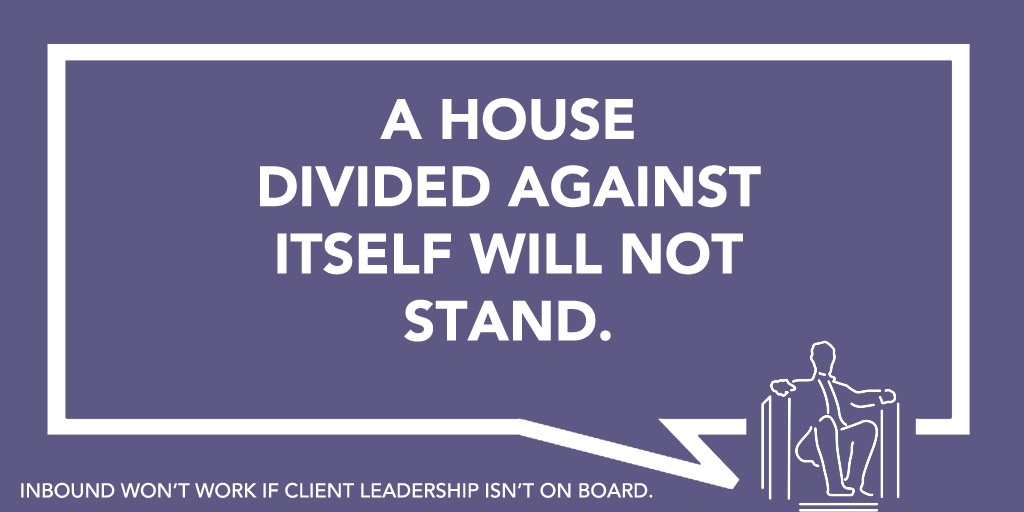 If you want your clients to truly succeed with the power of inbound then you're going to need buy-in. We talk about this over and over again, and we do so because this is vital to success partnerships.
Having the marketing department on your side isn't nearly enough today. The marketing department doesn't make organizational decisions alone. Many times, when push comes to shove, the leadership team will look at inbound as an expensive line item and cross it off the list.
We can't have this, especially since inbound takes time to get going and more time to fully mature.
GamePlans Involve and Educate
The GamePlan process gets everyone involved. The input and thoughts of the key players from various departments are encouraged, accepted, and rewarded. In order to do our best work, we need the knowledge of the entire width of the organization. Sales has something to offer. Customer service has something to offer. The service team has something to offer.
Through the process, these people are shown how important their input is and they get educated on the power of inbound.
GamePlans Draw Out and Address Concerns
Also in the GamePlan process is the Discovery Meeting, otherwise known as an onboarding/brainstorming meeting. Here, we set out expectations and try to tease out any concerns/conflicts before they have a chance to grow and crush our partnership.
Sign 2: You Don't Understand Your Client's State of Affairs
Have you ever found yourself wondering what that weird interaction between sales and marketing meant?
If we're going to prove ourselves as strategic partners, we need to know what's going on behind the scenes. Is there a problem between sales and marketing? Does the leadership team undermine marketing? We need to know.
The GamePlan process gets everyone around the table. It shows them the power of inbound and the importance of having an innovative marketing plan in action. Remember, the goal is to unite an organization to the mission of systematically sharing answers to prospect's and customer's questions through helpful online content.
Also, while we're drawing out concerns and getting people's inputs on how things are going to go, it's a great opportunity to expose and address conflicts.
Sign 3: You Don't Fully Understand Your Client's Audience (Buyer Personas)
We're marketers—we know our client's Buyer Personas, right?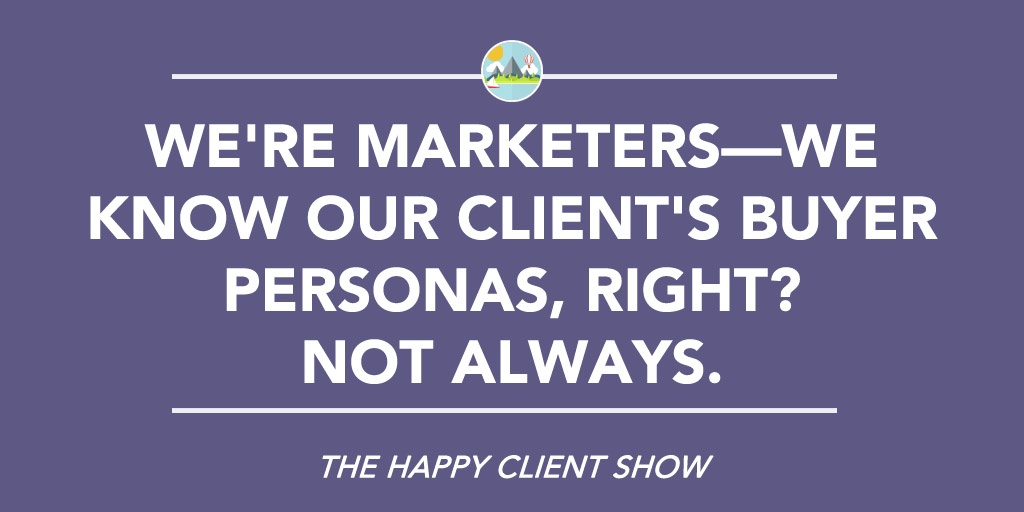 Well, not always. We can't rely on the face-value information our clients think they have on their ideal customers. Sales might know the Consideration/Decision stages well, but they're often clueless about the Awareness stage. This, in fact, is the most vital to attracting qualified leads while they're conducting the majority of their research.
If we don't know our client's Buyer Personas in full, we're driving the car with a blindfold on. We can only be effective in inbound partnerships if we understand who we're trying to attract and what their pain points are.
The GamePlan is Built Off Buyer Personas
The core lifeblood of a GamePlan is Buyer Persona research and development. It's focused on diving into Buyer Personas through interviews and sessions. Our goal in the process it to get a crystal clear understanding of who we're trying to reach, what they're process is, and how we can reach them.
Sign 4: You Don't Know What Questions Prospective Customers Are Asking
To be successful in inbound marketing, we need more than Buyer Persona knowledge. We need to know what specific questions they're asking at the different stages in the Buyer's Journey.
Without these questions, we don't know where to enter the conversation and our content is missing the mark.
How do we this in the GamePlan process? Simple!
Ask the customer service team what they're heard
Ask the sales team what questions prospective buyer's have
Interview current and past customers
Scope out LinkedIn Groups
The information gathered in this search is the gold of inbound marketing. We are on a journey to answer questions with relevant and helpful content. It's that content that moves buyers to working with us. Without it, we have no wind in our sales.
Sign 5: You're Struggling with Content on an On-Going Basis
This is a biggie. Often times the content end of things comes because you haven't done the research to understand your Buyer Personas. Understanding them is vital to content creation, but another aspect is planning properly.
The GamePlan process plans out the first 12 months of an inbound engagement. We have to be able to chart the journey over that long time span in order to lead to a set destination.
The GamePlan process pulls out everything you need. It's our goal to have all of our content Campaigns decided when the GamePlan is completed. We don't need to create everything just yet, but we should draw out all of the information from our clients here. This means we've gathered everything we need to go run for 12 months, and ultimately, means no more scrambling for content.
Need More GamePlan Guidance? We Have a Course for That!
If you're not sure where to start with your GamePlan, we have a full course dedicated to teaching you our proven method. We cover everything from how to sell a GamePlan to how to run the meetings to how to construct it.
Have you read the Agency Freedom Manifesto?
It's time to build an agency that serves you, not vice versa.
Read the manifesto and start your journey to freedom.
Read the Manifesto