Scaling an Inbound Agency with DoInbound
How DoInbound Helped Scale and Inbound Agency in 3 Months
Here at DoInbound, we give agencies the software and resources to run a profitable agency.
Sounds great right?
But what does that actually mean?
How does DoInbound actually help?
Have real agencies benefited from using DoInbound?
Rather than us listing off a bunch of benefits, we'll introduce you to one of our customers to show how they were able to go from struggling agency owner to successful agency owner.
In 3 months, Ryan Shelley, owner of Shelley Media Arts, closed $112,000 worth of net new business with the help of DoInbound.
Here are the keys that he learned and applied with our help to grow his business.
Here. We. Go.
Agency Owner Ryan Shelley from Shelley Media Arts
First, some background.
Ryan Shelley founded Shelley Media Arts in 2009 as a digital marketing agency. They did everything from website design, to video production, to content creation to SEO, to...
You get it. It was a lot. Frankly, too much.
He was working long hours, revenue was coming in but he was wearing all sorts of hats, he was having a hard time building a team, and running an agency became less and less enjoyable.
At the beginning of 2015, Ryan realized that he needed to grow the business and change how he was operating.
The keys to transforming his agency were focus and processes.
Developing Your Marketing Agency's Focus
One reason that I love my job is because every day I get to talk with new agency owners all over the world. I learn what makes agencies successful, and what causes agencies to stumble.
Focus.

You either have it, or you don't.
The agencies who are struggling to grow and scale are the ones doing too many things. Want to scale an agency that offers 15 different services with a small team? Good luck.

It may be easy to get business saying "yes" to every client and every project. But it's a great way to run your agency ragged.

You need to take time and focus down on your ideal client and the services you're best at and can deliver profitably.

Take the time to ask yourselves:
What are my core services?
Who are my ideal customers?
Make sure you can answer these two questions. Take time to explore ideas and concepts related.
Maybe the ideal client for you is a business that uses a specific type of software like HubSpot. Or a client that sells a certain way like e-commerce vs. brick and mortar local business.
Maybe it's a particular niche like dentists and chiropractors. Maybe you build websites, but it's not the best fit for you, and your team is better at SEO. Find a way to focus on that and partner with other agencies to help with creating the websites.
That is the first step to building a scalable agency. You want to have it narrowed down who you want to serve and how you want to serve them.
Shelley understood the importance of focus and in 2015 made the decision that he would provide three core services, and do it with excellence.
Shelley Media Arts focused on Inbound, SEO, and HubSpot COS design.
Developing Your Agency's Processes
After you understand what services you want to be excellent at, you need to create processes to fulfill them.
Not in your head, or in a Google Doc that isn't actionable, but in a framework or system that makes it easy for you and your team to save, share, and manage projects and documentation. Your agency's core processes need to live inside a platform designed to keep everyone on track.
I'm talking about all the processes, not just a service, that make your agency run smoothly like client deliverables, client strategy development, client on-boarding, client meetings, etc.
If you do not have a set of well-documented processes that can be easily replicated and implemented, then you need to get to work. These processes will serve to help both current team members and new hires and key to building a strong agency.
Getting started with documentation can be a struggle for a lot of creative agency owners, but it's what's required to get to the next level.
A lack of processes is one of biggest hurdles to your agency success. It will cap out revenue and make it difficult to build a quality team and deliver consistent results for clients.
It saves a lot of headaches for the issues that come with running a team. What happens when an employee leaves, a new employee is hired, someone calls in sick, or someone wants to go on vacation?
If you have a system in place that allows you to create and manage clearly-defined processes, then none of those scenarios should pose any threat to your agency's success.
That is why we built the DoInbound platform, and that is why Ryan Shelley decided to become a customer.
How DoInbound Helped Close $112,000 in New Revenue
Ryan Shelley purchased and immediately dug in. His goal was to figure out how to streamline his agency's processes. He tackled everything from his client deliverables, to his agency's sales process.
After completing the Let's GamePlan Training, he purchased the Agency Sales System training as well.He saw an opportunity to not only streamline his deliverable processes for clients but his sales process as well.
Shelley began to make GamePlans his primary sales tool, and that's when his agency took off.
If you are unsure about what an Inbound Marketing GamePlan is and how it is used as a sales tool, this article will explain.
I recently sat down with Ryan to have him share about his experience getting started with DoInbound. Check out our interview below!
Thanks for reporting a problem. We'll attach technical data about this session to help us figure out the issue. Which of these best describes the problem?
Any other details or context?
message
How DoInbound Can Help Your Agency
There are plenty of project management tools out there.

DoInbound is not just another project management tool. Our goal is to help blend both process and project management in a way that is specific to helping digital agencies scale.

Agency owners are creative people. Getting organized isn't their strong suit. They have so many ideas that it can be daunting to try and get them all in one place. That's why we designed the software to fit into a specific and straightforward framework for agency owners to plug all of their processes into.

The simple framework is Campaign -> Deliverable -> Task.

This simple 3 step system makes it easy for creative agency owners to plug in their work and manage their projects and agency. In fact, this proven formula is the same framework we use for our agency GuavaBox.

We know the pains of being an agency owner, so we've worked on building in features that we wanted to have for ourselves. Being able to assign and check off completed tasks isn't enough. You need to help your team understand the "how" behind the "what" in order to make them successful.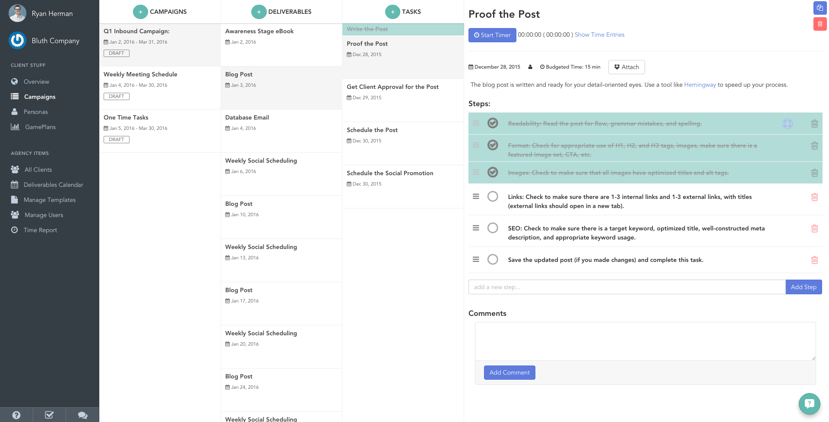 Let's take a look at the screenshot above as an example.
The blog post "deliverable" you are looking at is part of an inbound marketing retainer. As you can see, there are clearly defined tasks that need to happen in order to create a successful blog post.
But there is also a clearly-defined process for the right way to execute every step of each task.
That is where the breakdown so often occurs. We can assign tasks to our team members, but if everyone does them differently and there is no process for them to follow, what will the result be for the client?
DoInbound helps you take your agency's processes and put them into the same system where the work is actually managed.
We also include pre-built and proven processes that will help your team deliver awesome client results.
Interested in learning more?
Schedule some time below to check out the DoInbound platform for yourself and figure out if it is the right fit for your agency.
Have you read the Agency Freedom Manifesto?
It's time to build an agency that serves you, not vice versa.
Read the manifesto and start your journey to freedom.
Read the Manifesto