Fighting Agency Employee Poaching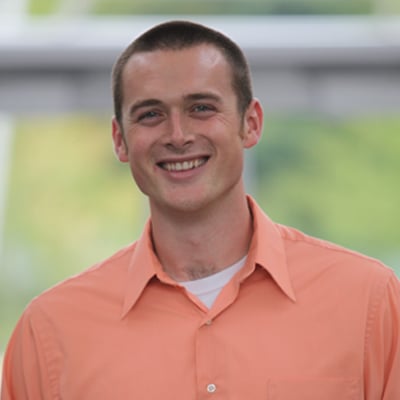 Andrew Dymski
I'm a Founder at ZenPilot where I help marketing agencies buy back time by developing the processes and systems they need to scale without reinventing the wheel for every client. I'm co-host of the
Agency Journey
podcast where each week we interview an agency owner, consultant, or author.
Remington Begg is the founder and "Chief Remarkable Officer" of Impulse Creative, a Florida-based inbound marketing agency. Begg started the agency with his wife in 2007 under the name Remington Graphics. In 2010, he gave the agency its current name, and in 2012, he joined HubSpot and hired his first employee.
Impulse Creative provides inbound marketing, website design and branding services. Although the majority of business comes from inbound, Begg acknowledges that web design is a huge part of inbound and that "branding is a part of everything that we do."
In this episode, Begg shares a major success story, discusses the importance of data and process, and gives his thoughts on the poaching and retention of employees.
Success Story
Three years ago, Impulse Creative signed a Florida-based hurricane window maker as a client. The client originally wanted a purely informational website, but Begg convinced him that he could use the site to generate leads.
18 months later, leads were increasing at a rate of 20% to 30% month over month. This was a fully organic campaign with no paid ads.
Organic traffic on the site rose from 10% to 80% and over 50% of leads are now converted into customers. "That's a huge win. It's almost like we scratch our eyes because we're trying to figure out if this is real or not." – Begg
Begg asked for a raise (it's his goal to be in a position to ask for a raise every year), but the client was unwilling to pay for any additional services. Impulse had brought him so much business that he simply could not handle any more.
The client is starting a new business, though, and he's given Impulse a "blank check."
"That confidence is really a win for us." – Begg
Data and Process
Impulse's data-driven approach makes it possible to work with clients from any industry.
Begg chooses to focus on looking for a certain mindset rather than a certain industry. "Every single client of ours that's really a success story… has come to us hungry, and fast-forward a couple years later, they're still hungry, which is great, cause we can keep feeding them." – Begg
Impulse has a standard operating procedure for creating standard operating procedures (meta!).
Employees are encouraged to write their approach to any task that involved more than three steps on the "process wall" in the office.
Begg and the other seven team members share and critique one another's procedures in a special weekly meeting.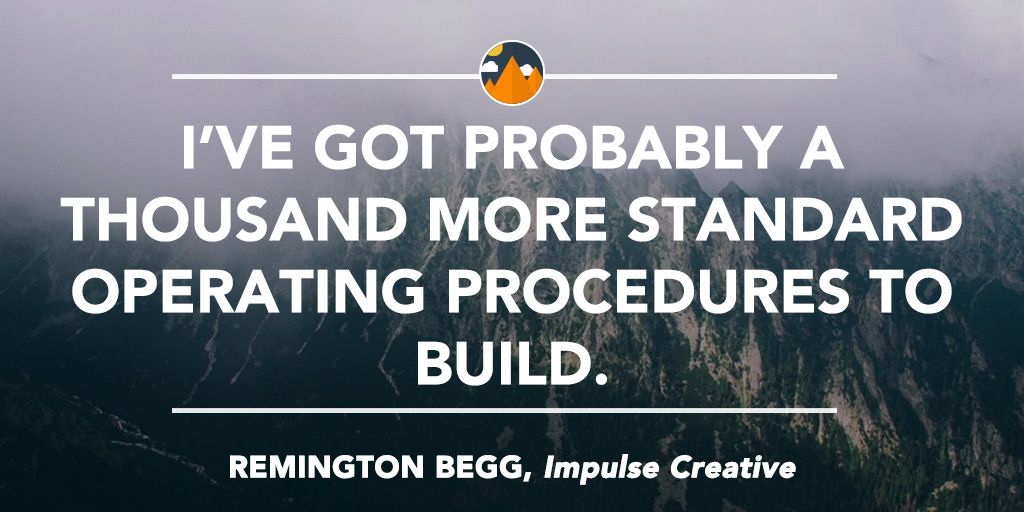 This focus on process enabled Impulse to streamline their communications with web design clients by cutting out unnecessary steps that only made sense when communicating with inbound marketing clients.
Begg's favorite tools include:
Paid version of UberConference.
Employee Poaching and Retention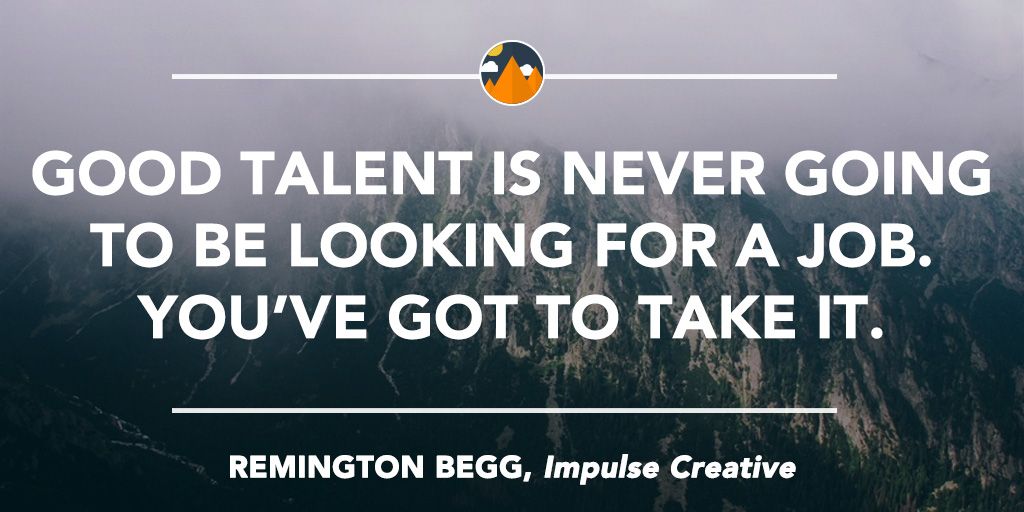 But poaching talent is wrong, Begg says, and should be avoided even if an employee from another agency approaches you.
A good way to approach the problem ethically is to ask why the employee is planning to leave his current agency and encourage him to talk to his supervisor about it.
Impulse recently had two key employees poached out from under them within two months of each other.
Begg predicts that poaching will become less of a problem as the supply of inbound marketers catches up to the demand.
In the meantime, he's offering expanded benefits to his employees, including unlimited vacation and health.
Acquisition of employees will be a major goal for Impulse Creative in 2016. Begg is trying to build relationships with local colleges to raise interest in inbound marketing as a career path.
Say Hey!
If you enjoyed this conversation with Remington, be sure to reach out and say thanks on Twitter. You can find and follow him at @RemingtonBegg.