Luke Summerfield on Growing Your Agency with Growth-Driven Design
Luke Summerfield is a Program Manager at HubSpot, but may be more familiar to you as the godfather of the Growth-Driven Design (GDD) movement. In Episode #84 of Inbound Agency Journey, Luke came on the podcast to share his background, the origins of Growth-Driven Design, and tools and tips for agencies who are offering GDD services to their clients.
Why Growth-Driven Design?
Prior to joining HubSpot, Luke worked at Savvy Panda (Episode #82 guest, Gabe Wahhab, shared the story of Savvy Panda and their acquisition by Square 2 Marketing) and witnessed the primary pain points of traditional web design:
Scope creep and low profit margins for the agency.
Late delivery, stress, frustration, and lack of continuous improvement for the client.
Recognizing these problems and hearing the same frustrations expressed repeatedly by agencies and clients led to the creation of Growth-Driven Design.
What is Growth-Driven Design?
The fundamental principle behind GDD is optimization. How do we continuously improve to deliver the best experience for our audience? How do we maximize the efficacy of our investment (time, talent, and money)? How do we best define and achieve our goals?
There are lots of great resources (listed at the bottom of this article) on Growth-Driven Design in addition to this podcast interview, so we won't belabor the details here. Below is a visual representation of the differences between traditional web design and the growth-driven approach.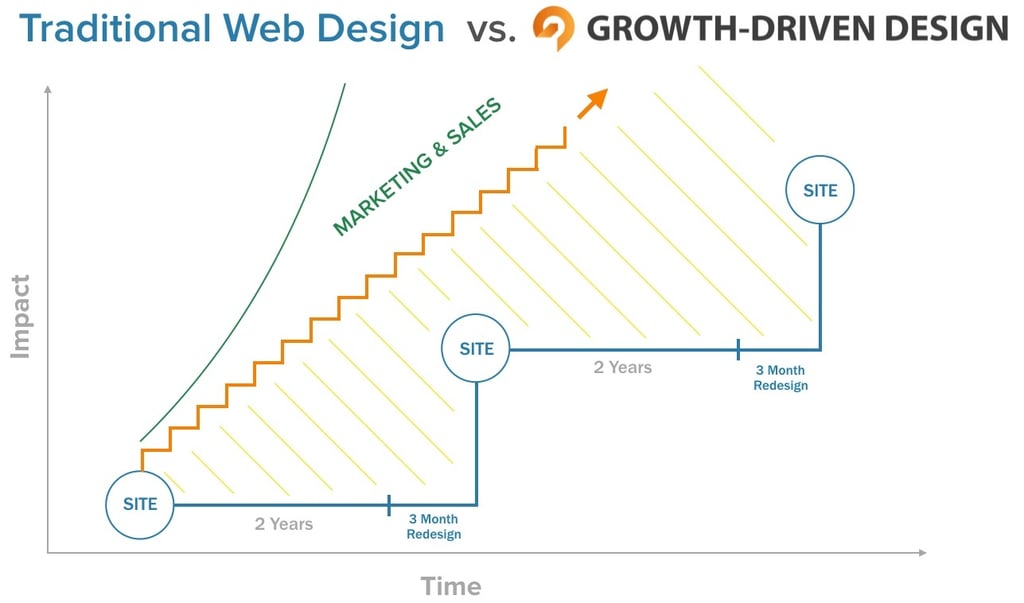 Highlighting GDD Agencies
If you're an agency owner who is considering expanding your service offering to include Growth-Driven Design, being able to learn from other agencies who have successfully done the same can be really helpful. I asked Luke about some of the stars in the GDD agency community and he shared a few names (although it's a bit like picking your favorite child).
There are quite a few others we could add to the list (including a handful who have been on the podcast in the past like Impact Branding & Design, SparkReaction, Square 2 Marketing, and BluLeadz). It's a great time to be a part of the community!
Growth-Driven Design Tool Stack & Resources
What are the core tools you need to do Growth-Driven Design well?
Great question! There are a ton of options, but a few that Luke shared:
HotJar — an awesome tool for heatmapping, session recording, polls, and much more.
UserTesting.com — great for qualitative user feedback.
TypeForm — good survey tool with solid integrations and extensibility.
If you'd like to learn more about Growth-Driven Design or become more involved in the community, the best resources are:
It's a lot to take in and a lot to learn, but it's not out of reach if you're driven to succeed.
---
Thanks for tuning in to this week's episode! If you enjoyed the interview with Luke, would you consider sharing it with a friend or leaving a review in iTunes?
As always, if you have questions or want to suggest a podcast topic or guest, leave a comment below. Thanks!
Have you read the Agency Freedom Manifesto?
It's time to build an agency that serves you, not vice versa.
Read the manifesto and start your journey to freedom.
Read the Manifesto