How to Close Bigger Inbound Retainers with Jason Swenk
Sometimes it is challenging to look at bigger inbound agencies. They look like they have it all figured out. They have big teams, big name clients, and lots of revenue.
It's hard not to ask, "What makes them so much better than me?" Our guest today says that the answer is simple. It isn't that they're smarter or more talented.
The reason for the success of big inbound agencies is the strength of their process. Those agencies have documented their process into a repeatable system.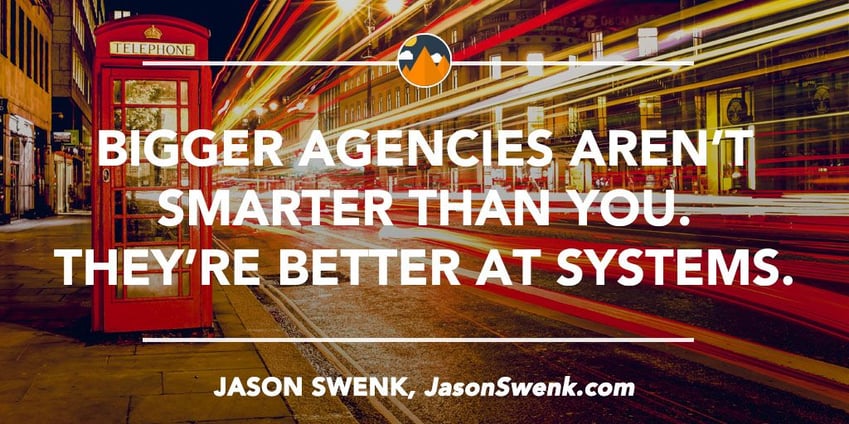 Jason Swenk has gone through that process. Several years ago, Jason sold his agency, Solar Velocity. This exit came after building the business to over $13 million in annual revenue and developing a portfolio with big name clients like Coke.
Systems are Key to Agency Growth
To grow smart, you need to think strategically. Transformational growth isn't going to happen overnight. Spend time thinking about where you want your business to be. If you don't know where you're going, how can you build a plan to get there?
Next, break that big picture vision down into more actionable steps. Jason suggests using a 90-Day period for this exercise. Decide where you'd like to be in 90 days and identify the key actions that must happen to get you there.
You can apply this process to your agency operations and client servicing. Break client work into 90-Day campaigns. Break the Campaign into individual Deliverables. Break each Deliverable into specific Tasks with individual ownership.
This system of breaking big picture vision into everyday action will put you on the road toward growth.
Select an Agency Focus
A lot of people come on the podcast and talk about the importance of focus. I find it interesting that each guest recommends arriving at an agency focus.
Some are fans of selecting a focus. Some are fans of discovering the focus. Jason is a fan of using your passion and past to dictate the focus. If you have a history in a market, go for it. You're going to have a head start on your buyer persona creation.
Walking a mile in those shoes, you're going to better understand their questions. These questions are the cornerstone to your agency Inbound GamePlan. If you know the questions, you're well on your way to building a great content plan to attract prospects.
Developing an Inbound Agency Attack Plan
There is a bit of a debate circling the inbound agency community right now. Should inbound agencies use outbound marketing to close new business?
People are passionate on both sides of the issue.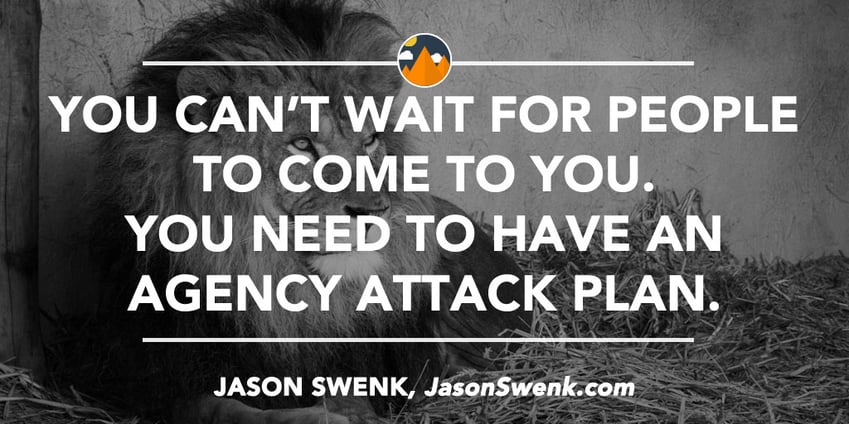 Jason recommends building an agency attack plan. This is your strategy to attract new business through outbound channels. You need to have a balanced approach.
Especially in the early phases of growth, outbound is important. This is another reason to select an agency focus. If you're targeting a specific type of business, it is easier to create content. It is easier to build a list of potential clients.
It is possible to do outbound marketing in an inbound way. Always lead with value. Don't spam contacts with repeated attempts. Share tools and resources that improve their day-to-day lives. Get creative!
Power of the Paid Discovery Project
Another pain of inbound agencies trying to grow is the lack of proven success. You may only have a handful of clients and no case studies yet. How are you supposed to sign a new client?
The answer is a paid discovery project.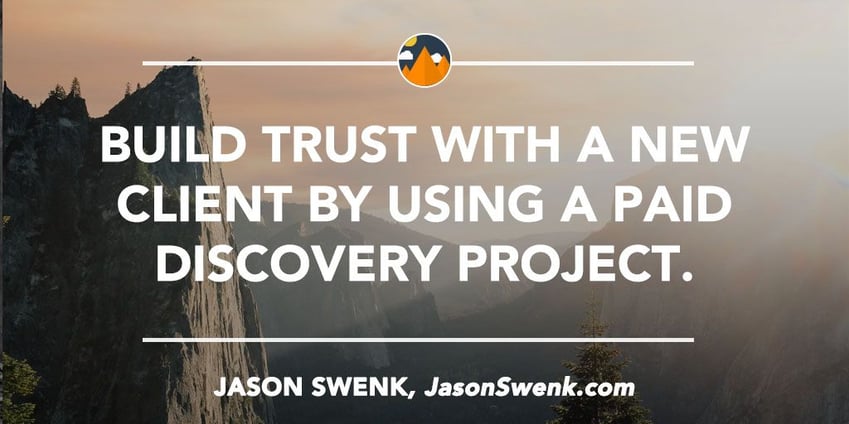 Jason calls this Milestone Marketing. You're creating repeated opportunities for clients to work with you. Each step builds a deeper level of trust. Each step requires a little bit more commitment from the client. Each step becomes more profitable for the agency.
Think about the Client Journey. Try walking clients from discovery to a project to a longer term partnership. To add a discovery project to your agency offerings, check out the Inbound GamePlan.
Adding a discovery project also shortens the sales cycle. Adding a paid step earlier in the process screens out the prospects that aren't serious. If they're not willing to invest in a solution for their success, they're likely not the best fit.
Connect with Jason:
Jason Swenk's Presentation from Inbound 15:
Topics: Sales
Have you read the Agency Freedom Manifesto?
It's time to build an agency that serves you, not vice versa.
Read the manifesto and start your journey to freedom.
Read the Manifesto