Lessons from Inbound Agency Leaders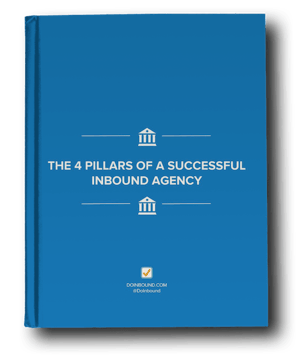 After building our inbound agency GuavaBox for almost five years, and almost two years of working with agencies around the world through DoInbound, we've identified several key pillars that are foundational to agency success.
This eBook is packed with quotes and insight from top agency leaders. Leaders like John McTigue from Kuno Creative and Mike Lieberman from Square 2 Marketing.
If you're going to grow a sustainable agency, you need to account for each of these four pillars.
This eBook Covers:
How to leverage the power of an agency framework to deliver delight.
What inbound agencies can learn from the franchise model.
The hidden key to long-term client relationships (hint: it has nothing to do with the client!)
How to create a steady stream of inbound leads into the agency.
Different aspects of your agency will cross back and forth between these pillars. Creating this structure brings support and empowers your agency to achieve outrageous success.
To get your copy of The Four Pillars of a Successful Inbound Agency, fill out the form on the right!