What is the Agency Freedom Model?
---
The Agency Freedom Model is the best way to run an agency that delivers amazing client results, creates sustainability, promotes healthy culture, and produces great profit margins all without costing your freedom.
The Agency Freedom Model is the backbone for our program, The Foundation.
It is the best agency business model we've found to:
Take back your time so you're no longer the bottleneck for the team and you are finally free to focus on the big picture.

Clarify your growth strategy so you can set the vision and communicate it to your team & finally get off the agency revenue roller coaster.

Streamline your delivery so your team knows exactly what to do, client expectations are clear, and you can finally create SOPs that actually work.
So what is the Agency Freedom Model?
The Agency Freedom Model is a client-centric agency business model that focuses on serving one ideal-fit client by leading them on the proven journey to solve their costly problem.
This removes the complexity and simplifies how your agency operates.
With similar clients, agencies running the Agency Freedom Model can run the same processes over and over again.
That repetition creates a flywheel effect.
The more clients that run through the Agency Freedom Model, the stronger the agency becomes.
This is your winning formula.
Agency Freedom Model Illustrated: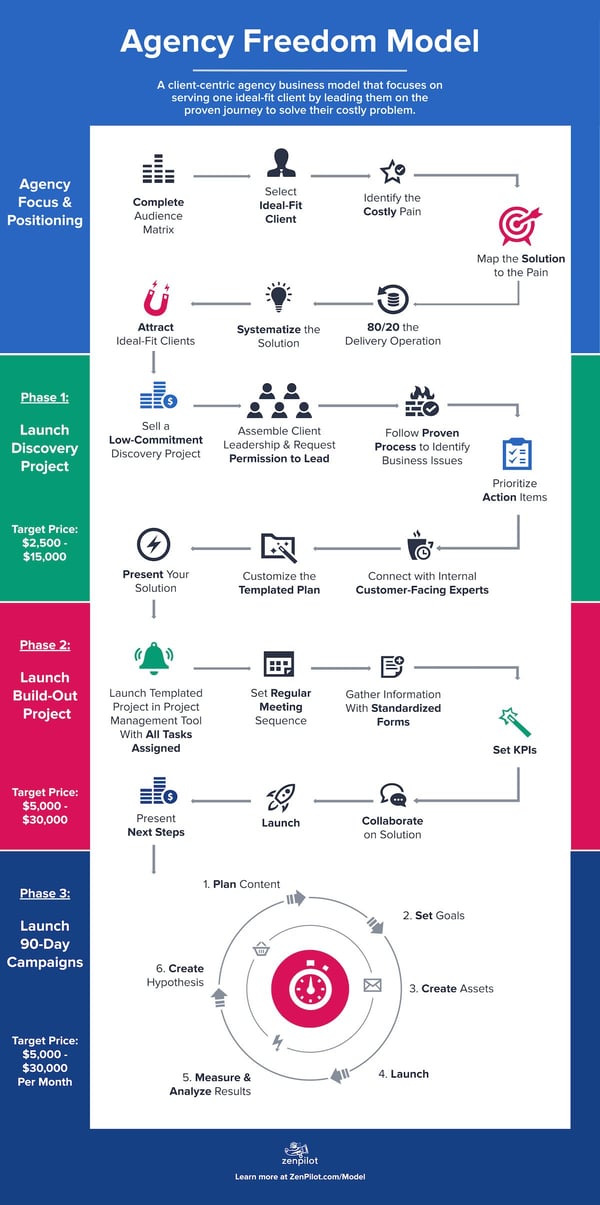 ---
Win Back Your Freedom by Cloning Yourself So You Become the Replaceable Agency Owner
The success of your agency flows downstream from your mindset. If you view yourself as essential for success, you'll consistently fail to scale.
Every agency follows a system. The challenge with the traditional "Digital 'YES!' Man" model is that the system is stuck inside the owner's head.
Are you frustrated because even though you've hired people and told your clients things need to change, you keep getting pulled back into client delivery?
This is why. You are the system for solving problems.
Since each client looks different, the system changes each time because the problems being solved are different.
The Agency Freedom Model flips the script.
It allows agency owners to win back their freedom by creating one streamlined system that solves one costly problem.
Standardize Services So That Your Team Has Detailed Processes and Systems to Follow
This simplicity allows processes to be created, so each step of client delivery is documented down to the detailed task checklists.
And since the system runs every time for each client, there is no variance. That means your processes can be followed for each client.
Project management is a lot less complicated when the processes are the same for each client.
This simplicity increases the bandwidth of your team, gives them clear expectations so they know exactly what defines a win, and gives the agency leadership a transparent view into how the delivery system is performing.
The goal of your sales process is to identify clients that are an ideal-fit for that system. We call this standardizing your inputs.
Clarify Your Audience So That Marketing and Sales Become Laser-Focused
When delivery is focused and running on repeatable processes, you're free to focus on growth.
With a clear audience, you can market and sell in an authentic way because you have a deep understanding of their pains and challenges.
You can sell with confidence because you know your system works.
You don't need to go out and learn a new industry or develop a new process. You have a system and you know that system can delivery results.
This makes your sales process a lot more relaxed.
You can sell from your heels because you know you have something your ideal-fit clients can't live without.
The Agency Freedom Model allows you to interview prospects who apply to work with you. You're filtering through all the possible businesses and looking for only the ideal-fit clients that will get great results from your system.
Premium Positioning So That You Can Charge More, Create Less, and Deliver More Value
When you make the hard decision to focus on solving one type of client's costly pain, you'll be rewarded. People will seek you out.
This changes the framing of everything.
They no longer judge you by what you can do. They seek you out for what you know.
Your expertise becomes magnetic.
Focused time and continuing to refine one proven process will strengthen your expertise. This constant evolution will allow you to shorten the path to value and ROI for your clients.
By doing less work, you can deliver a greater impact on your client's business.
And when you deliver a greater impact, you can charge more while having a less complex delivery operation.
This is how you charge more, deliver less, and work with dream clients, all without losing your freedom.
It's All About Leadership
Want to work with more clients that 'just get it?'
What if I told you that you could train your clients to 'just get it.'
The traditional "Digital 'YES!' Man" model is all about responding to client requests in a never ending journey of trying to keep them happy.
The Agency Freedom Model is totally different.
It is all about training your clients and leading them on a journey. You're the expert and they need your help.
Each step of this process has been tested and refined in the agency trenches. It works.
Be their expert. Be their champion. Serve them well by leading them along the proven path.
This the best agency business model that allows you to delivers amazing client results, build a thriving agency culture, and bring home great profit margins, all without costing your freedom.
Put The Agency Freedom Model to Work for You
Agency Freedom Model FAQs
---
Won't I get bored only focusing on one ideal-fit client?
The advice to pick one ideal-fit client and focus solely on serving them scares most agency owners. Rightfully so; it is a big choice.
A lot of agency owners enjoy the creative rush of adapting their systems to new industries and new purchasing channels.
But this scattered focus is slowly killing you.
In the Agency Freedom Model, owners still exercise their creative muscles.
The focus of their creativity just changes.
The agency owner applies their creative energy to improving their proven system. They're obsessed with increasing their client's path to value.
That means when the proven system improves, all clients benefit.
It's like a SaaS platform. When a new software update is pushed, all users benefit from the upgrade.
This is your ticket to freedom and your license to spend less time in your business and more time working on your business.
---
What if I pick the wrong ideal-fit client?
It isn't a tattoo. If it doesn't work out, you try another one.
The important thing to remember is you only have permission to try one at a time. You need to dedicate the full force of your focus and creativity to solving their costly pain.
We have a process inside The Foundation program to help you identify the most impactful ideal-fit clients so you hit the ground running right out of the gate.
---
How would you define "type" when you say "work with one type of ideal-fit client"?
It isn't just picking an industry. It isn't just picking a niche. It isn't just picking a service. It's all of it.
It involves checking all presuppositions at the door and listening.
You're listening to understand:
Where are they today? Why are they stuck?
Where do they want to be? What is their desired state?
The more time you spend with the same type of businesses, the more patterns you'll notice.
Now that you know the lay of the land, it's your job to map the journey from where they are to where they want to be.
This is how you develop your proven process.
This isn't just going to be one service.
They don't just need ads, a website, or an email sequence.
They need the proven combination of everything in order to see success.
It's your job to crack that code. To find the most impactful combination of services that get them to where they want to go as fast and predictably as possible.
You only do that by testing your proven system over and over again on companies that look similar. When you do this, your system increases in value and impact with every client you add.
Companies that are feeling the similar pain may be in the same industry. It may just be a sub-set of an industry. It is going to be different for everyone.
You only know for sure when you pick a focus and work the system.
Looking at your past client successes and pick your favorite case study. Ask yourself "How can we work with more companies just like this and focus on duplicating the same process for them?"