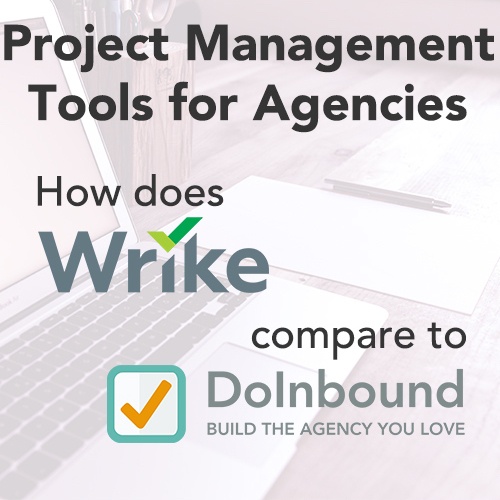 Wrike is a popular cloud-based collaboration and project management software solution for businesses.
DoInbound is project management software built specifically for agencies by an agency.
SEPTEMBER 2018 UPDATE: We've rebranded DoInbound as ZenPilot and are no longer accepting new customers for the DoInbound software. Helping agencies with project management is still an integral piece of our mission and offering and you can learn more about our transition in this blog post and podcast episode.
There are a lot of similarities between Wrike and DoInbound.
Both products include task management making it easy for organizations to systematize and house documentation in one central location.
Wrike excels in two particular areas: features and integrations.
They are jam-packed with a full suite of features and tools in the platform so agency owners can customize the platform in a way that best suits their business. If they don't happen to currently have a feature your agency needs you can usually integrate software you're using with the Wrike platform.
Wrike and DoInbound include in-app and email notifications along with user permissions, a calendar view, time tracking, and commenting so that way everyone is managing their assigned project, able to collaborate within the platform ensuring team members and project managers are always up-to-date.
Both Wrike and DoInbound also offer live online support so you can contact a live person at any time to answer any questions you have about the platform or getting help with bugs.
A big differentiator here is that our entire client success team has at least 4 years of agency experience each. This means we can offer personal insights to customers outside of support questions.
Now that we have a good understanding of where each tool is positioned, let's see how DoInbound differentiates from Wrike.
Structure for Organizing Your Work
For many agency owners, building a structure and organize their agency is a challenge. As naturally creative people, agency owners may struggle to get all their ideas and thoughts organized in a platform.
This is why it can be overwhelming to have a blank slate for an agency owner to put all their material into. It can be challenging to know where to start and developing a system that makes sense for you and your business.
DoInbound was built with this problem in mind and is designed with an agency specific framework of Campaign - Deliverable - Task. It provides a proven structure where you can just plug in your processes and be up and running in no time. This makes it simple for you to get up and running with your processes.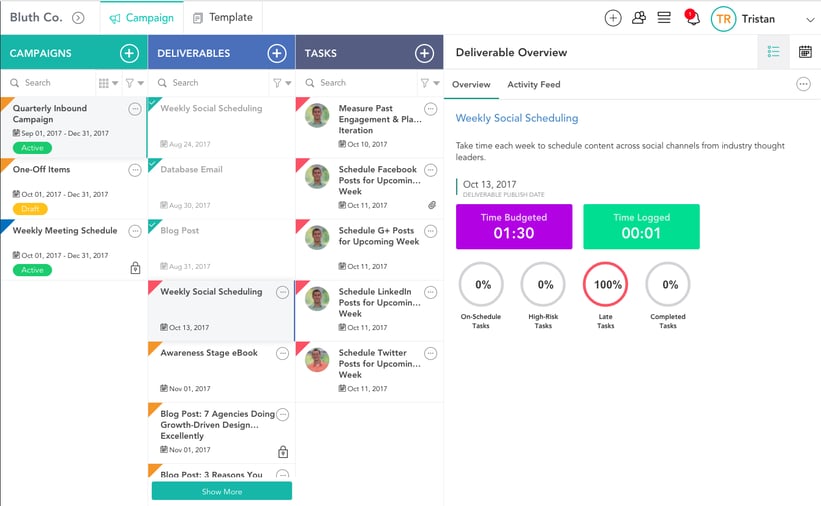 DoInbound gives you an easy to follow framework to capture the work you do, both one-time projects and recurring elements of your delivery without overcomplicating what you actually need.
With a variety of features and integrations, many agency owners can feel a bit overwhelmed. What they need is something to plug their processes into rather than reinventing the wheel.
DoInbound works on keeping this simple for agency owners to get their agency all set up with minimal overwhelm and making sure that the crucial pieces are all there to scale your company.
Real Time Dashboard
DoInbound offers agency owners and project managers a high-level view of their agency it all time across their agency. It gives a snapshot of what needs to be done, what's behind schedule, so you can ensure nothing is slipping through the cracks at your business.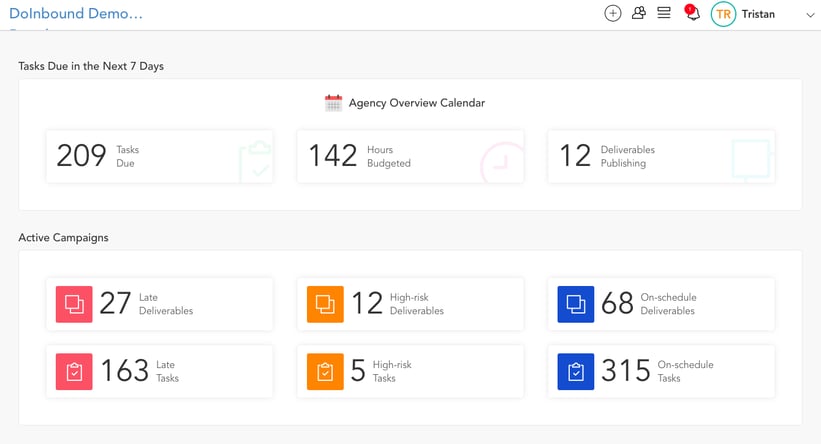 This will help you avoid client fires and give you the opportunity to easily see your business from a high level so you can make smart business decisions.
Client Reporting
We have it set up so clients can get a custom report on tasks and work that was being delivered to a client. If you've ever had a hard time or received the question from a client "What did you do this month," a report will help.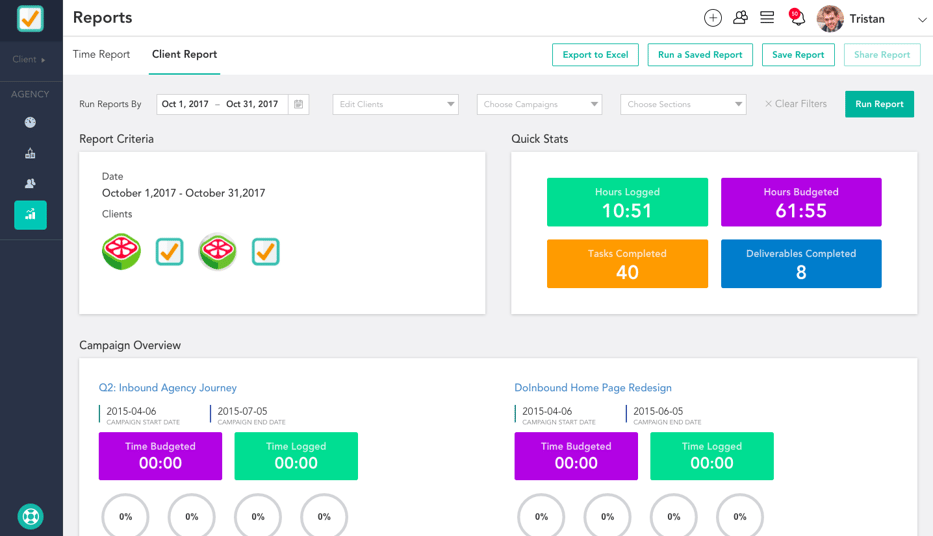 A client activity report shows metrics and data to display the work being done on a client's account removing their concern that they're not receiving the attention they want.
On-Boarding
There is no on-boarding with Wrike to get a team up and running on the platform and making sure a business gets the maximum use of the product. However, each DoInbound customer gets two free onboarding sessions with a member of our team to help you fully integrate your team into the platform, organize and document your agency processes, and create a structure to scale your agency.
Template Builder
With many project management tools, you've got to create campaigns for a client; then you will clone them or something along those lines, followed by actually getting it all set up.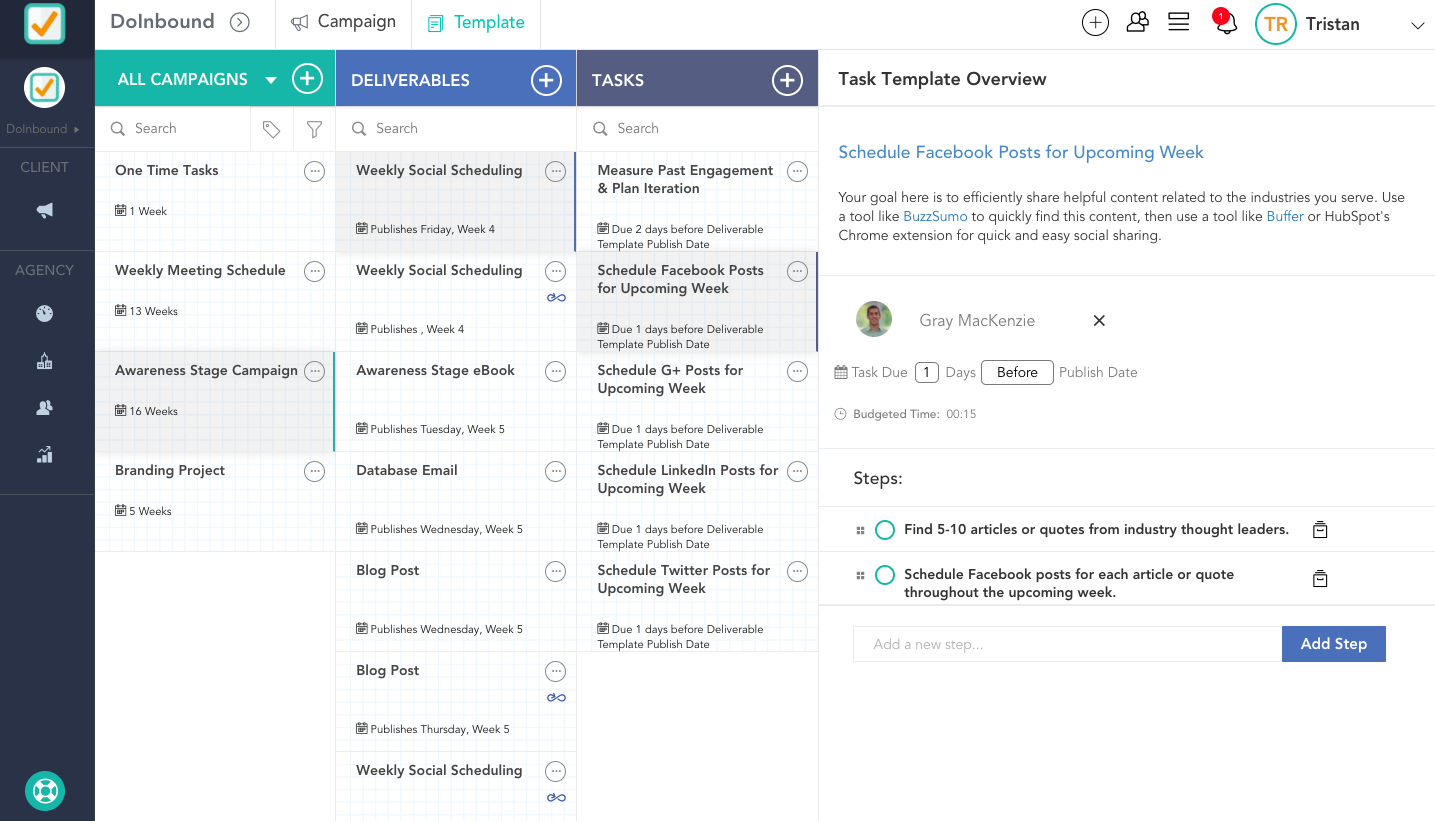 With DoInbound, all you need to do is go to our Template Builder to create any template your agency needs.
Templates
DoInbound also includes templates that we use at our agency GuavaBox, and you can purchase more at a low rate such as our SEO audit system, website re-design, setting up Google AdWords, Creating Facebook, etc.
This can help a newer agency get up and running and establish ones purchase templates for services that they may not offer currently or don't want to take the time to build out.