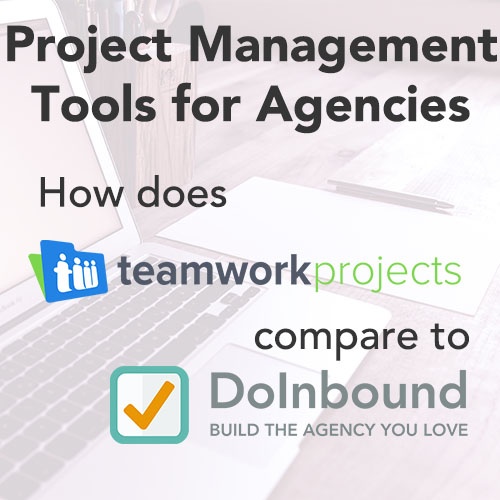 Teamwork Projects is used by a lot of agencies to organize their tasks and projects.
DoInbound is a project management platform that is designed for agencies by an agency.
DoInbound and Teamwork have a lot in common.
SEPTEMBER 2018 UPDATE: We've rebranded DoInbound as ZenPilot and are no longer accepting new customers for the DoInbound software. Helping agencies with project management is still an integral piece of our mission and offering and you can learn more about our transition in this blog post and podcast episode.
Both products include task management which makes it easy for organizations to systematize and store procedures in a central location for employees.
They both offer live online support so you can contact a live person at any time to get any questions you have answered about the software and getting the most out of it.
They also have in-app and email notifications along with set user permissions and commenting so that way everyone is managing their assigned projects while being able to collaborate efficiently within their platforms.
Here is how Teamwork excels on their platform.
Lots of Features
Teamwork is jam-packed with features that provide agencies with all the integrations and resources to really grow and scale their business.
Custom Dashboards
Custom dashboards that you can create so you and your team get snapshots of what is important to you and your business and can focus on your most important KPIs for your clients.
However, here's how DoInbound is different:
A Proven Framework for Agencies
When you first get set up in Teamwork, you have to put all your own documents and resources and organize how you do projects in there. For many agency owners, that can be just more work to put on their already full plate.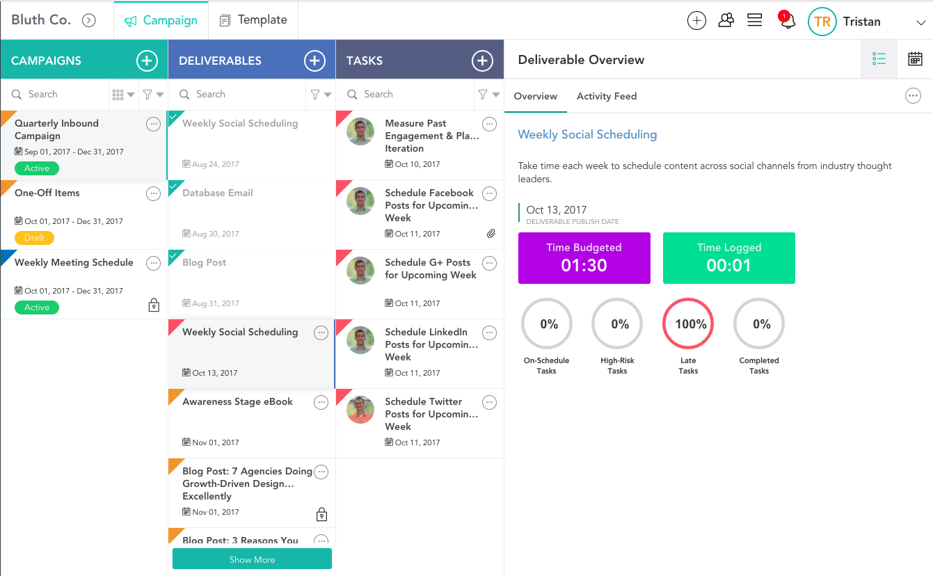 DoInbound takes the stress out of organizing by designing the platform around the proven structure for agencies and clients of Campaign - Deliverable - Task. This framework makes it simple for agencies to plug in what they're currently doing rather than having to create a new way of organizing their business from scratch.
Simple Layout
A complicated layout that makes it hard to see what is going on easily. Due to the sheer number of features and integrations and scope of what you have on Teamwork, there is the issue of clutter and confusion for how to get the most out of the platform. DoInbound focuses on making the core features an agency needs simple and easy to understand.
Template Builder
With Teamwork, you can create clones of any campaigns that you create and can use in another campaign. The issue becomes when you're making changes to the template in general. It's difficult to keep track and update all individuals with the new changes.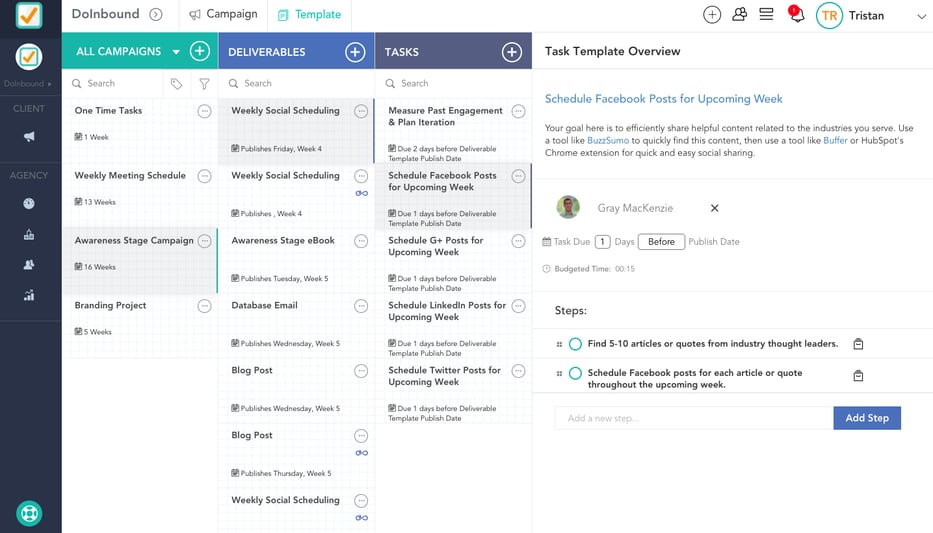 Having a template builder means you can make the changes in one place and it's pushed out to all clients, so you're enacting best practices for all your clients. It simplifies creating new deliverables and services as well having a central location designed to build in the most efficient framework for your business.
Time Tracking
DoInbound includes built-in time tracking for each task so you and your team can efficiently manage your time and resources. If you're ever wondering the profitability of your organization and time and if you price your services based on hours worked for a client, the time tracking is critical for you to build an efficient and profitable business, so you're charging what your agency is worth.
Personal On-Boarding
There is no on-boarding with Teamwork to get a team up and running on the platform and making sure a business gets the maximum use of the product. However, each DoInbound customer gets two free onboarding sessions with a member of our team to help get you fully integrated into the platform, help you organize document your agency processes, and help you get a structure in place on DoInbound to scale your agency.
Want to Explore DoInbound?
Watch this free on-demand demo or sign up for a personal demo where we'll walk through how to accurately implement it in your business and what can help.