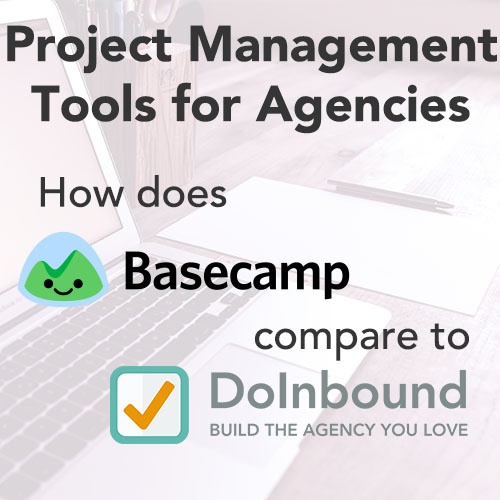 Basecamp is one of the first project management tools that was released back in 2004 and has been go-to for many agencies over the years.
DoInbound is a project management tool focused on agencies to help them organize their processes and have an efficient framework to scale their business.
SEPTEMBER 2018 UPDATE: We've rebranded DoInbound as ZenPilot and are no longer accepting new customers for the DoInbound software. Helping agencies with project management is still an integral piece of our mission and offering and you can learn more about our transition in this blog post and podcast episode.
When we started DoInbound, we were agency owners frustrated by tools like Basecamp. Basecamp has some great features that we'll highlight in this article. But it also has a glaring weakness: it is a tool designed for anyone.
Basecamp is easy to use out of the gate, but the more customization you try to apply, the more frustrating it can be to use. The biggest pro we found in Basecamp is the communication. It is easy to sent comments back and forth without the need to require clients to login to the system.
But the weakness comes when you try to manage multiple projects across clients and gain visibility into individual user's workload, and try to manage your processes.
So with that groundwork set, let's dive in deep and examine how the tools are similar and how they're different. We've done our best to share an objective breakdown of the differences.
How are DoInbound and Basecamp Similar?
Both are task management platforms, include live online support, in-app and email notifications for team members, user permissions, and commenting.
Basecamp really excels with an intuitive design along with a commenting feature for clients that makes collecting feeadback and collaborating seamless. It is one of their most popular features.
However, that's where the comparisons end.
How are DoInbound and Basecamp Different?
Proven Process Structure for Agencies
Basecamp is a blank canvas for agencies to fill out and make their own. This requires creating a structure for your processes and then documenting them all in the platform. This can actually turn out to be a double-edged sword for many agency owners. It can be intimidating finding the time to unload and organize all the processes in your head into software and making sure it's all organized and easy for your team to follow.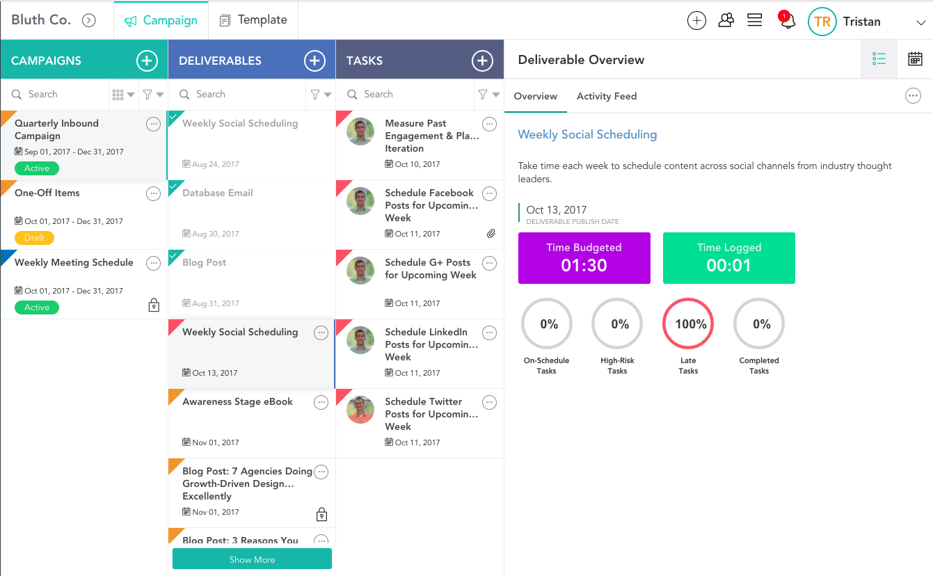 DoInbound is built around the proven agency framework of Campaign - Deliverable - Task. It's a simple structure that guides how most client work is organized for agencies. If you're an agency that's tried out a bunch of different platforms but found them difficult to set up or logical for your business, DoInbound was designed with you in mind.
Real-Time Dashboard Reporting
DoInbound gives agency owners and project managers a high-level view of their agency at all times.Whether it's delayed client projects or over allocating hours, you'll be able to see what's happening and prevent potential problems before they start.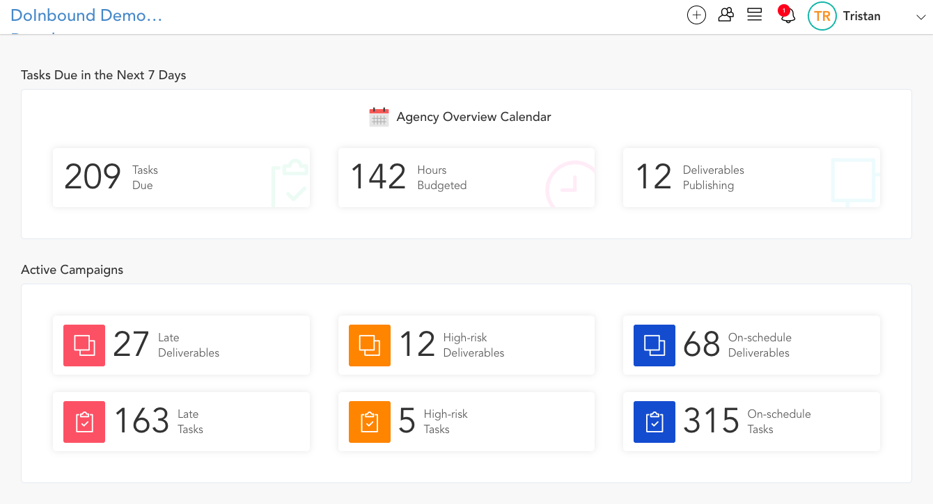 Client Reporting
You can configure Client Reports in DoInbound so clients can get a custom report on the progress you made in a given period. If you've ever had a hard time or received the question from a client "What did you do for us this month?" then you know the importance of reporting!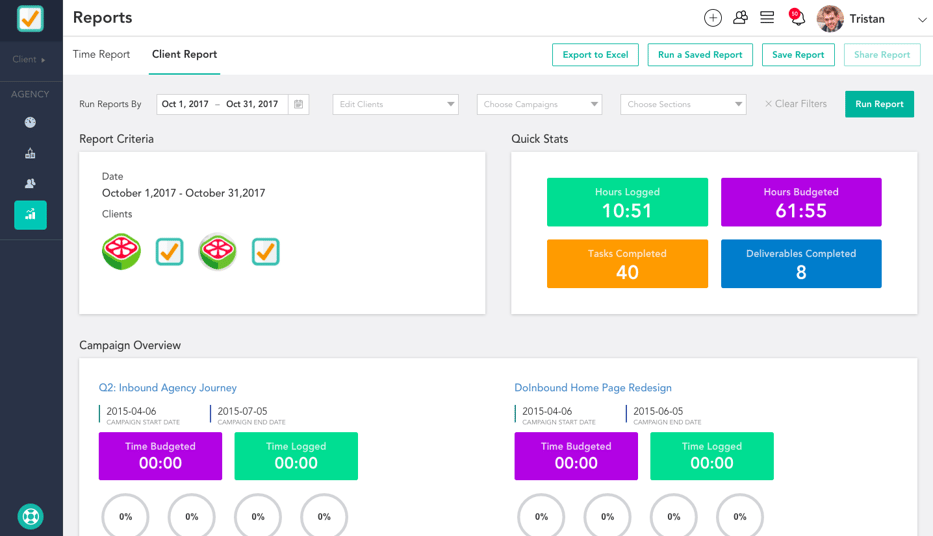 Clients don't want to think you just sat around and collected a check. They want to see you diligently working on their account. But most agencies fail to tell the full story of what they have done for a client in a month.
This report will wipe away those concerns with metrics and data to show the activity on their account and the effort being put in to deliver high-quality results.
Calendar View
DoInbound offers a calendar view so you can see what client projects are done when at your agency and each member of your team can visually see what's coming up and plan their weeks accordingly. This view lives at both the agency and client levels, so no matter what you're planning for, you're able to find it on the calendar.
Individual users also have the ability to sync their Google Calendar with DoInbound so they can block time for their tasks during the week and ensure they get the work done for deliverables.
Personal On-Boarding
There is no on-boarding with Basecamp to get a team up and running on the platform and making sure a business gets the maximum use of the product. Users are left to themselves to create a structure to house all of their projects.
However, each DoInbound customer gets two free on-boarding sessions with a member of our team to help get you fully integrated into the platform, help you organize document your agency processes, and help you get a structure in place on DoInbound to scale your agency.
Template Builder
With many project management tools, you've got to create campaigns for a client; then you will clone them or something along those lines, followed by actually getting it all setup.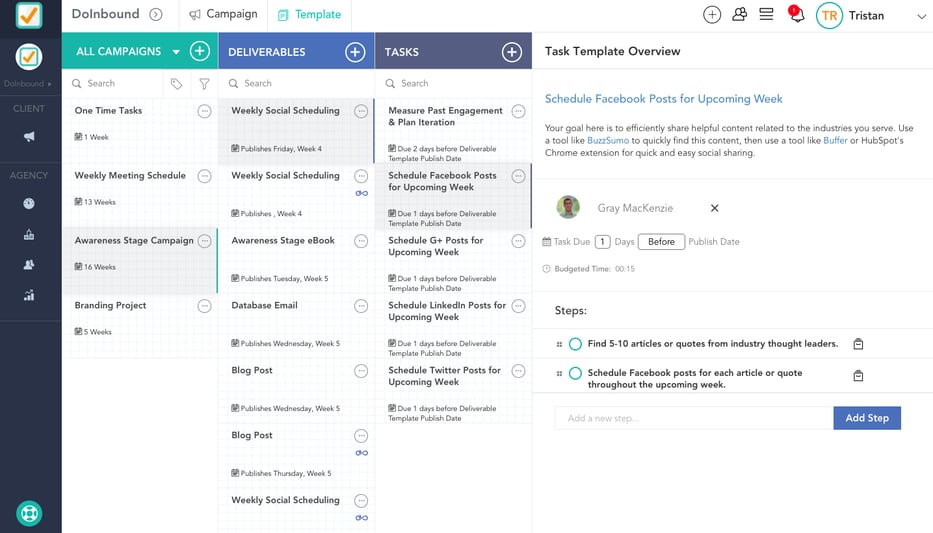 With DoInbound, repeatable processes are at the center of all we do. All you need to do is go to our Template Builder to create any template your agency needs. Here you have a powerful set of features designed to help capture your unique agency processes into a repeatable, scalable framework.
This means that once your template is built, you can easily deploy it for any client, as many times as you'd like.
Templates
DoInbound comes pre-loaded with agency-proven templates. You can use these templates out of the box or you can clone them to create your own custom templates.
Want to Check Out DoInbound?
Due to the templates inside DoInbound, we don't offer a free trial. However, you can checkout our free on-demand demo. If you prefer a more personal approach, you can sign up for a personal demo. On the call we'll walk through how to accurately implement DoInbound in your business.