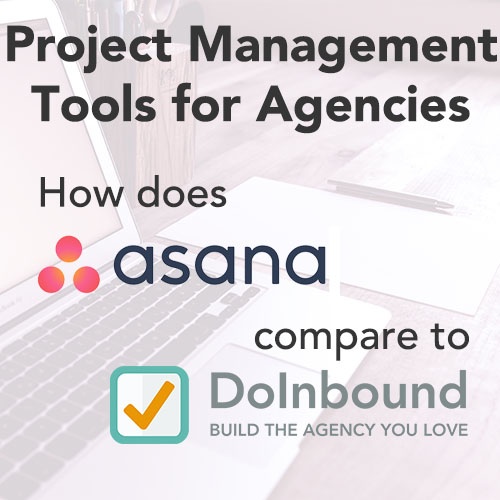 Asana is one of the most popular project management platforms available.
DoInbound is a project management tool focused on agencies to help them organize their processes and have an efficient framework to scale their business.
SEPTEMBER 2018 UPDATE: We've rebranded DoInbound as ZenPilot and are no longer accepting new customers for the DoInbound software. Helping agencies with project management is still an integral piece of our mission and offering and you can learn more about our transition in this blog post and podcast episode.
First off, we'll start with how the two platforms are similar.
Task management, in-app and email notifications, user permissions and commenting are all standard features in both to make it easy for teams to collaborate and work in the platform.
Both offer live online support so you can contact a live person at any time to get any questions you have answered about the software and getting the most out of it.
Here's where Asana is strongest:
Speed
Asana is fast. It's slick. And to top it off, it's easy to use, intuitively designed, and it's simple to get your team up and running.
Multiple Project Views
With both board and list views, you can run sprints or set up your agency with standard task management. It allows for the flexibility that your business uses.
Custom Fields
You can add extra fields that are customized to what you're creating and working on as well which gives you free range to mold the platform to how your agency works.
However, here is where DoInbound is different.
Proven Structure for Your Agency
Asana is a blank slate. Agencies have to add and create all the processes and organize how they do projects. For a lot of agency owners, their passion is being creative, and they struggle to organize and structure their business. They are always juggling lots of projects and may have a hard time stepping out of their work to document and organize their processes. They know that procedures are essential, but they have a hard time with implementation.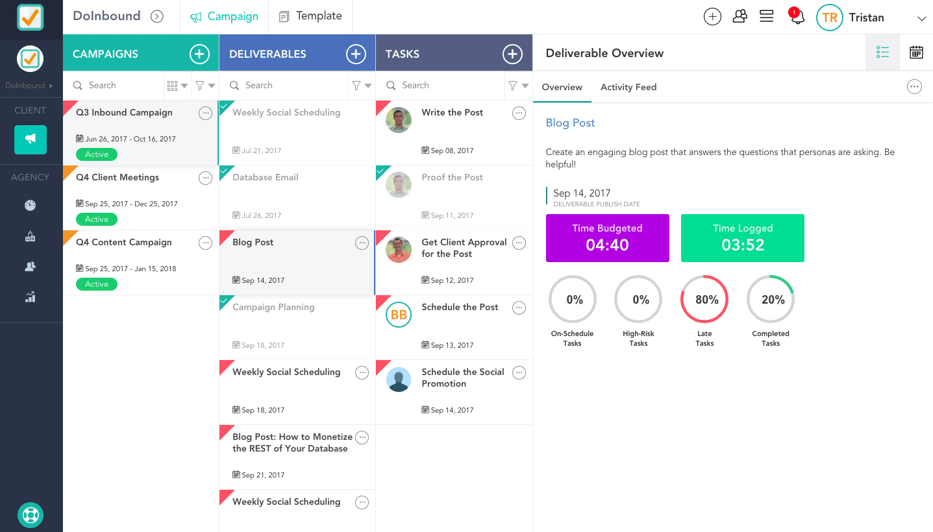 DoInbound helps agency owners like this fit their projects into a proven framework of Campaign - Deliverable - Task. The platform is designed entirely around this framework that is ideal for agencies. This makes it easy to implement, follow, and scale the business. If you're an agency that's consistently been having a difficult timewrapping around all your processes and getting them followed, DoInbound was designed with you in mind.
Real-Time Dashboard Reporting
DoInbound has a real-time agency dashboard to give owners the snapshot insights they need to see what's happening at their agency at all times.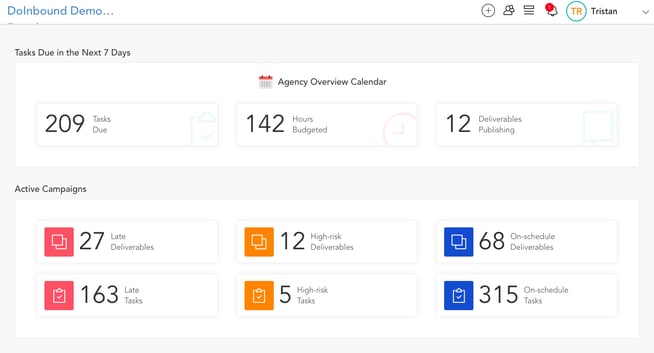 It can help you avoid client fires and make smart business decisions based on data.
Client Reporting
DoInbound offers client reports, which gives your clients data on the activity that is being done on their account. This removes the need to try and justify your prices or prove that there is work being done.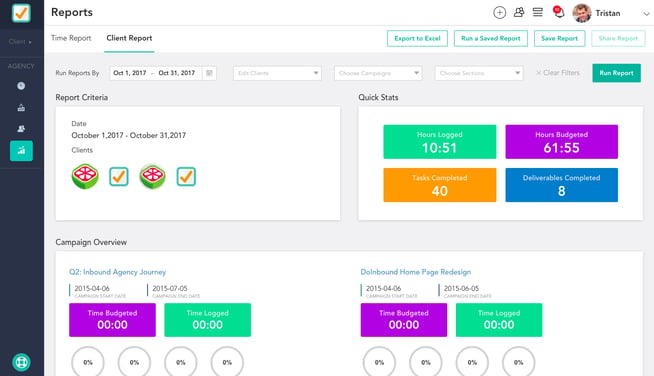 All this information is automatically being tracked in DoInbound so you can turn around and run simple a report to send to clients.
Time Tracking
DoInbound includes built-in time tracking for each task so you and your team can efficiently manage your time and resources.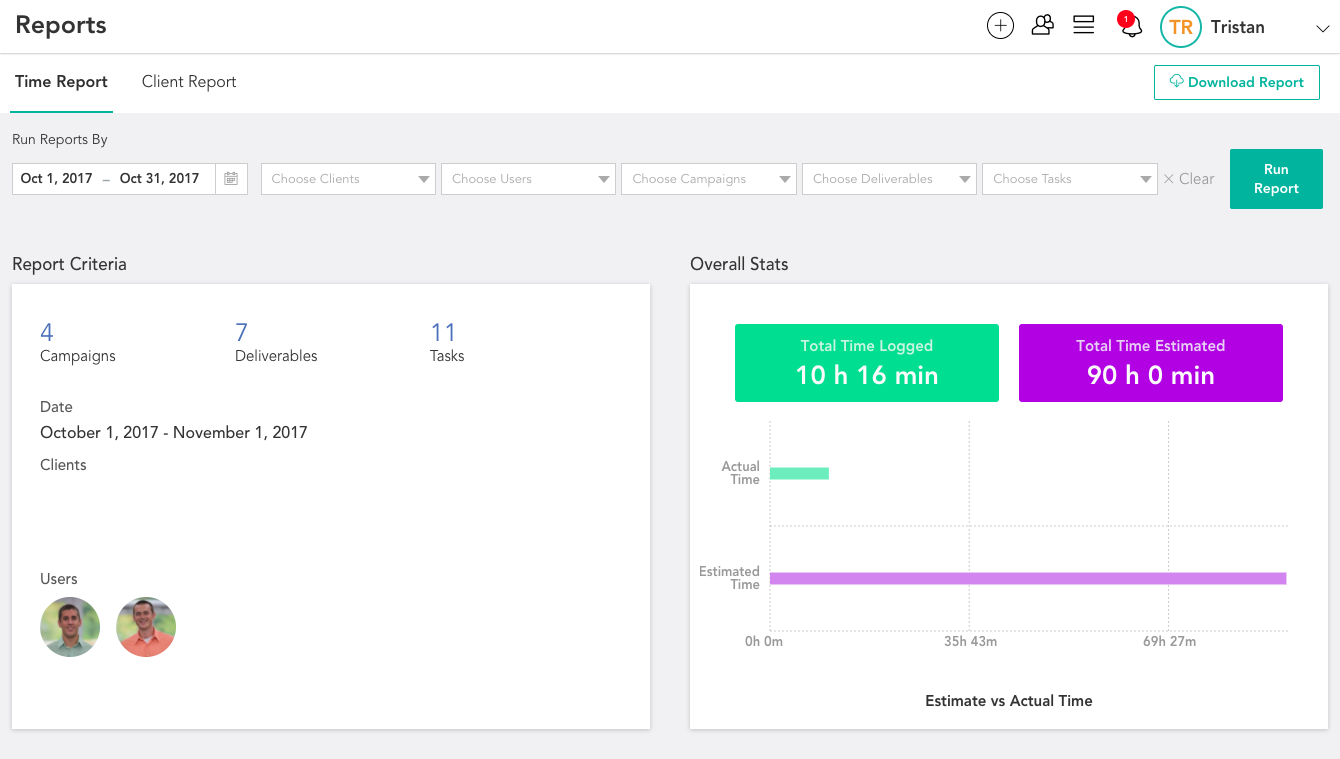 If you're ever wondering the profitability of your organization and time and if you price your services based on hours worked for a client, the time tracking is critical for you to build an efficient and profitable business, so you're charging what your agency is worth.
On-Boarding
DoInbound works with agency owners and teams during on-boarding to help them get started not just on the platform, but in creating their agency processes and documentation. These two free onboarding sessions will help agency owners who may not know where to start with documentation get the coaching they need to make their agency processes scalable.
Template Builder
Rather than relying on cloning past campaigns and then customizing or continually updating campaigns with best practices, DoInbound's template builder makes it easy for you to create, organize, and push out all the templates your agency uses in one place so that you know that it's always up to date.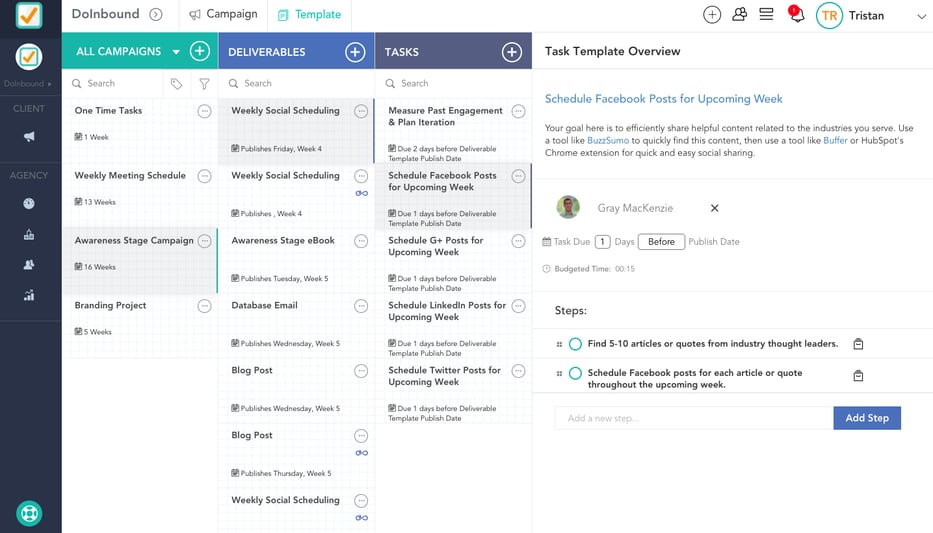 Templates
Getting processes documented can be time-consuming for both new and established agencies. Included in DoInbound and offered in our template marketplace are processes we use at GuavaBox such as SEO audits, setting up Facebook ads, creating Google AdWords campaigns, and more so you can get up and running fast.
Want to Check Out DoInbound?
If you're interested in how DoInbound can help take your agency to the next level, you can watch our free on-demand demo here or sign up for a pressure-free personal demo walking you through the platform and see if it's a fit for you and your agency.